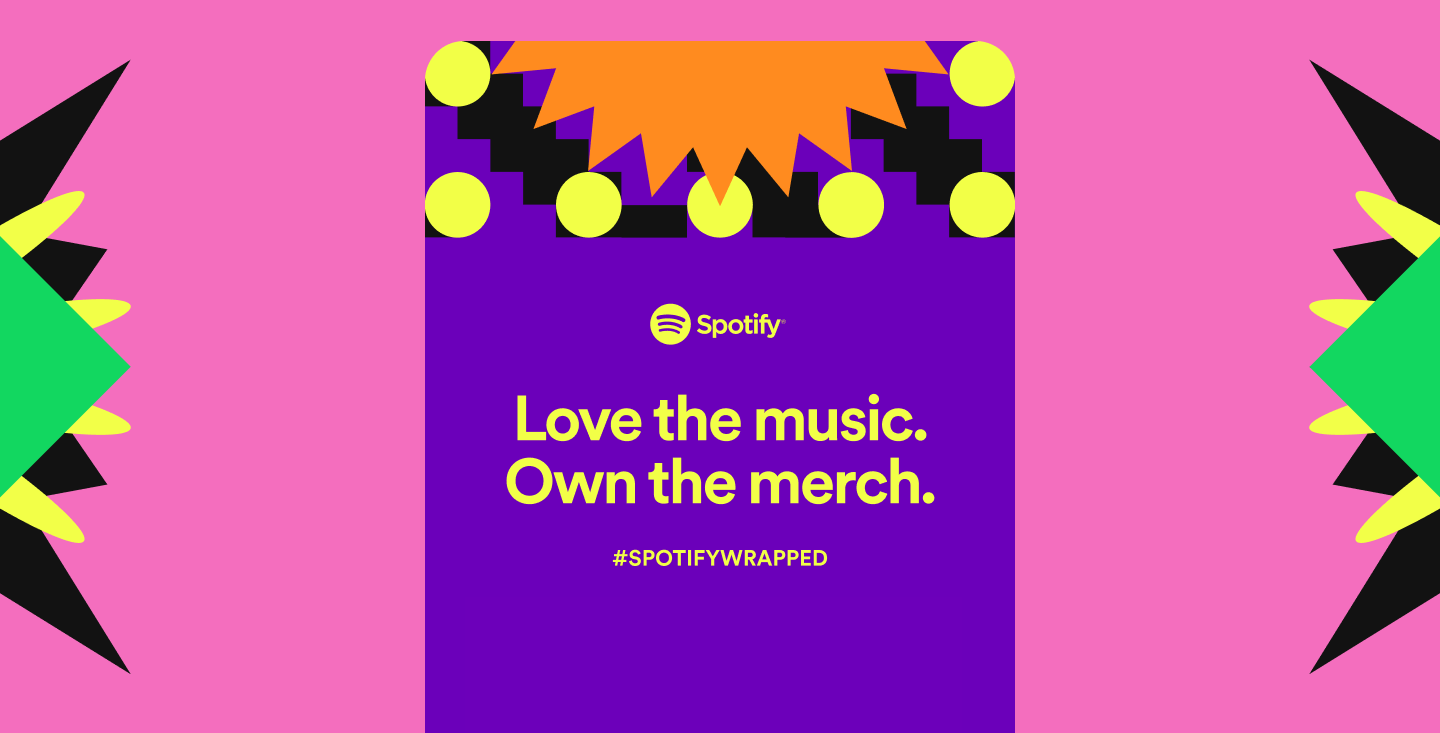 THIS JUST IN
Fans Wanting To Wear Merch From Their Top Wrapped Artists Leads to the Biggest Week of Artist Merch Sales in Spotify History
Each year when Spotify Wrapped rolls around, listeners eagerly look forward to seeing their top-streamed artists revealed. And 2022 Wrapped was no different. Last week, millions of fans around the globe learned about their unique music listening personalities as well as the patterns behind their plays. But this year, as always, we took Wrapped a step further with new stories and features—including artist merch in the app to help fans get closer to their favorite artists. 
Fans love to rep their favorite artists, and they especially love to do so after seeing their Wrapped results: In the seven days since launching Wrapped, we've seen the highest-grossing merch sales week for artists in Spotify history. 
Connecting fans with ways to express their favorite fandoms and lend support to the artists they love is key to fulfilling our mission of enabling artists to live off their art. In the weeks leading up to Wrapped, artists listed their top merch items on their Spotify profiles through Spotify for Artists to capitalize on all the increased attention their profiles would get on the big day. Then, during Wrapped, we debuted a new shelf of merch offers in the Wrapped hub and sent a personalized email to fans with merch from their top artists of the year. Fans of Ghost, Smino, NIKI, Joji, Elton John, Fireboy DML, and Jack Harlow even got early access to exclusive merchandise through Spotify, further underscoring our commitment to helping artists build new revenue streams on Spotify. 
Though selling merch may seem unexpected, it's impactful. "By our offering merch on Spotify, millions of the world's most engaged music fans can now support their favorite artists by buying merch right where they're already listening," says Alex Lavian, Product Marketing Lead, Spotify for Artists. "This helps us get closer to achieving our goal of providing a million creative artists the opportunity to live off their art."
We asked Alex to break down these impactful merch sales even further. 
Why merch? 
Merch is an important source of revenue for artists, and we're actively investing in new revenue opportunities for artists beyond streaming royalties. Enabling artists to sell merch on Spotify drives a deeper connection between them and their fans. Plus, it's a natural place for fans to buy things from the artists they love. Just like how fans can't resist the merch table after an amazing live performance, Spotify can share offers with fans at that perfect moment, whether it's right after streaming an album, discovering an artist for the first time, or learning an artist was your most streamed that year. We think there's a huge opportunity to help artists reach listeners with their merch at just the right moment. 
How does this contribute to greater earnings for artists?
The business of being an artist is complex and multifaceted—it relies on multiple income streams from multiple artist-to-fan touch points, including streaming music, selling merch and tickets, collecting tips, and more. Just as we enabled artists to list their merch in the Wrapped Hub, we also did the same with upcoming tour dates, so that fans can easily experience the artist live and in-person as well as—contributing to yet another revenue stream for the creator. There's a huge opportunity for Spotify to be an impactful sales channel for artists and we're making lots of progress.
How does merch in Wrapped build brand love with fans? 
This year merch played a central role in the Wrapped campaign to give fans new ways to express their fandom and support the artists they love. Merch is a relatively new vertical for Spotify and one we're extremely excited about. We aim to build a culture around merch on Spotify, establishing Spotify as a destination for unique offerings, effective promotions, and meaningful revenue.
Find merch from your favorite artists in the Wrapped hub.