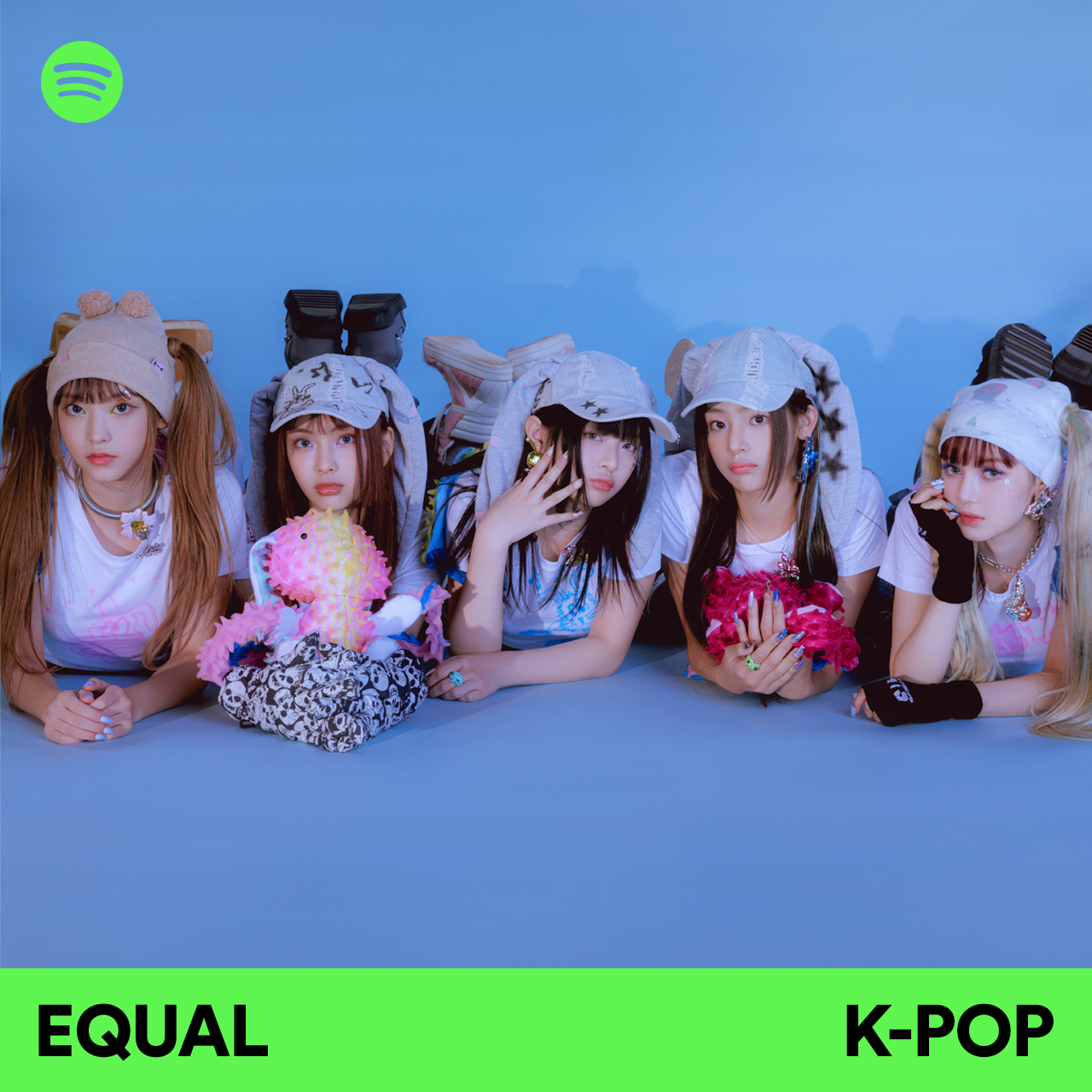 WOMEN AT FULL VOLUME
K-pop Quintet NewJeans Commands Attention as Spotify's EQUAL Ambassador of the Month
Jeans have been a beloved wardrobe staple for generations—something that rising K-pop group NewJeans knew all too well when adopting their name. The group set out to create crowd-pleasing songs that you can't help but keep on your playlists and put on daily. They're off to a rocking start: With their August 2022 debut of three singles, including "Attention," they charted on Spotify's Weekly Top Songs U.S. chart, a first for any newly debuted K-pop group. 
Composed of MINJI, HANNI, DANIELLE, HAERIN, and HYEIN, all singers who hail from Korea and beyond, NewJeans is the first release from ADOR, an independent label under HYBE led by MIN HEE JIN. Creating authentic music that radiates a youthful spirit, the group aspires to push the boundaries of the K-pop scene. (You can hear more from them in K-Pop ON! Track.)
In January, NewJeans joined Spotify's EQUAL Global Music Program as our ambassador of the month. EQUAL aims to combat gender disparity in the music industry by amplifying and celebrating the work of women creators around the world. NewJeans' music was featured heavily on the EQUAL Global playlist throughout the month. 
The newcomers were humbled by the love and support they received worldwide following their first EP, New Jeans. In OMG, NewJeans' very first winter release, they tackle relationships, attraction, and devotion in a deeper way.
For the Record asked the EQUAL artist to fill in the blanks and learn more about their creative process and inspirations.
The artists who have most inspired me are _____.
There's no particular artist that I can pick, since I want to get a lot of inspiration and learn from all the artists. (해린 HAERIN)
One piece of advice I'd give other women artists is _____ .
Always face yourself and be proud of yourself!! (민지 MINJI)
One notable moment in my career so far is _____ .
Our debut! (혜인 HYEIN)
My creative process consists of _____ .
Inspiration, forming ideas and visualizing them, then through trial and error building the pieces to create what I want!! (다니엘 DANIELLE)
My girl-power anthem is _____ .
Would probably be most of the Little Mix songs!! But if I had to choose, "Hair" by Little Mix!!  (하니 HANNI)
Discover more women artists climbing the charts with our EQUAL Global playlist.