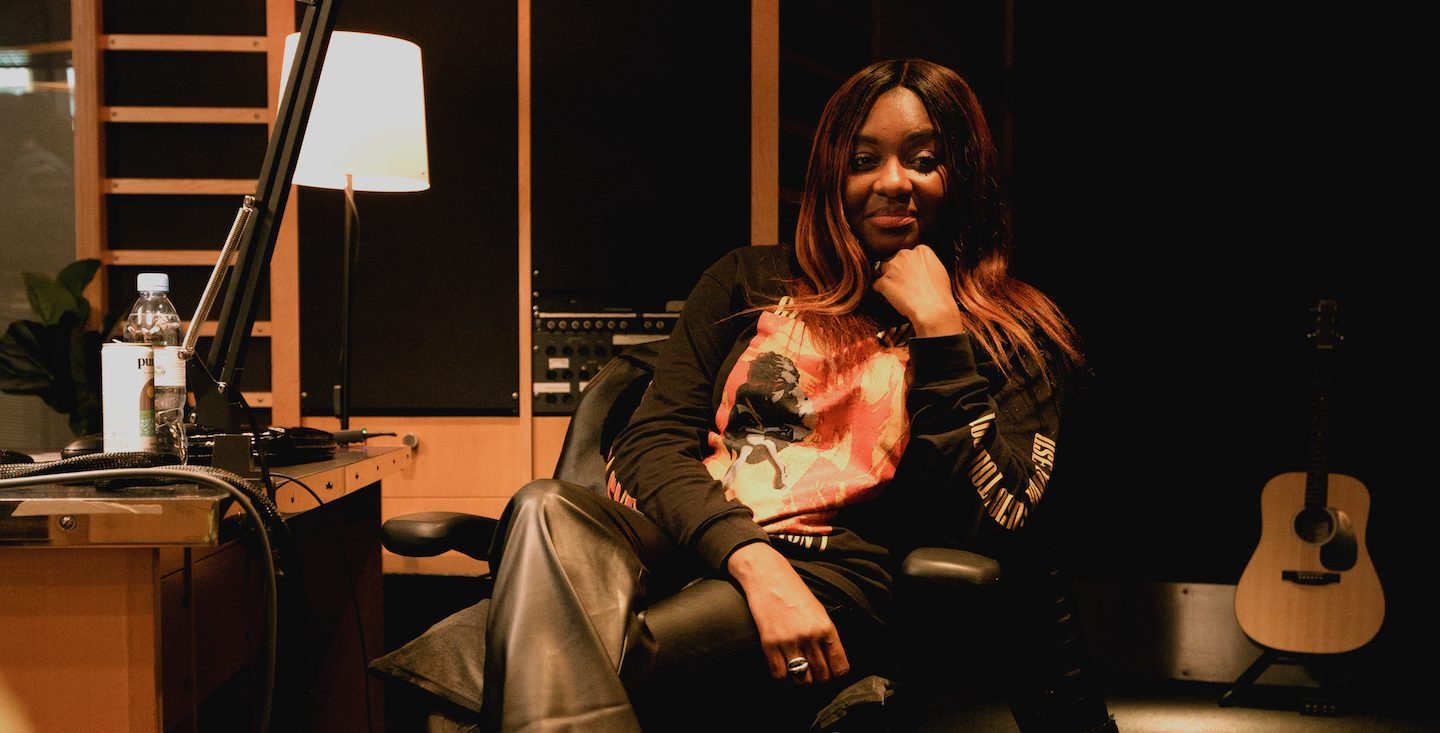 NEW RELATIONSHIPS
Songwriter Jin Jin Gets Collaborative at Spotify's Riffs and Runs Sessions
It takes just the right amount of creativity, collaboration, and inspiration to write a powerful song. And Jin Jin knows quite a bit about that. The British songwriter has seen success writing hit tracks like "Hold My Hand" by Jess Glynne and "You Don't Know Me" from Jax Jones.
And recently, Jin Jin put her skills to work at Spotify's Riffs and Runs sessions. The intimate two-day event was a series of songwriting sessions focused specifically on R&B, and it provided a chance for Black songwriters, producers, and artists to come together and connect in a setting where they felt inspired to collaborate. 
The sessions took place at the iconic Metropolis Studios in London and were attended by both established and emerging talent. Production legend Rodney "Darkchild" Jerkins—famous for hits such as "Say My Name," "The Boy Is Mine," and "It's Not Right But It's Okay"—and ThankGod4Cody, known for producing some of SZA's hits, worked with artists and songwriters, like Jin Jin, to get the creative juices flowing.
The creators met in the studio, where they first got to know each other over coffee and snacks. After building a rapport, the next step was to determine a concept and start on chords. Then, the magic happened.
For the Record caught up with Jin Jin to learn more about her Riffs and Runs experience, and to get a look behind the scenes at how she collaborates with others to create songs fans love.
Can you tell us about your Riffs and Runs session?
This was the first time that I've been involved in the Riffs and Runs sessions. I've done other Spotify camps before, but this one was particularly special because it was throwing different artists, producers, and writers in the room and they were all from different places and different cultures. 
It was brilliant—I really enjoyed it. Metropolis Studios, in Chiswick, is an amazing venue and it's a really creative space. I was working with ThankGod4Cody, and I also worked with two artists Bellah and Äyanna. They're both amazing vocalists, so that was a treat. For this session, we all wrote it together, and then it ended up being Äyanna who laid down the first verse, and then Bellah laid down the second verse. And then they both sang the chorus.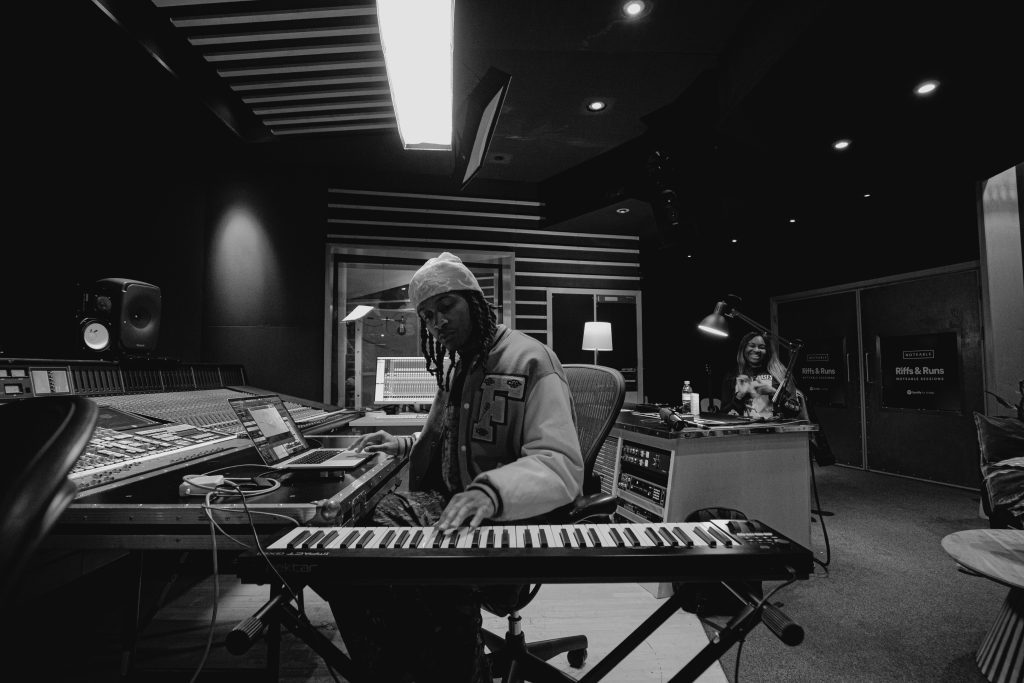 What was the song you wrote about?
It had bad b*tch energy. The general story was, they thought that a relationship was gonna go one way. But then, it went another way because both people in the relationship have different perspectives. So it's an example of women calling a guy out.
What was your favorite part of the Riffs and Runs experience?
My favorite part is when you're getting to know each other and you're in the very early stages of creation. It's where everyone's a little bit nervous, but really open to each other's ideas, and you don't know what you're gonna make. So it's pretty nerve-racking as well, but it gets rid of any ego in the room. It's like, this is a fresh idea, and we don't know if we'll be able to make an amazing song but everybody's there, you know, new to the experience and to that day. 
What's the secret to a successful collaboration with others while working on a new piece?
I think it's kind of almost like forgetting what you've done before. If you've ever had any success or any previous [track] release, just forget about that because the past doesn't really matter. All that matters is what you create on the day, with these new people—if you've got synergy, if you can build a nice relationship with them, and if you can find some sort of common ground and way to communicate so that you can make an amazing song. I think that it's super important to be open, you know. Somebody might have a different musical style than you, or be from a different background, or be into different things, but maybe that's their story. 
Is there a particular songwriter who inspires you, or whom you admire?
Oh there's a lot of different ones. A current, more mainstream, newer writer I love is Tems. She's amazing at writing and an amazing artist as well—I really love her sentiments. I love the fact that she operates in the Afrobeat world, and her songwriting is beautiful. 
What do you think is your biggest challenge as a songwriter?
I think the biggest challenge is, sometimes, you can get pigeonholed into a certain genre. Or, a lot of people are just holding on to what you did before, sort of thing. I also think it's a challenge to not fall into a safe space for yourself as a songwriter. It's really important to keep pushing yourself as well and try new things.
What advice do you have for aspiring songwriters?
To just keep exploring. Try and reach out to as many other songwriters and producers as you can and collaborate as much as you can. Also, listen to genres of music that you wouldn't necessarily listen to. So if you're in the space where you only make, like, drill or trap, then maybe listen to some rock music. Listen to some country music. Listen to lots of different genres because as a songwriter, it's important to understand and appreciate other genres as well.
What represents a successful songwriting session to you?
I think, obviously, coming out with a song that you absolutely love is important, but then if you don't come up with the song, that's fine as well. I think it's about the relationships and the future possibilities of creating music with these newfound colleagues.
Check out the video to learn more about the Riffs and Runs experience.
View this post on Instagram
Get more of Jin Jin by listening to some of the songs she's written in the playlist below.