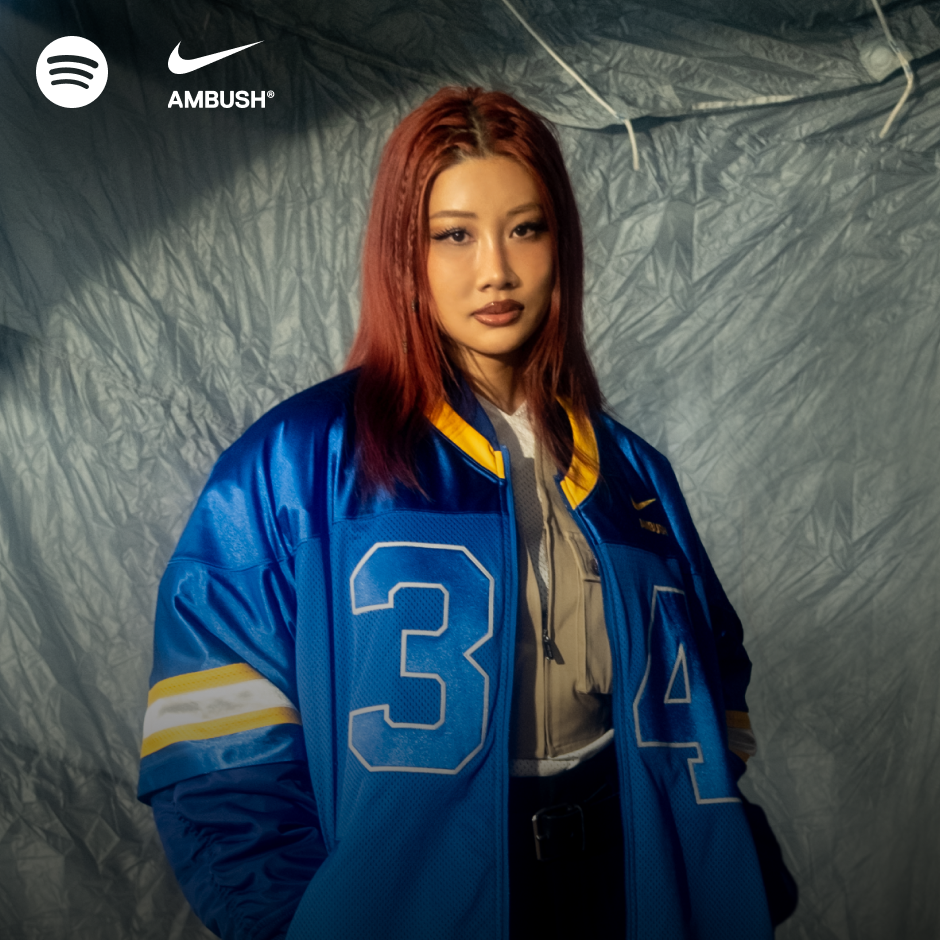 AMBUSH
Creative Director Yoon Ahn Talks Music, NYFW, and Her New Collaboration With Nike
Nike's latest AMBUSH collaboration is form meets function—with a heavy dose of fashion mixed in. The pieces were created by fashion designer Yoon Ahn, the Creative Director of the jewelry, clothing, shoes, and accessories label AMBUSH.
This isn't the first time the seasoned designer has collaborated with the sporting apparel giant. In 2020, AMBUSH partnered with Nike and the NBA for a '90s-inspired capsule collection of basketball apparel. Highlights from this new collection include Air Force 1s with AMBUSH's signature exaggerated swoosh, and an oversized football jersey turned jacket.
To celebrate the collaboration, which debuted at New York Fashion Week, Yoon took over the Spotify Fashion Forward playlist. From K-Pop Quintet NewJeans to Atlanta hip-hop duo Outkast, the curation shows off the Tokyo-based designer's varied taste and musical inspiration.
For the Record caught up with Yoon to learn more about her love of fashion and music.
What types of music did you grow up listening to?
I grew up listening to all sorts. I never had strict rules on a music aesthetic, if that makes sense. But growing up in Seattle did have an influence on me listening to more indie bands and alternative rock during that period. Once I moved to Boston, I had so many friends from New York that hip-hop naturally got more air play wherever I was. Then when I moved to Japan, I was exposed to more J-Pop and K-Pop, mixed with a variety of other genres, thanks to it playing at many of the parties there.
How do you infuse music into your creative process?
Spotify is always on at the studio as a way to set the mood and vibe for the day. I turn to music to get that energy and transport me to a particular imaginative headspace while designing.
What led you to launch your latest Nike X AMBUSH collaboration during NYFW?
We initially kicked off the NITE SPORT (our conceptual activation) last summer in Tokyo. We brought the city's different scenes together under one roof to celebrate the Air Adjust Force launch and it was a huge success. We hadn't seen a party like that in ages—the energy was through the roof. Then we had a local activation in Mexico City, followed by the Berlin party. It only made sense to bring this energy to the U.S., and NYFW was a perfect time to align with our upcoming Air Force 1 collab.
What are your biggest sources of inspiration?
Traveling and people inspire me. The world is just a big passion project made by humans, and I love seeing, learning, and getting energy from being part of this one tiny habitable planet in the infinite galaxy.
What was it like working with Nike to create the AMBUSH SP23 collection? What were some of the considerations that went into the design?
Working with Nike is always a fun ride. The team has been super open to many ideas, and being able to tell the story together has been incredible. For the Air Force 1s, I wanted to bring my massive signature tailgate swoosh to make the shoes look frozen in action. As for the apparel, I was inspired by football season, so I made a fun hybrid football jersey and MA-1 jacket to throw on for chilly weather.
Nike is a sporting brand—how do you see sport and fashion coming together?
Sportswear has always been a massive part of streetwear and all cultures worldwide, so emerging elements have existed in fashion for a while now. I look forward to more innovative ways they can merge and connect people through fashion as a medium.
Check out Yoon's takeover of the Fashion Forward playlist below: