OUT OF THE SHADOWS
Get To Know Dxrk ダーク, the Phonk Artist Taking Electronic Music by Storm
If there's any artist who can say they had a big year, it's Dxrk ダーク. Starting 2022 as an unknown entity, the Algerian phonk producer ended the year as the most-streamed artist from the Middle East and North Africa globally. 
Last year alone, his tracks were streamed more than 232 million times by more than 19 million listeners in 182 countries, with the U.S., Mexico, and Germany representing his top markets. In total, fans streamed nearly 9 million hours of Dxrk ダーク's music in 2022.
With fans from nearly every corner of the world flocking to his sound, Dxrk ダーク saw his monthly streams increase by 1,200% last year, and 43,000% since he released his first track, in July 2021. He's appeared on the viral charts in 93 different nations, reaching number one in 26 of those countries and number three on the Viral 50 – Global chart. 
View this post on Instagram
Dxrk ダーク's sharp rise to fame began with the release of his hit "RAVE," which was featured on playlists like phonk, Top Gaming Tracks, Ultra Gaming, and Hits de Internet. Since that breakout moment, "RAVE" has eclipsed 200 million streams, and Dxrk ダーク was even tapped by global pop star Sam Smith for a remix.
For the Record had the opportunity to chat with Dxrk ダーク recently, and we took the time to find out more about his inspirations, his life as a newly minted star, and what fans can expect in 2023.
What makes phonk unique compared to other genres?
Phonk is more than a genre to me. It's a movement encompassing many different genres. Many people look at it as aggressive house music, but that's just the tip of the iceberg. Because it's more tied to the use of cowbells and Memphis rap-inspired vocals, you can utilize all types of dance music. It doesn't just have to have a house sound. It just has to be raw and emotional.
What was it about phonk that inspired you to embrace the genre when it comes to your own music?
I discovered phonk in early 2017 and it wasn't the way it is now. There's such a grim and dark atmosphere while listening to it. My first thought was, "How can you make this dancy?"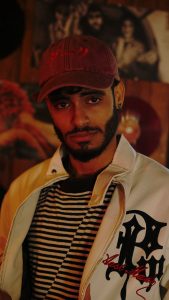 2022 was a massive year for you in terms of new fans all over the world discovering your music. What does it feel like to have this global fan base? Were you expecting to reach this level of stardom?
It's surreal. I never could have imagined a moment like this. But it also comes with a lot of pressure. I have a lot of people depending on me now. Every step matters.
Are there any Spotify tools you like to use to learn more about listeners? Has there been any information that's surprised you?
Spotify for Artists is my holy grail. I choose it over any other analytic device. I watch the Audience Engagement tab religiously. It blows my mind to see how many people have added me to their personal playlists and just how big that space is in general.
Was there a specific moment where you felt like you "made it"?
There are two specific moments that come to mind. When "RAVE" hit the Global Viral 50, that's when I first knew my life was forever changed.
But I think it became very real when Sam Smith's team reached out to me to remix "Unholy," which features Kim Petras and was one of the biggest hits on the planet last year.
Did you do anything or buy anything special to celebrate your successes this year?
I bought a couple of cars. A SEAT Cupra and a VW Golf 7.
Are there any artists you're inspired by? Are there any artists you'd like to work with?
My main inspiration is Daft Punk and I wish they were still active. They're my dream collaboration.
What can fans expect from you in 2023?
I have more major remixes planned, but I also owe my fans an album. It's way overdue. Very excited to show them what I've been working on. 
Take a deeper dive into the ominous phonk sounds of Dxrk ダーク with his playlist This Is Dxrk ダーク.