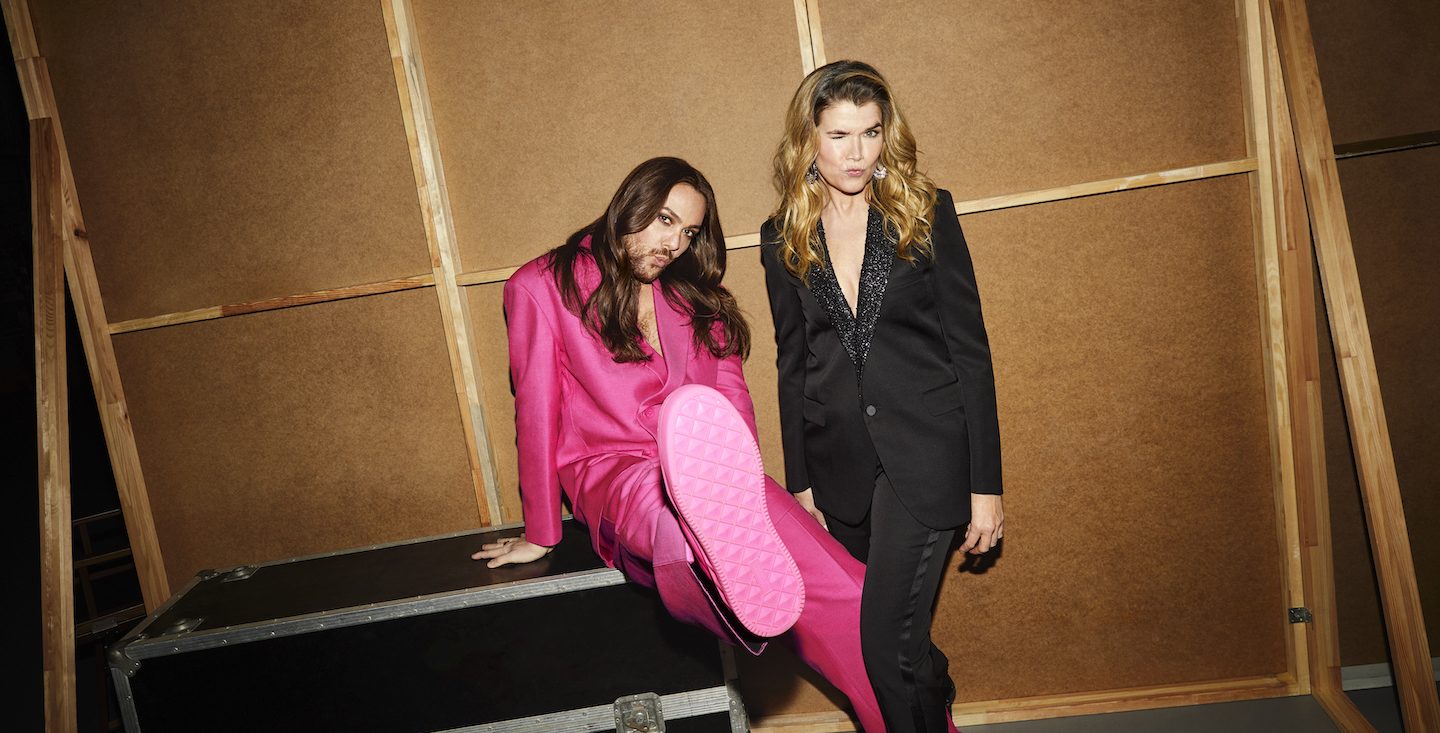 CAPTIVATING COHOSTS
Hear a New Side of Anke Engelke and Riccardo Simonetti in the German Spotify Original Podcast 'Quality Time'
What do you get when you put a comedian and a pop culture icon together in a room to chat? One captivating—and honest—conversation. Popular comedian Anke Engelke and entertainer and activist Riccardo Simonetti are ready to give fans just that in the new Spotify Original podcast Quality Time mit Riccardo & Anke.
The two German stars met on the set of one of the country's biggest television shows, Wer stiehlt mir die Show? (Stealing the Show!), and quickly forged a bond. Now they're ready to take their friendship to the next level and share it with the world as they discuss everything from showbiz to vulnerability. For the Record went behind the podcast mic, chatting with the duo about the making of their show and what it's like to record with a close friend.
What do you get from podcasting that you don't get from acting or performing onstage?
Anke: Being in front of cameras is fun, and I'm still grateful and happy on a daily basis for having found the job that suits me best. But podcasts are so much more real! Acting is make believe. Podcasts are, at least to me, authentic: no script, no makeup—the opposite of being in front of a camera. I have quite a radio history, actually. I was one of the hosts of a kids' radio show when I was 12, continued doing radio every now and then as a teenager, and worked at one of Germany's most renowned public radio stations for 12 years after school. I really love not having to show my face! 
Riccardo: On camera you have to be aware of so many things, and people are not always really listening to what you say. Because they might be too focused on the fact that I'm a gay man who wears makeup; they are simply distracted by my appearance. In a podcast, people want to listen to what you have to say, and you are able to be more vulnerable. I'm looking forward to showing people that part of my personality. 
What might surprise fans about the podcast?
Anke: That friendship, dialogue, and respect are underrated.
Riccardo: When I'm on TV, I'm usually invited to be a confidence booster, to inspire people, and to say smart things. In a podcast, on the other hand, I can also be candid, vulnerable, and maybe more honest about how I feel in certain moments. 
What's your favorite part about cohosting with each other?
Anke: It's such a luxury to be able to spend time with Riccardo. He inspires and surprises me every two minutes—no, wait—every minute! A friend listens. A friend does not use their listening time to think about the next punchline or a clever response. And Riccardo is a great listener because he is genuinely interested in other people's thoughts and feelings. 
Riccardo: It feels like therapy, and the fact that I get to talk to Anke every week feels like the ultimate gift. I learn so much from her, and I hope that our audience will connect to our conversations as much as we do while we're having them. 
What topics do you cover on the podcast?
Anke: We both work in show business and enjoy sharing stories that deal with both the fascination and the problems our jobs evoke. On the other hand, we're interested in current politics, music, cinema, theater—the list goes on and on. Anything can happen when we meet to talk, and isn't that the most beautiful prospect? That you're in a safe space but never know what to expect?
Riccardo: I think people have a pretty good idea of what our job looks like but not really how it feels. The feeling of the experience, the vulnerability, and maybe also the silliness of it is what I want to talk about. 
Catch up with Anke and Riccardo, with new episodes dropping every Friday.