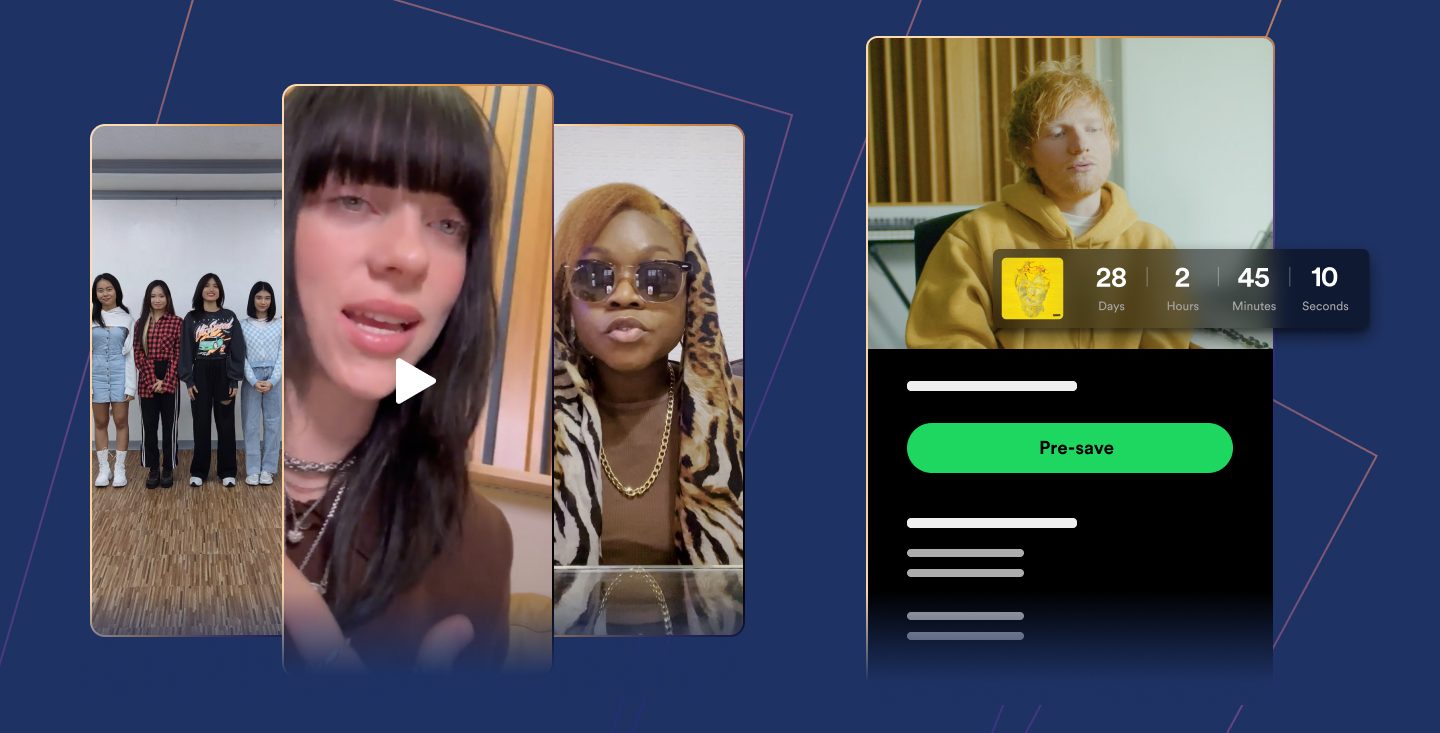 STREAM ON
Countdown Pages and Spotify Clips Create Ways for Artists To Engage Their Fans With Video
Today at Spotify Stream On, artists, songwriters, podcasters, and authors from around the world joined us for a day of announcements and inspiration. They also took part in hands-on demonstrations of tools and resources coming from Spotify, including new ways for artists to connect with fans and hype their work using Spotify for Artists.
Countdown Pages
Building buzz for an album release requires artists and their teams to work across multiple platforms and services, resulting in a disconnect between where music is being teased and where music is actually being streamed.
The most powerful time to reach fans is when they've chosen to engage with music, ahem, on Spotify. That's why we've built a new tool called Countdown Pages.
Countdown Pages are dedicated spaces for artists to build anticipation for new albums. On Countdown Pages, fans can watch exclusive video clips, pre-save the upcoming release, preview the track list, and watch the timer count down to the release moment. 
Plus, fans who pre-save an album release will receive a notification as soon as the release drops. We'll also automatically add the album to a listener's library, ensuring that more fans start streaming on day one. In early tests, on average, over 80% of pre-savers streamed the new release within the first week.
Want to check out a Countdown Page? Visit Ed Sheeran's artist profile on your Spotify mobile app and scroll down to the Upcoming Releases section to pre-save his forthcoming album "–".
We could not be more excited to bring Countdown Pages to life—but we don't want to limit artists' video options to Countdown Pages. So, we're making them available in more places where music lives on Spotify. 
Artists can add under-30-second videos to their album pages or their artist profiles. That way, new listeners and existing fans can go deeper into an artist's stories while they're listening. We call these videos Spotify Clips.
With Clips, new listeners will be able to get to know an artist and their music better, while loyal fans will be able to dive even deeper into an artist's music, forging even stronger connections. The possibilities are expansive, with Clips enabling artists to build excitement for an unreleased song, promote a new album or single, tell the story behind a song, and much more. We're unlocking this feature for thousands of artists this week, and we'll be opening it up to more and more artists in waves throughout the spring. 
Learn more about these tools on Spotify for Artists.