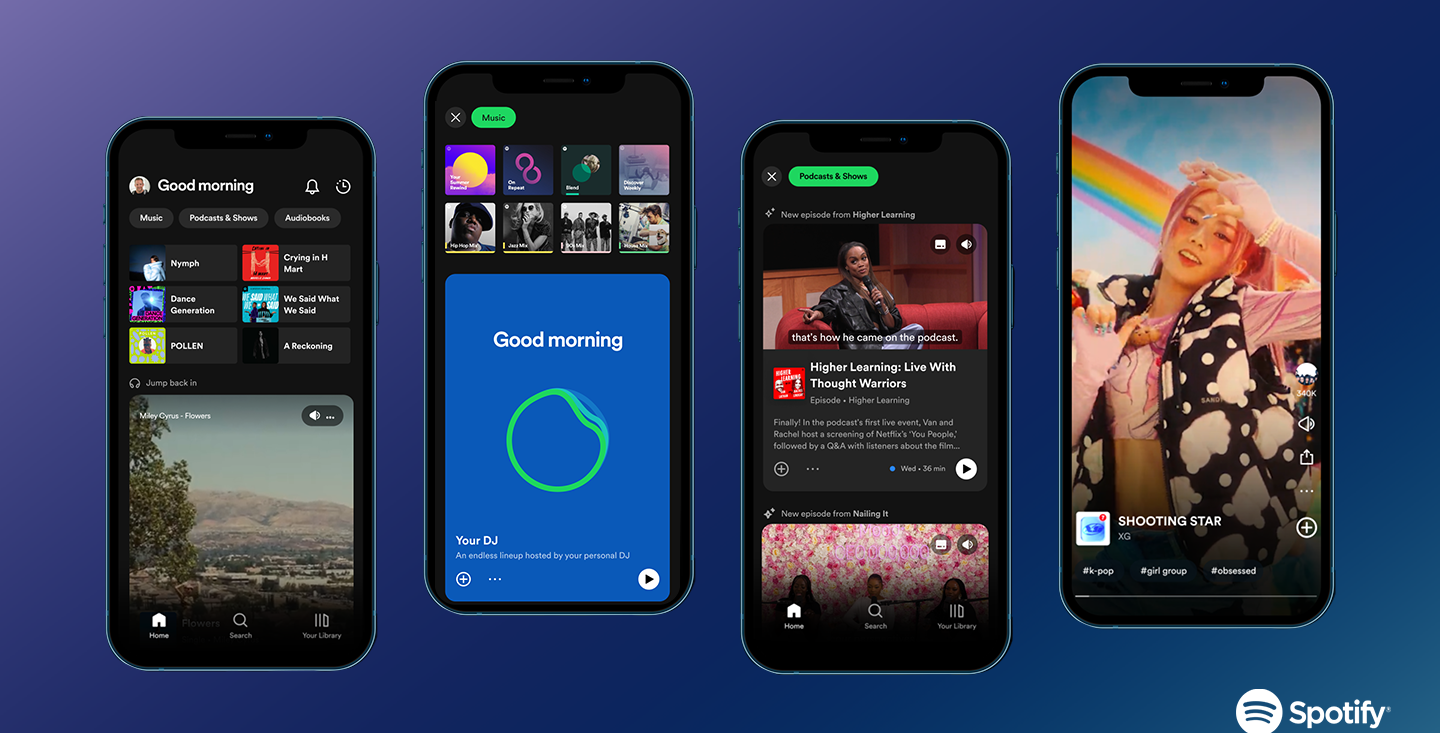 STREAM ON
Spotify's New Experience Inspires Deeper Discovery and Connection
Spotify has gone through updates and iterations throughout the years, but today, during Stream On, we unveiled our biggest evolution yet: a new, dynamic mobile interface built for deeper discovery and more meaningful connections between artists and fans. It gives listeners a more active role in the audio discovery process and gives creators more space to share their work. 
We've found that the next generation of listeners craves better ways to sample audio before fully diving in. So get ready for a more active experience with advanced recommendations, a spotlight on visual canvases, and a completely new and interactive design—all to make discovering new audio easier than ever before and help introduce users to their next favorite artist, podcast, or book. Together, these updates work to bring creators and fans closer than ever, and help each build lasting connections. 
"The world today pulls us in a million different directions," said Co-President and Chief Product & Technology Officer Gustav Söderström. "So the most important thing we, at Spotify, can do for creators is to reduce the distance between their art and the people who love it . . . or who would love it as soon as they discovered it." 
What to look out for in Spotify's more visual, dynamic mobile experience: 
Music, Podcasts & Shows, and Audiobook previews on Home:

Simply tap into the Music, Podcasts & Shows, or Audiobooks feed to explore visual and audio previews of playlists, albums, podcast episodes, and audiobooks personalized to you.

Then, tap to save or share, go deeper into the artist or podcast pages, play from the start, or continue listening from where the preview ended.

New feeds for discovery in Search:

Scroll up or down to explore short Canvas clips from tracks from some of your favorite genres. Then easily save the song to a playlist, follow the artist, or share it with friends—all from one place. You can also explore related genres

using the hashtags within the feed for easy discovery of new favorites

. You can even preview tracks on some of your favorite playlists like

Discover Weekly

,

Release Radar

,

New Music Friday

, and

RapCaviar

. 
Thanks to both of these new feeds of visual clips, you can scroll purposefully through music, podcast, and audiobook previews until you find something you like. And don't worry—your Favorites aren't going anywhere. Your shortcuts, or most recently played, will still appear at the top of your Home feed, so you can easily dive into whatever you were listening to last. We're also adding previews to the top of your music, podcasts & shows, and audiobooks feeds for the first time.
DJ:

Speaking of great recommendations . . .

these announcements also follow the recent Beta launch of

DJ, a new personalized AI guide

for Premium users in the U.S. and Canada that knows you and your music taste so well that it can choose what to play for you.

We've already seen so much love for DJ—both on platform and across social media—and we're not even out to 100% of users yet. On days when users tune in, fans spend 25% of their listening time with the DJ—and they keep coming back for more, with more than half of first-time listeners coming back to listen to DJ the very next day.* 

Smart Shuffle

: This new experience keeps listening sessions fresh with personalized recommendations that perfectly match the vibe of an original user-generated playlist. It breathes new life into carefully curated user-generated playlists, shuffling tracks and adding new, perfectly tailored suggestions.

Autoplay for Podcasts:

Just like with music, we're now serving Autoplay for Podcasts. When a podcast ends, another relevant episode that fits your taste will automatically play. 
We're constantly innovating our app experience so we can connect even more artists with listeners. And with these latest updates, you're primed to discover more music, podcasts, and audiobooks easier than ever before. 
*Results are based on eligible users (Premium users in the U.S. and Canada on mobile) and collected from February 22 – March 1.