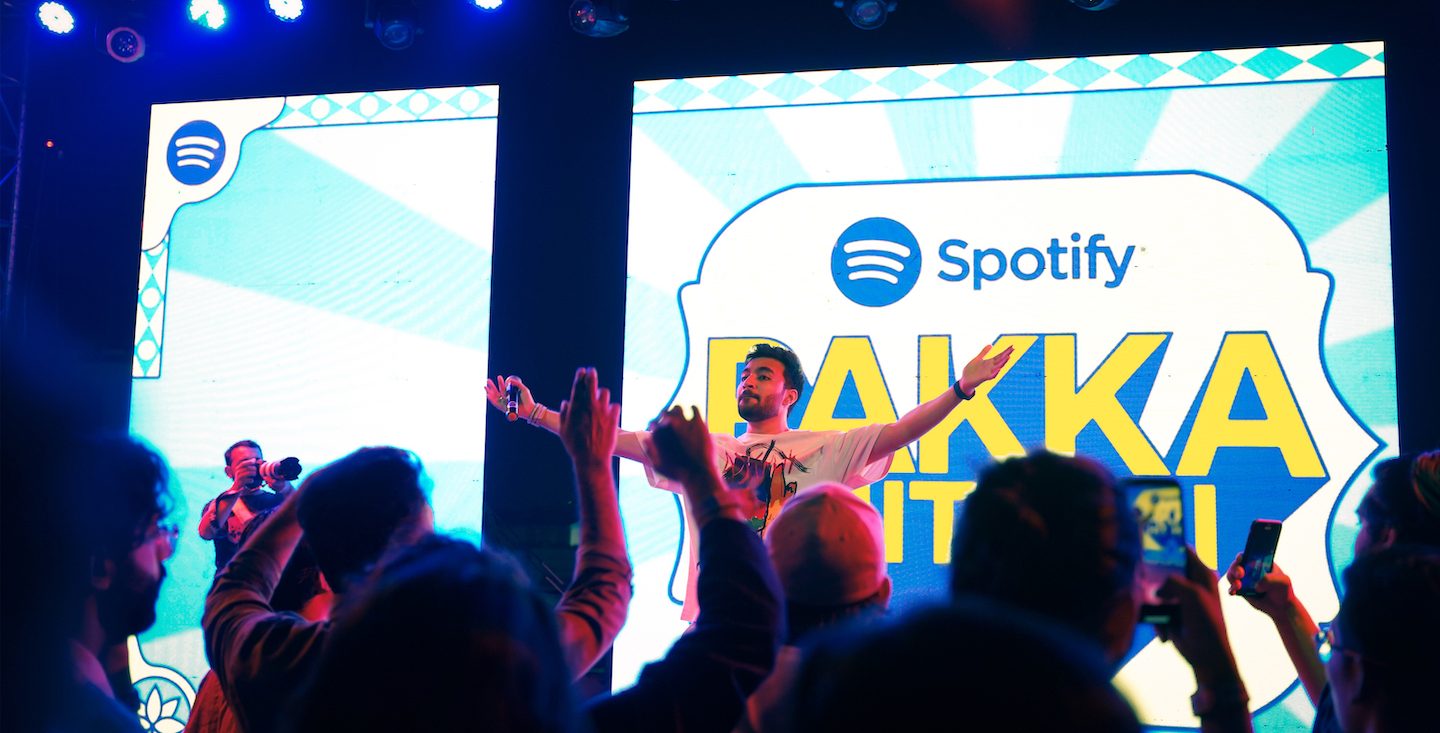 SPREADING THE WORD
Spotify Turns Up the Volume in Pakistan With Events and Music Campaigns
Two years ago, we introduced Spotify to listeners in Pakistan. Since the launch, we've worked with the country's artists to expand their reach and share their music with new fans worldwide—and now we're taking things to a new level.
March marked the first anniversary of our EQUAL women's empowerment program in Pakistan, with singer Tina Sani as the Ambassador of the Month. RADAR, which highlights emerging artists from all around the world, also recently made its debut in Pakistan, featuring Taha G up first. He's at the top of the RADAR Pakistan playlist, and Spotify worked with the singer to create a mini-documentary that spotlights his life and career.
In addition to bringing these programs to the region, we're finding unique ways—from Masterclasses to cricket campaigns to local playlists—to connect with artists. 
Lending artists support with a Masterclass in Lahore
Our music industry experts were ready to share their knowledge during a Spotify for Artists Masterclass event in Lahore, PK. "We hosted at the historical Haveli Barood Khana mansion, and used this opportunity to educate and share information on music streaming trends and new product features with the burgeoning music industry in the region," shared Khan FM, Artist and Label Partnerships Manager for Pakistan, Sri Lanka, and Bangladesh. Renowned Coke Studio music producer, curator and artist Zulfiqar Jabbar Khan shared his perspective on the Pakistani music industry with an audience that included more than 150 artists and their teams.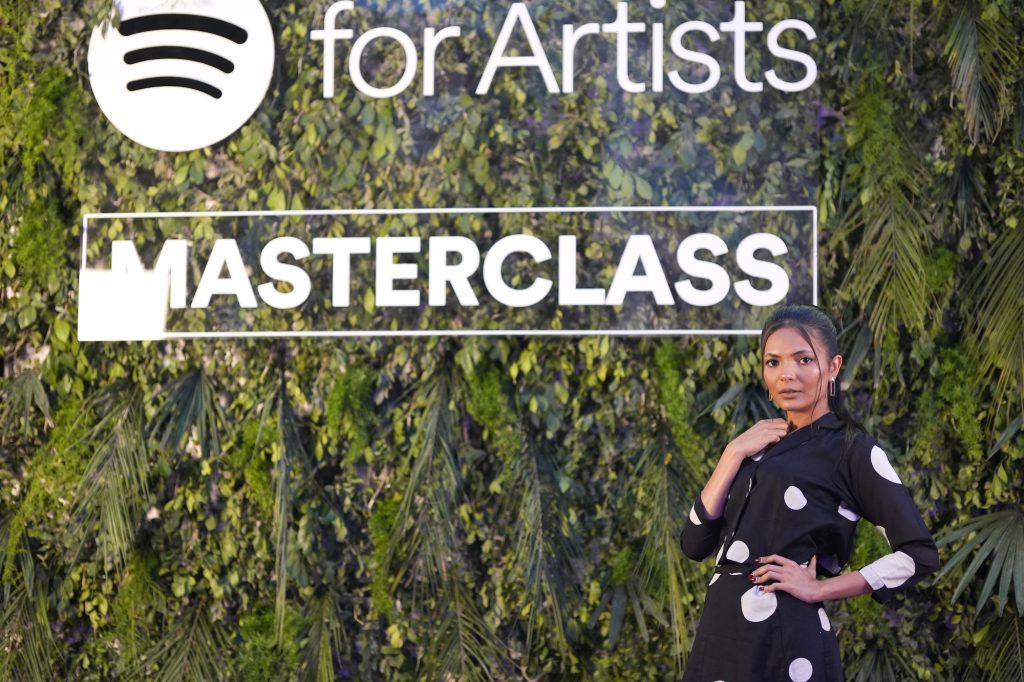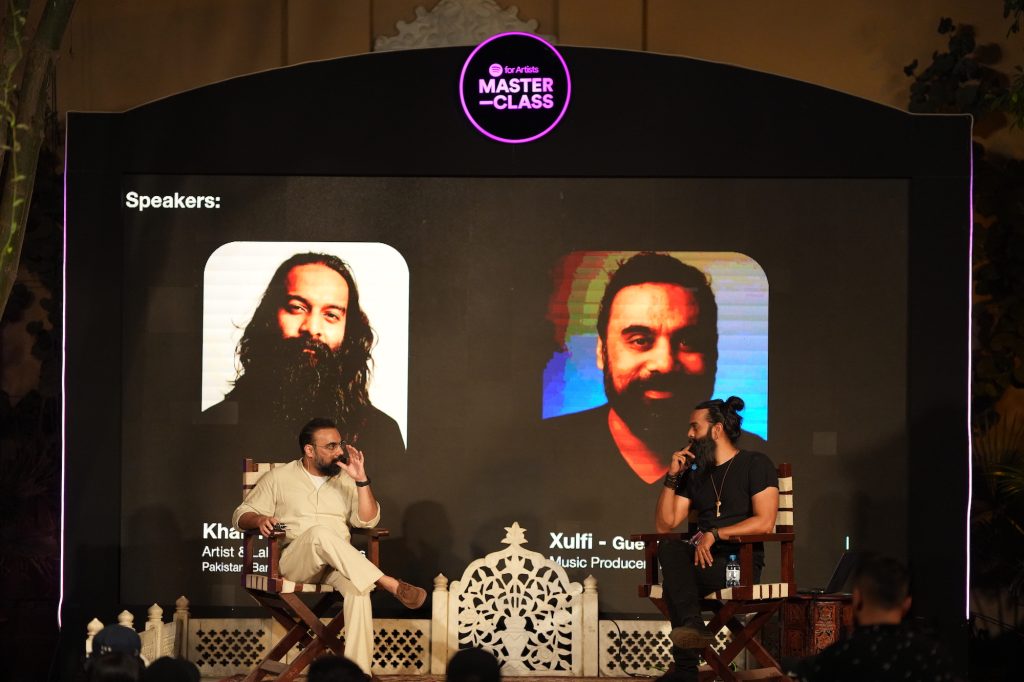 Spotify gets in the cricket spirit
"Cricket is huge in Pakistan, and Spotify highlighted the nation's love for the game by launching a cricket marketing campaign and digging into the data* of the popular Cricket Fever playlist," shared Talha Hashim, Marketing Manager for Pakistan, Sri Lanka, and Bangladesh. The curated collection has seen a staggering 611% increase in streams since the beginning of Pakistan Super League 08 (PSL) this year. Among other trends, we noticed: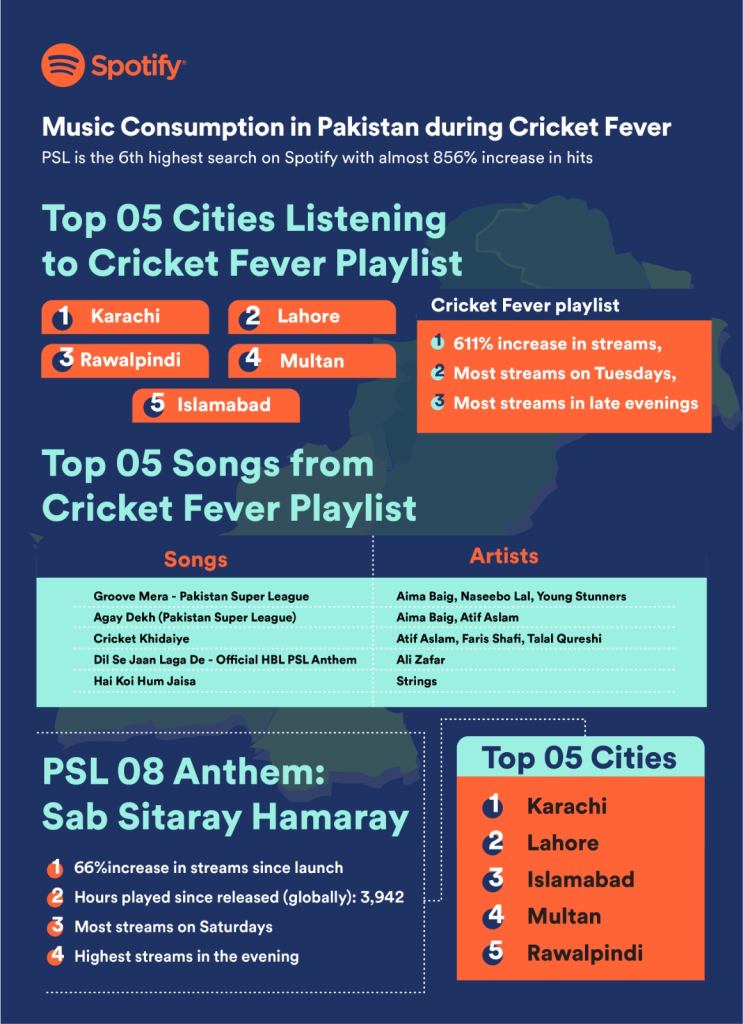 Celebrating local artists with Pakka Hit Hai
The Pakka Hit Hai playlist is the go-to Spotify destination for Pakistan's top hits. "The playlist first launched in 2022 and has seen incredible growth and popularity since its inception. To celebrate, Spotify partnered with COLABS for a concert series called Pakka Hit Hai Live," said Rutaba Yaqub, Senior Editor for Pakistan, Sri Lanka, and Bangladesh. The first show featured Fresh Finds success Abdul Hannan and Taha G, two of the best-performing artists on the playlist. Bringing the playlist to more fans through live events is one way we're expanding its reach. 
View this post on Instagram
Pakistan is filled with talented creators, and Spotify can't wait to share more of their music with the world. To hear more from local artists, check out the Pakka Hit Hai playlist below.
*Streaming data pulled from January 30, 2023 through Feb 28, 2023.