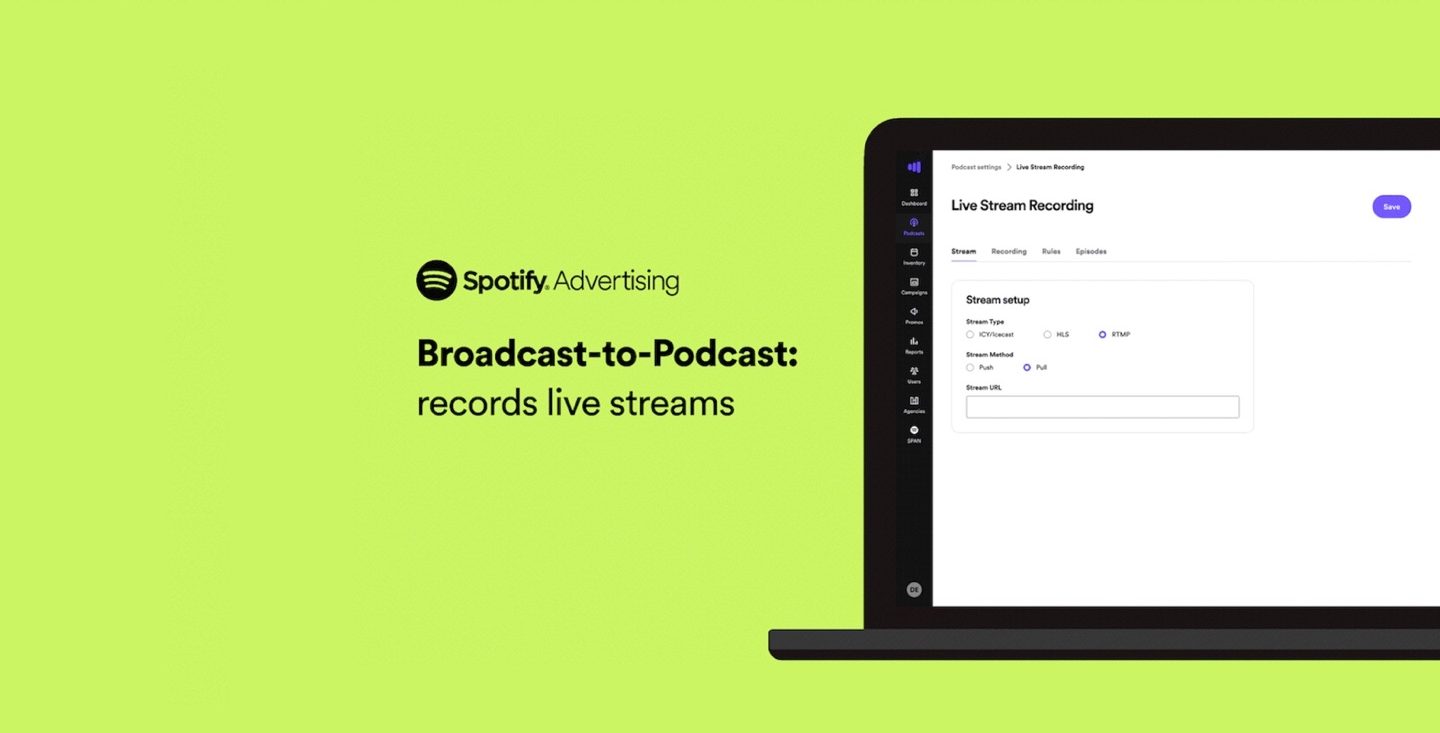 B2P
Spotify's New Publishing Tool Makes It Easy To Turn Broadcasts Into Podcasts
At the end of 2021, Spotify announced the acquisition of Whooshkaa, an Australia-based podcast technology platform that let radio broadcasters turn their existing audio content into on-demand podcast content. Today, we are excited to share that this technology is now available for any publisher with a Megaphone account. Megaphone is our podcasting platform for enterprise publishers and professional podcasters, and it offers a comprehensive set of tools that helps them publish, measure, and monetize their podcast businesses.
This technology, which we are calling broadcast-to-podcast (B2P), gives broadcast publishers—whether they're already in the podcast game or new to the medium—an easy-to-use tool that allows them to leverage existing content to reach new, younger audiences and extend their revenue potential.
For the Record spoke to Emma Vaughn, Global Head of Advertising Business Development & Partnerships at Spotify, to learn more about this technology and what it means for broadcast creators.
First, can you share how radio listening habits are changing?
Radio listening has been gradually shifting from over-the-air to streaming as consumers increasingly choose to listen through their digital devices. In fact, the time people spent listening to broadcast radio online in the U.S. grew by 50% from 2019 to 2022. 
Similar to TV, busy consumers want to listen to their favorite audio content on their own schedule. This partly explains the tremendous growth of the podcast industry—creators, publishers, and platforms are responding to the demand from audiences. At the same time, there are more ways for people to listen thanks to a high adoption of devices like smart speakers, smartwatches, and more. 
Does this new B2P tool require extra effort or technical knowledge to use?
No! The ease of use and automation are major benefits to this product. After a simple, one-time setup process in Megaphone, broadcast-to-podcast will automatically create new podcast episodes from previously broadcasted content, making it easier than ever for broadcast publishers to reach new audiences with their content. It's honestly so cool.  
It typically takes publishing teams approximately 30 to 60 minutes to manually convert each individual broadcast episode to a podcast. This includes downloading the episode off the radio platform, removing the ad spots, placing ad markers, and uploading the episode to a podcast platform. 
This amount of friction does not work at scale when converting hundreds of episodes per day across a network. B2P helps automate this entire process for publishers.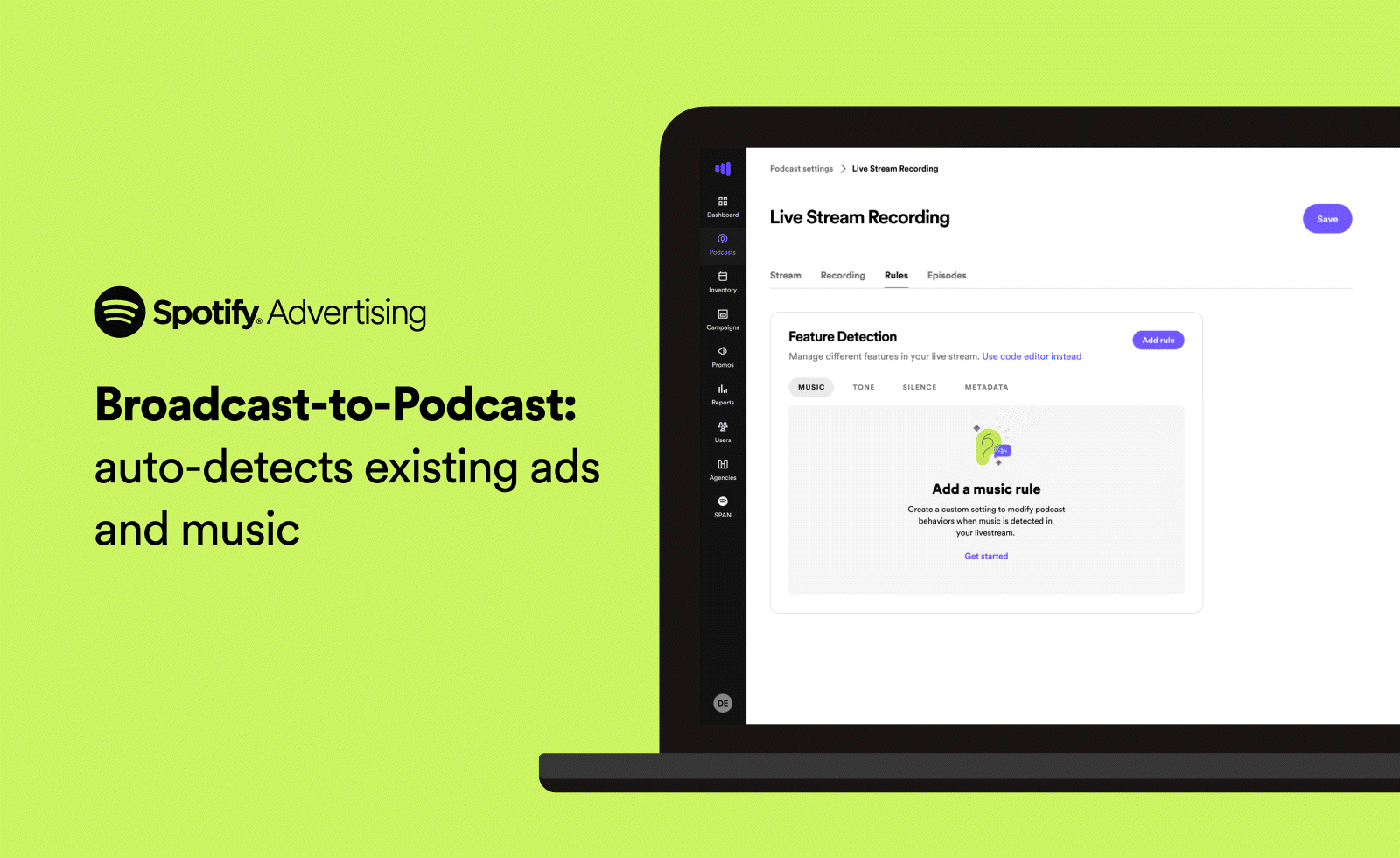 How does B2P help radio publishers find new audiences?
The way listeners engage with audio is constantly changing. We also know that digital audio is increasingly becoming consumers' preferred way to listen, especially for Gen Zs. We have a trusted relationship with more than 500 million users in more than 180 markets. This massive global audience of young, highly engaged—and, most importantly—culturally influential listeners have a broad reach, purchasing power, and a willingness to forge intimate connections with creators.
We reach more than 50% of Gen Z and millennials in the U.S. on Spotify, and publishers are taking note. With the launch of our broadcast-to-podcast technology within Spotify's enterprise podcast platform Megaphone, broadcast publishers will be able to connect with previously hard-to-reach audiences. This especially applies to Gen Z, who, according to Pew Research, prefer to get their news through digital channels like podcasts.
What are some other opportunities that come with the B2P tool?
With podcast ad spending projected to hit nearly $2.2 billion in 2023, this represents a huge revenue opportunity for broadcast publishers. Our broadcast-to-podcast feature enables broadcast publishers to reach new audiences, unlock more monetization opportunities, and give loyal fans more access to their content from anywhere. And now it's available to all Megaphone partners globally. 
Once the broadcast-to-podcast tech converts the content to a streaming format, ad marker locations are automatically identified, and users have the flexibility to either replace or remove the identified ad locations based on their placement in the broadcast stream. This gives users the ability to dynamically reinsert new ads for additional monetization or replace old ad locations with other content. What's more, publishers can take this opportunity to tap into the Spotify Audience Network, which helps publishers monetize unsold inventory.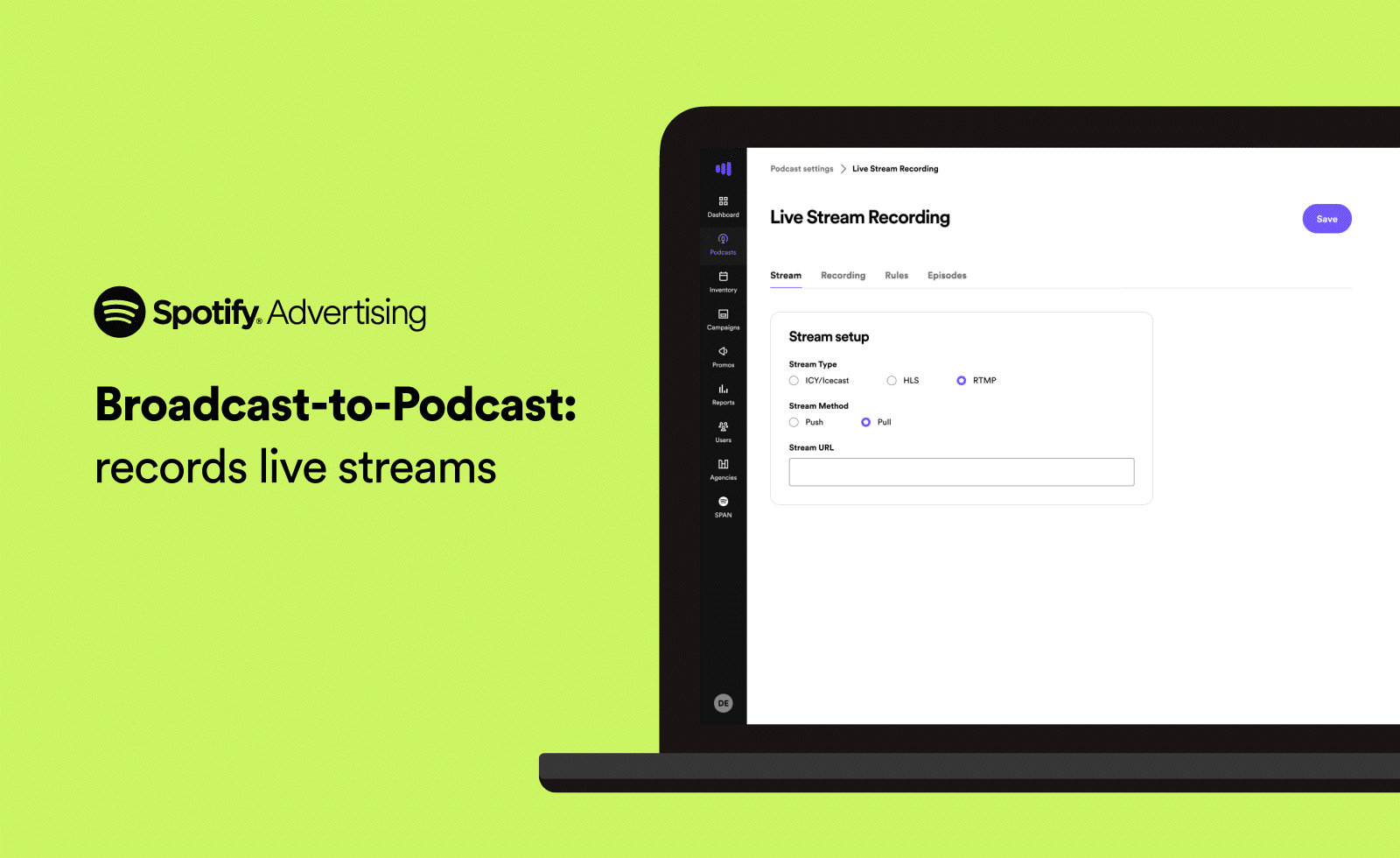 Are there any broadcasters currently publishing their content as podcasts on Spotify?
Publishers such as FOX News Audio are already actively using broadcast-to-podcast to take advantage of on-demand podcasts and easily translate their radio content into podcast content. They chose Megaphone because it was built specifically to optimize podcast performance, eliminating the need to rely on tools built for radio, while also extending their audience reach and creating an additional revenue stream. With this launch, we're hoping many more join them! 
Ready to learn more? Find additional details on the new broadcast-to-podcast tool here.