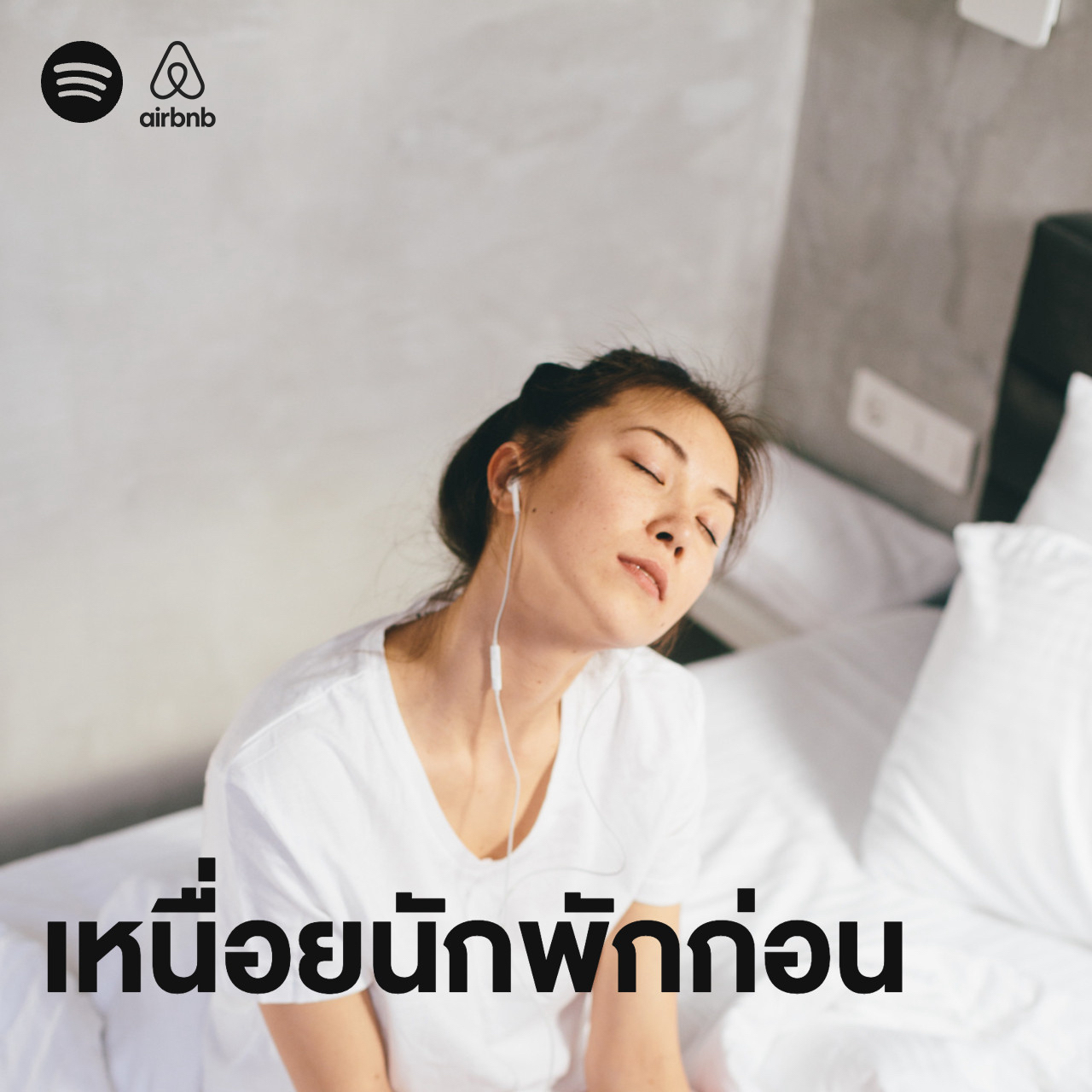 A FRESH START
Airbnb and Spotify Team Up During Thailand's Songkran Festival to Help Travelers Relax and Rejuvenate
As Thailand kicked off its new year and celebrated Songkran, we teamed up with Airbnb to help travelers find the hottest songs and stays for their wellness getaways. 
Airbnb and Spotify jointly curated the popular T-Pop playlist เหนื่อยนักพักก่อน (Let's Get Some Rest), which includes travel-inspired hits from some of Thailand's most popular artists. Airbnb also created the wellness-themed "Sawasdee Songkran" Wishlist showcasing unique Thai homes where travelers could enjoy a rejuvenating getaway and tune into the top Thai hits.
"Travel and music go hand in hand. Whether you're curating the perfect flight playlist or unwinding to tunes in your Airbnb stay, music is often a key component of a travel journey," said Cheryl Tay, who leads communications for Airbnb in Southeast Asia. "Songkran in particular is known for exuberant water fights, colorful celebrations in the streets, and days of merrymaking that are soundtracked by joyful music. But it also marks an opportunity for us to rest and reset as we embrace the dawn of a new year. As the world returns to normal, we wanted to emphasize the importance of seeking rest."
From stylish beachside villas to dreamy treehouse cabins in the woods, we've offered Airbnb guests the chance to make their stay even more memorable with Spotify's latest Premium Mini offer in Thailand. Available for just THB2, guests have been able to sign up right from their phones and soundtrack their adventures with one week of nonstop, ad-free music listening.
To get travelers in the holiday spirit, we also launched our brand-new playlist สวัสดีสงกรานต์ (Sawasdee Songkran). Filled with homegrown Thai artists like GAVIN.D, YOUNGOHM, and SPRITE, we're introducing the world to the sounds of Tud Tud, Pump Pump, and Ah Ah—well-known rhythms that help make some of the most popular Thai songs so catchy.
To learn more about how travel and music play into the culture and traditions of Songkran, For the Record spoke with Piyoros Luckcam, Spotify's Senior Music Editor, Thailand.
What role does music traditionally play in Thailand's Songkran celebrations? 
Music is the world's greatest connecting force. When Thailand comes to life for Songkran every April, music helps make the experience more immersive and meaningful for Thais and visitors from all over the world. Crowds throng the streets, pulsating to the sounds of popular Thai genres as they're energized by Thailand's warm and fun-loving culture. 
Much like the rest of the year, music is the soundtrack to the lives of Thais. The name Songkran is derived from a Sanskrit word that means "to start new," but we also like to think that it reflects how Thai music—especially Thai pop and hip-hop—has been refreshed in recent times. 
Whether splashing water, stepping into a temple, or traveling home to visit family, Songkran is a moment to pause and soak in the melodic tunes of joy and reflection. 
Are there specific qualities about Thai-Pop (T-Pop) that make it a popular genre for festive moments in Thailand?
Songkran is a time when everyone comes together to literally soak up the fun on the streets. As people dive into a new year of resolutions and adventure, the catchy beats and memorable lyrics of T-Pop capture this period's energy and verve. We've seen global consumption of T-Pop doubling in the past year, with no signs of slowing down. 
Thailand continues to see its passionate artists supercharging the growth of its music industry. The new generation of T-Pop artists and bands, known for their high-octane performances and uplifting lyrics, is starting to draw attention from fans around the globe. 
How do the RADAR Thailand and EQUAL Thailand artists embody the spirit of Songkran with their music?
The Thai New Year often calls for new aspirations or rejuvenation—not just for locals, but for international visitors experiencing the cultural moment. Our collaboration with Airbnb will not only inspire Thais to relax and rejuvenate during the New Year holidays, but also celebrate local culture and its people by making connections with Airbnb hosts and discovering our RADAR and EQUAL artists. 
We hope that as listeners travel the country with loved ones, they'll feel inspired by the diversity and vibrancy of Thailand's music scene and the hit songs that encapsulate the spirit of Songkran.
Looking for more T-Pop vibes? Check many of Thailand's hottest songs from up-and-coming artists on our new playlist เต้นแบบสับ (Dance Like Chop).