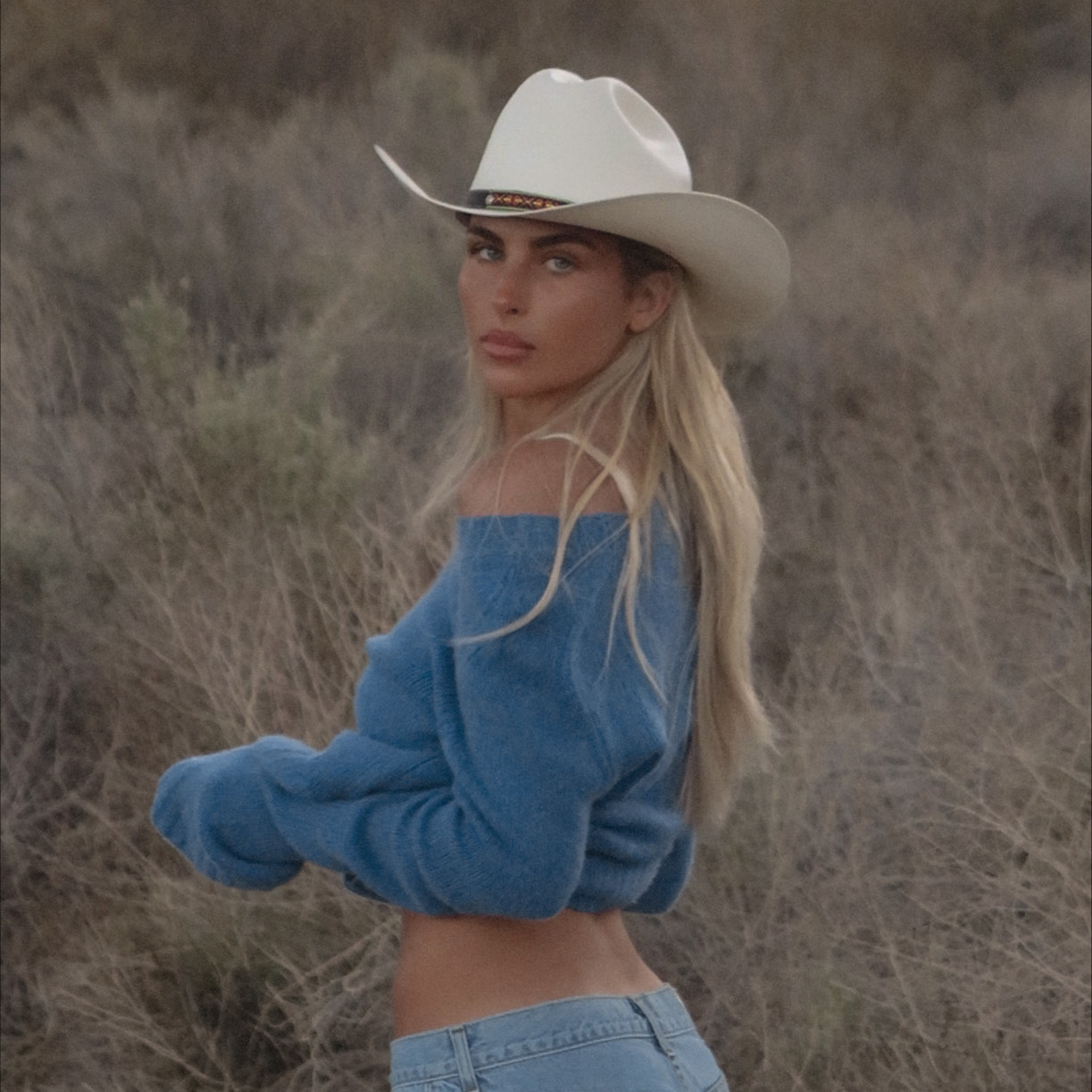 FARM MEETS BEACH
Ride on the Coastal Cowgirl Trend With Paige Lorenze's Music Playlist Picks
Coastal cowgirl: It's a vibe. This aesthetic, inspired by a mixture of slow-paced country living and sun-soaked coastal dreaminess, has been trending on social media lately, and it's making waves on Spotify. 
From across the globe, we recently saw a nearly 1,430% increase* in the creation of user-generated coastal cowgirl playlists. These playlists feature a mix of genres like country, new wave pop, indie pop, stomp and holler, and sunshine pop.
Some of the top tracks added to user-generated coastal cowgirl playlists on Spotify include "Texas Sun" by Khruangbin and Leon Bridges, "Cowboy Take Me Away" by The Chicks, "Slow Burn" and "Golden Hour" by Kacey Musgraves, "Southern Nights" by Glen Campbell, "Dreams" by Fleetwood Mac, "Take It Easy" by Eagles, "Malibu" by Miley Cyrus, "Island In The Sun" by Weezer, "California Dreamin'" by The Mamas & The Papas, and "Heads Carolina, Tails California" by Jo Dee Messina.
Paige Lorenze, a content creator, channels coastal cowgirl pretty effortlessly. She was raised in Vermont and, after spending a few years in New York City, settled in Connecticut, where she now shares her love of horses, fashion, and fun with her followers. A glance through Paige's vlog shows days spent at her barn and looks featuring cowboy boots, but she also posts beauty tips and has highlights of her international travels.
Paige's predilection for the trend made her the perfect person to take over Spotify's own coastal cowgirl playlist. She helped curate a list of songs that serve as the perfect soundtracks for the desert, beach, or rural dirt roads. For the Record caught up with Paige to learn more about the coastal cowgirl vibe, and how she picked songs for the playlist.
How would you define the "coastal cowgirl" vibe?

The coastal cowgirl vibe is all about incorporating western fashion with coastal elements, creating a relaxed-yet-chic look. It's about blending earthy tones with denim and leather pieces, accessorizing with cowboy hats and boots, and incorporating horse-riding culture. Whatever makes you feel grounded in nature and in your roots. 
How did you pick songs for Spotify's coastal cowgirl playlist?
I wanted to curate a playlist that reflects the coastal cowgirl vibe and showcases artists who represent this culture. I included country and indie-folk artists like Kenny Chesney, Leon Bridges, and Mazzy Star, who write calming, breezy songs that are perfect to sing along to in the car or play during a relaxing day on the beach. 
Can you talk specifically about a song you included and why you thought of it for the playlist?

One song I included was "Landslide" by Fleetwood Mac. I chose this song because it speaks to the idea of building a strong sense of self and overcoming obstacles. Plus, it's a classic that everyone knows and loves! I grew up loving this song, as I'm sure a lot of people did. 
Why is this playlist the perfect curation for fans getting ready for festivals this summer?

This playlist is perfect for anyone getting ready for festivals because it captures the essence of the western and coastal cultures, which is what these festivals are all about. The songs are a mix of old and new and represent different genres that everyone can enjoy. And the playlist creates the perfect atmosphere for a day filled with sunshine, music, and good vibes.
What's your favorite thing about this trend?
I love that the coastal cowgirl trend is sustainable and timeless. It's all about good basic pieces and good boots that will last you forever. I love that all my boots are so in now. I have some amazing cowboy boots and boots passed down from my mom. Also, I love how growing up riding and having horses in the fields behind my house is paying off! 
Channel your own coastal cowgirl vibe with our playlist below.
*This data is global and reflects the increase in playlist creation from February 16 through March 2 to March 2 through March 16, 2023.