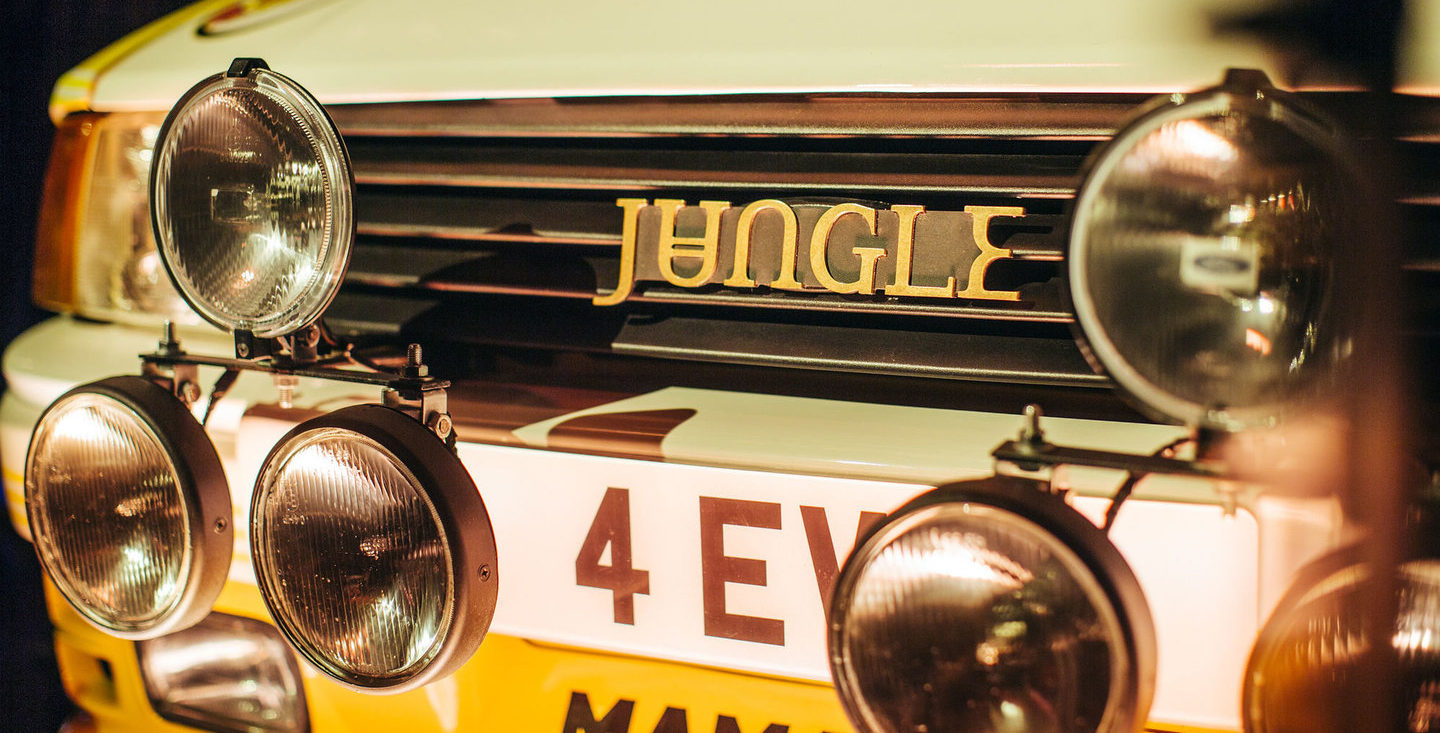 THEY'RE BUSY EARNIN'
Jungle: From 'Accidental Band' to London Phenomenon
It's September in London, and it's album release week for Jungle, one of the biggest young British bands worldwide—and the rumble in Jungle is, keep on movin'.
For Josh "J" Lloyd-Watson and Tom "T" McFarland, the Londoners at the heart of Jungle, it's been a flurry of flights, interviews, sessions, takeovers, pop-ups, in-stores, and lunchtime DJ sets. Now, on Saturday night, capping off a busy few days, the pair is back for a homecoming Spotify Fans First event to mark the release of their much-anticipated second album, For Ever.
Here in Village Underground, a turn-of-the-century warehouse turned cultural hub in the heart of Shoreditch, London, Jungle is setting the seal on a triumphant week with an immersive experience. With their ever-present eye for detail, J, T, and their team have recreated the set of the video for their summer single, "Happy Man."
This has meant somehow inserting a full-sized rally car—a 1985 Ford Escort Cabriolet emblazoned with "Jungle Sport" and "JFC Fuel Injection"—and a mini repair garage into a compact club space. That, plus a long queue of fans snaking around the block.
"The people at this kind of show are the most passionate fans," says T. We're talking a few minutes before showtime in a dusty corridor behind the stage. "They know everything back to front. It's great to play gigs for them because they're your bread and butter. They're the ones who queue up, literally 'round the block, to come and see you."
[Editor's note: They're also the ones upset if tonight's "Happy Man" detail is at all wanting.]
"Exactly," affirms J. "So we've got the car out there, and lots of stuff from our house. When it's a Spotify Fans First gig, it means your top listeners—which basically means my mum and my dad!" he laughs. "Seriously, it's funny: We have been trying to work out who's out there and some of our mates got [invitation] emails. They've obviously been blasting the last album and the new singles."
For Ever is the irrepressibly enthusiastic duo's follow-up to their self-titled debut. Released in the summer of 2014, Jungle was an accidental worldwide hit by an accidental band. J and T, pals since their school days, were bedroom producers from Shepherd's Bush. After years making music together and playing in other bands, they had no public or commercial aspirations—and not even an overall band name—for the new songs they began dreaming up.
But after quietly releasing the tracks "Platoon," "The Heat," and "Busy Earnin'" and giving away zero information about their identities other than their initials, J and T found themselves at the heart of a phenomenon. Jungle, the street soul sound of London, quickly went global, helped by their equally innovative, homemade viral videos.
As J recalls, "It was kind of a bit shocking, ultimately. We dreamt of being in a band that people knew, but we didn't expect anything like that. We'd been through a load of bands previously, started Jungle, didn't tell anyone—and then all the dominoes started falling."
A now legendary performance at Glastonbury '14 in a packed John Peel Tent. Brit Award and Mercury Music Prize nominations. Noel Gallagher anointing the album "f*cking amazing." The dominoes fell … and keep falling. At time of writing, Jungle has 2.5 million monthly Spotify listeners.
"That's the strange thing for us," reflects T. "We can do this—play shows—in Mexico, in Argentina, in America. That's the most exciting thing."
Adds J, "We can go and sell two and a half thousand concert tickets in Mexico City because of streaming."
Indeed: Dig into the Spotify data and the Mexican capital is second only to London in terms of the number of Jungle listeners, beating Los Angeles, Paris, and New York.
"The support from Spotify has been absolutely incredible, I have to say," continues J. "Big billboards, events like this … Mental!"
After touring for two solid years, J and T took the briefest of breaks before starting work on their second album. The situation was complicated, as it so often is, by love. J relocated to Los Angeles to live with a girl he'd met when Jungle played the Hollywood Bowl. T stayed in London to be closer to a girl he'd met the week before Jungle played their first-ever show. The situation was further complicated, as it also so often is, by the end of love: both relationships ended. But from romantic breakdowns came a creative startup. J's American dream going awry found form in new songs like "Heavy California" and the ironically titled "Happy Man" (which states: "buy yourself a dream … how's it looking?").
"There's no getting away from it; it's real life, it's what actually happened," J says matter-of-factly. "In fact, I managed to meet up with my ex recently in LA and actually resolve things. We drove 'round LA listening to the record, which was f*cking bizarre. You're listening from two angles: First, you're thinking, 'Oh, this mix is poor.' Then, second, 'She's not reacting! Next one!' I was trying to impress her with my music."
"Can you imagine that intense experience," wonders T with a grin. "Hearing those tracks on the album that are directly jabbing at her?"
Still, J admits the playback-on-wheels was a healthy, healing moment.
"Massively," he nods. "I felt like I'd completed something, like a weight was lifted. That's a good thing, and the title became more meaningful: Jungle For Ever. It started to become apparent that both the women in those relationships were terrified of the relationships being forever—the idea of commitment. That's why my relationship ended: her fear of commitment."
T has had some closure, too. "My ex has been in touch, saying that she could hear in the music that she'd meant something to me. We knew the songs had done their job for us, helping us resolve our feelings. But it was great to know it was 'job done' for others, too."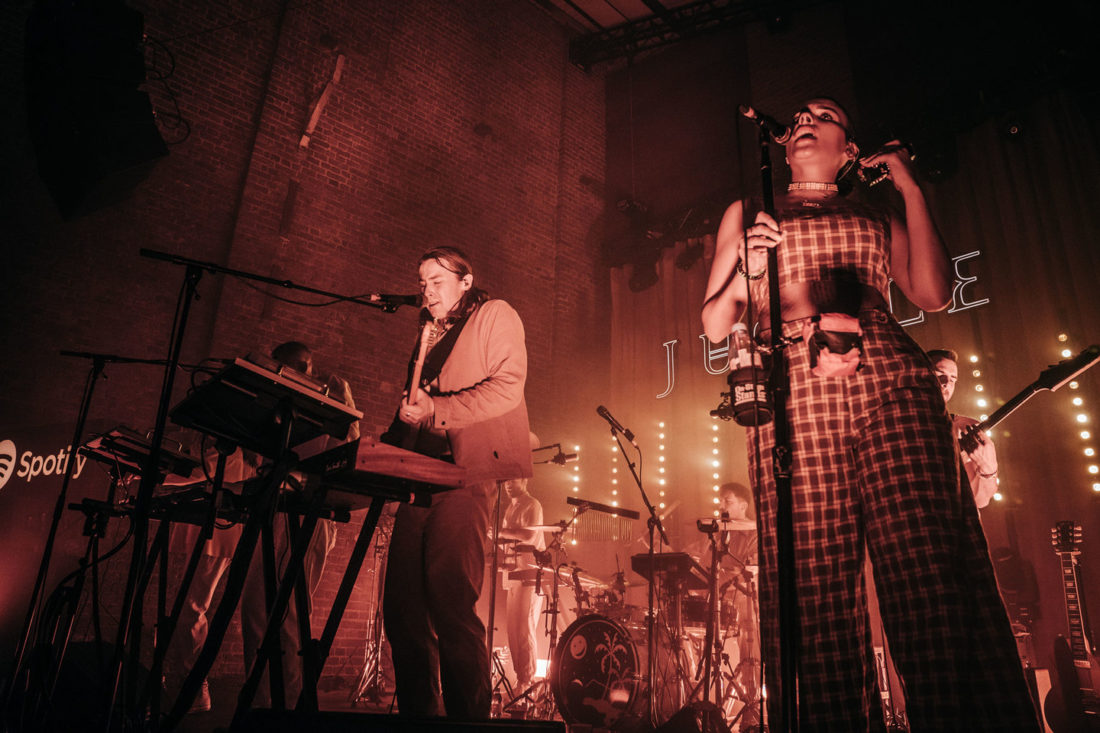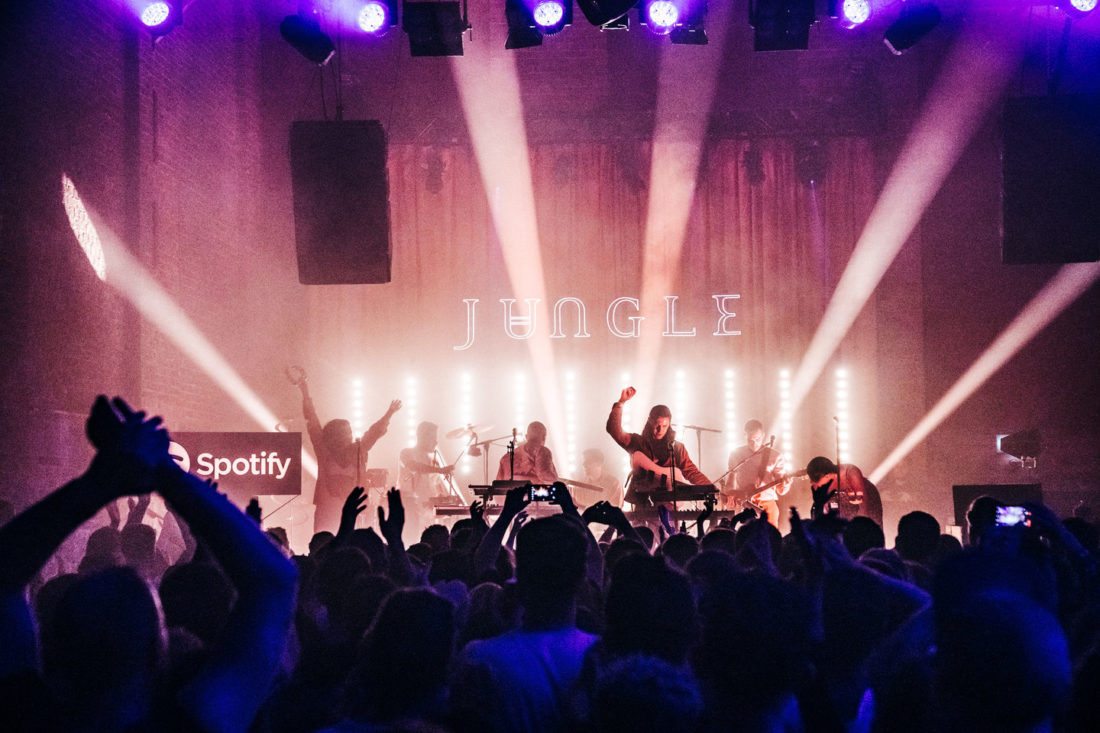 The Jungle collective—J and T rounded out by five supporting musicians and singers—have already been touring for much of 2018, including a hefty run of festivals that began at Coachella in California in the spring. But tonight's Spotify Fans First show is the first one they'll be playing where they know the audience has heard the new album.
For the core duo, it marks the start of the next phase of their touring.
"Now we feel like we've got a repertoire, which is nice," says T. "That's what's great about a show like tonight, or touring now: You feel like you've got a body of work. And we're only going to keep adding to that."
"With the last album, we used to do a big long extended outro on 'The Heat.' We'd loop it again and again so we could do an hour set: 'Are we there yet?'" J laughs.
Tonight's "immersive" 14-track, hour-long show also lets Jungle do what it does best: create spectacles that are visual as well as musical.
"Ultimately it's about building worlds," offers J, "worlds to step into. There's a lot of, essentially, quite … realist music out there at the moment. Quite down to earth. We've lost the fun stuff. People forget that music should be fun. We're always trying to make it feel amazing, sound better."
And for their next trick: In 2019, Jungle will be stepping up a gear, taking their show into grander venues around the world—ballrooms, theatres, palaces. They're already formulating a bigger show for bigger spaces.
"We've got to up it in some way," says T. "It'll always be about the band, but we have to think about those larger rooms—about reaching the audience right at the back, keeping everyone engaged, and ultimately giving them the best night possible. But now that this album's out, we feel energized to see what's next. We're just cracking on."
Indeed, they are. Tomorrow, Sunday, J is shooting a video for up-and-coming London hip-hop star Little Simz. T is having a day off at home, "doing laundry and packing. We go away first thing Monday for a month. First stop, Paris, then Hamburg, then LA."
How will it be touching down back in LA—the scene of heartbreak and broken dreams—for the first time since For Ever came out?
"It's always romantic," replies J, positive, indefatigable, and enthused to the end. "Even though it's the place where I split up, you can't get away from the fact that it did help inspire this album."
And with that, they're off. J and T have a show to do for 390 of their biggest fans. Jungle: Fans First, and For Ever.
Listen to Jungle's newest album, "For Ever" on Spotify here.