LOOKING DOWN IS LOOKING UP
Shoegaze: The '90s Rock Genre Once Again Gains Ground
Are you a fan of guitar- and distortion-heavy rock artists like My Bloody Valentine, Catherine Wheel, and Ride? Then you're into shoegaze. Yes, despite the unique name, it's a real genre— and one seeing a recent resurgence.
So just how did shoegaze gain a foothold? English music journalists in the early 1990s noticed that certain bands were looking down at their feet throughout their performances—and not out at the crowd. These artists weren't putting on an air of indifference, though. They were meticulously working their banks of guitar pedals. This allowed them to transform their music into loud, gauzy layers of distortion, fuzz, delay, tremolo, and countless other woozy sonic effects.
The Jesus and Mary Chain is often credited as providing the foundation for shoegaze as early as 1985, with interlaced power chords and howls of feedback and guitar noise. But ultimately, the shoegaze genre hit its stride in 1991 with My Bloody Valentine's Loveless album, as well as releases from Chapterhouse, Lush, Moose, Slowdive, and Swervedriver. They, in turn, influenced other '90s-founded bands like Blonde Redhead and Scottish stalwarts Mogwai. Shoegaze became defined by layers of effects and, of course, volume.
Shoegaze peaked in 1996 in terms of number of releases. Then it went somewhat dark. Recently, however, many legends of the genre have reunited for tours and fresh albums. So if you see one of these bands live, bring earplugs. But keep your eyes open—you'll see that the crowd is a mix of teenagers of the '90s and, well, teenagers.
Explore shoegaze with this playable map: The bigger the artist's name, the more popular they are on Spotify. Click the image to expand it.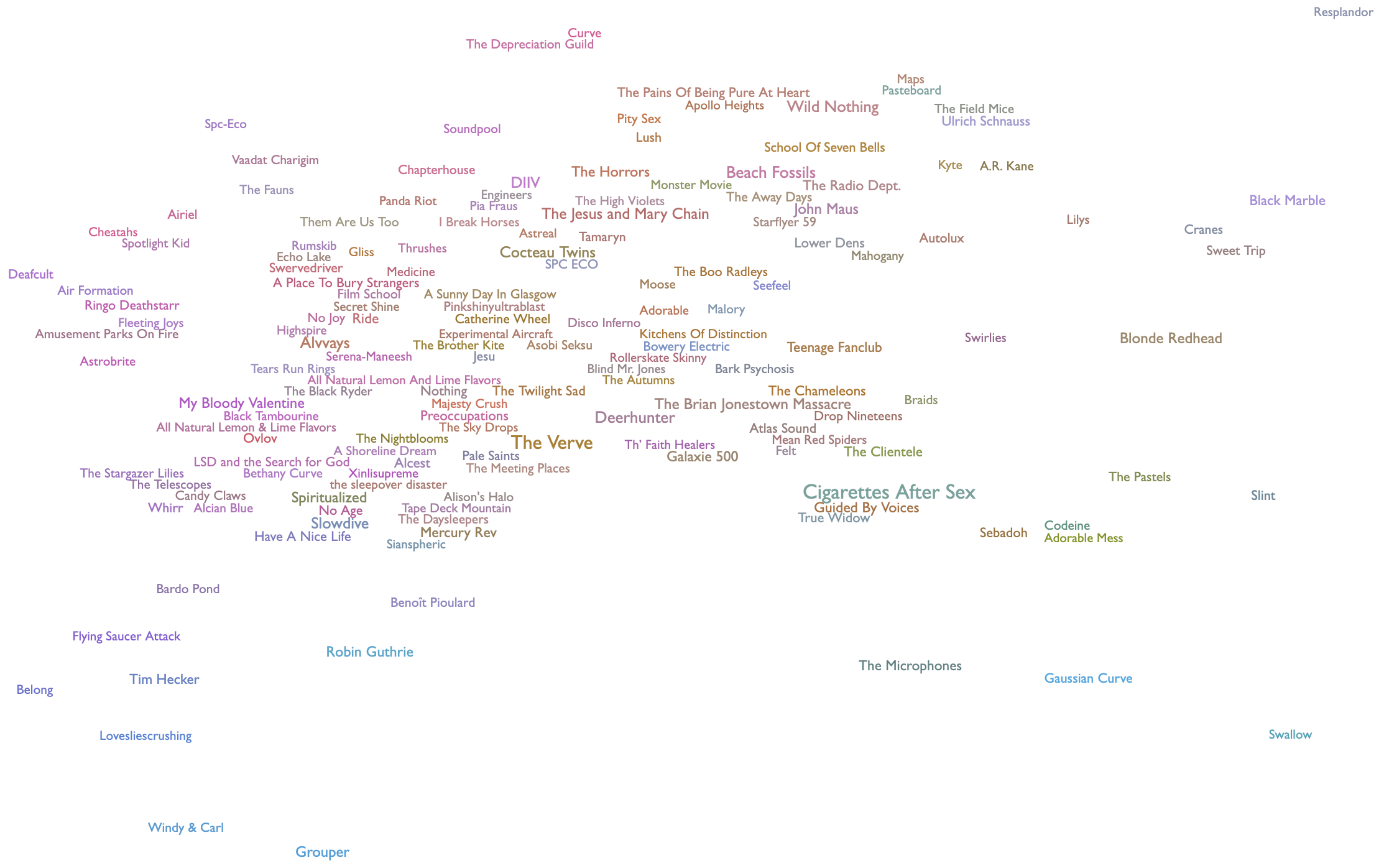 In 2018 there were twice as many shoegaze recordings released (or rereleased) as in 1996. If you were into shoegaze back then, you are likely listening to the music now since Gen Xers stream the genre's artists on Spotify at a higher rate than any other age demographic. And while shoegaze started in the UK, today the music is streamed the most in Portugal, Greece, Israel, and Lithuania—and most modern shoegaze bands aren't British, they're American.
Among the young up-and-comers pushing the genre forward and in new directions are Flyying Colours, No Joy, and The Pains Of Being Pure At Heart. Shoegaze is not only back, it's actually spawning several subgenres. Things are, dare we say, looking up for looking down.
Not sure where to start with shoegaze? Check out one of these playlists:
The Sound of Shoegaze: Defining tracks that stood out from the rest
The Edge of Shoegaze: Recent, lesser-known music streamed by shoegaze fans
Dreamy & Distorted: Spotify's main shoegaze playlist