RECORD, EDIT, CUSTOMIZE
10 Anchor Tools To Help You Make a Great Podcast
In February, Spotify announced that we acquired Anchor, a platform that makes quality podcasting easy and fun. We're excited to increase the number of podcasts and diversity of topics available on Spotify and hope to inspire our users to start creating their own shows.
Luckily, podcasting has never been as simple—or accessible—as it is with Anchor. Whether you're recording your fourth podcast or your first, check out 10 Anchor tools below that can ease you through the entire process.
1. Record from anywhere—literally.
Record episodes wherever you are by using the Anchor mobile app for iPhone, Android, or iPad. Or flip open your laptop and use the desktop website. No other equipment is required—unless you're feeling fancy, in which case you can use a USB mic. You can also upload audio files to use in your podcast.

True story: People have used the mobile feature to record everywhere imaginable, including while climbing Mt. Kilimanjaro and from a boat in the middle of the ocean.
2. Record with anyone. 
Anchor's Record with Friends feature supports remote recording with up to eight people at once. Talk to people anywhere in the world and record in real time—distance never has to be an obstacle to making your podcast.
3. Edit your audio with a couple of taps.
Once you've recorded some audio, you can edit it by trimming out any unnecessary pieces or splitting it into multiple segments. Anchor's editing tools are easy to use even when you're on mobile.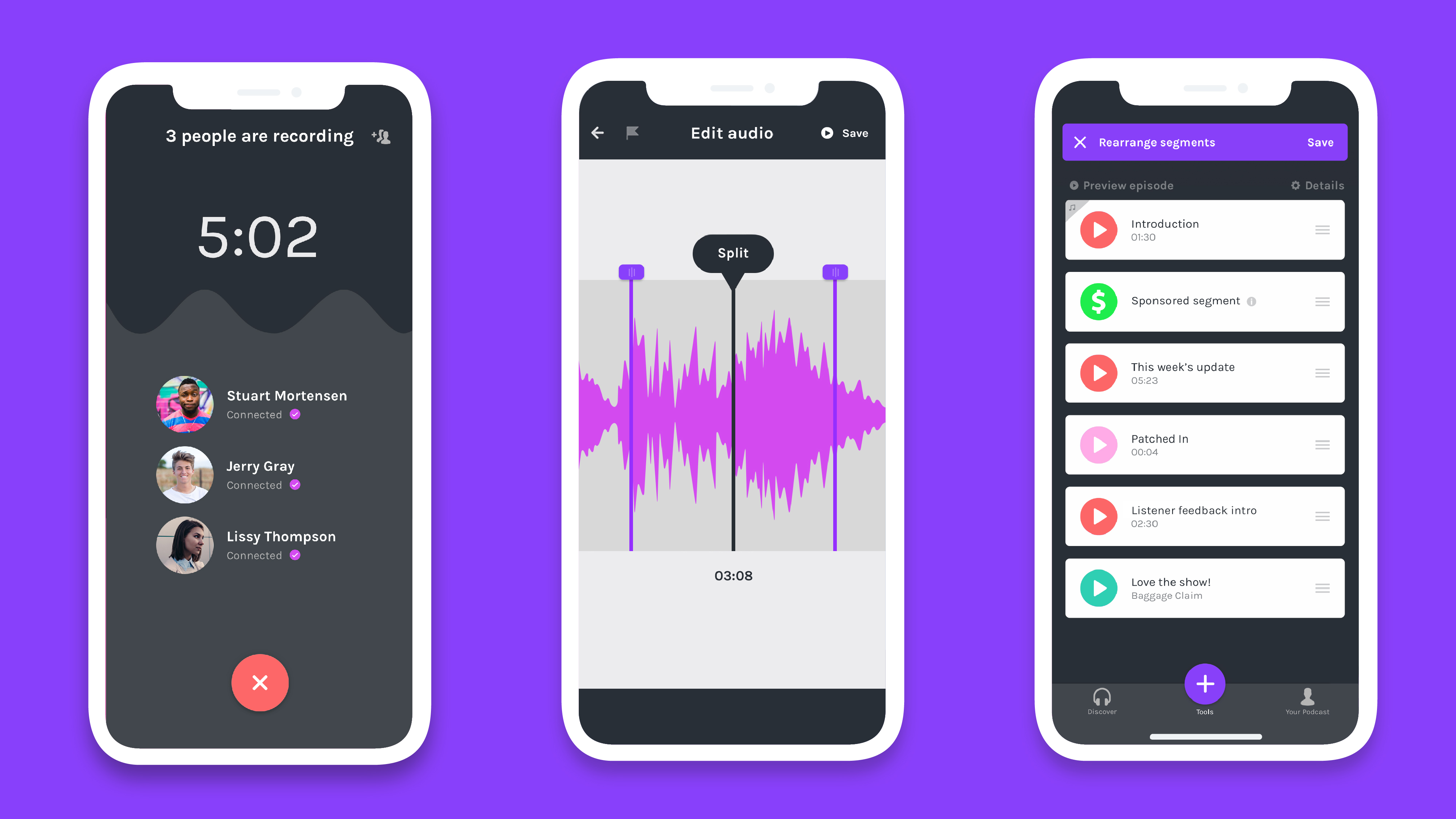 4. Make it sound beautiful.
Anchor has a library of free background music that can be added underneath your audio. The app will even automatically adjust the music's volume based on the sound of your voice, so it's a great way to easily add texture to your podcast's sound.
5. Customize your cover art.
Choose from a library of beautiful photos for your podcast cover artwork, thanks to Anchor's Cover Art Creator (in partnership with Unsplash). Once you select the perfect image, you can add custom text to it right in the Anchor app.
6. Get your show heard everywhere.
Anchor takes care of distributing your podcast everywhere people are listening. With just one tap, you can get your podcast on Spotify and more.
7. Transform your words into social-friendly videos.
If you want to go beyond soundscapes, select a clip of two minutes or less to turn into a word video. It's perfect for showcasing your work across social channels.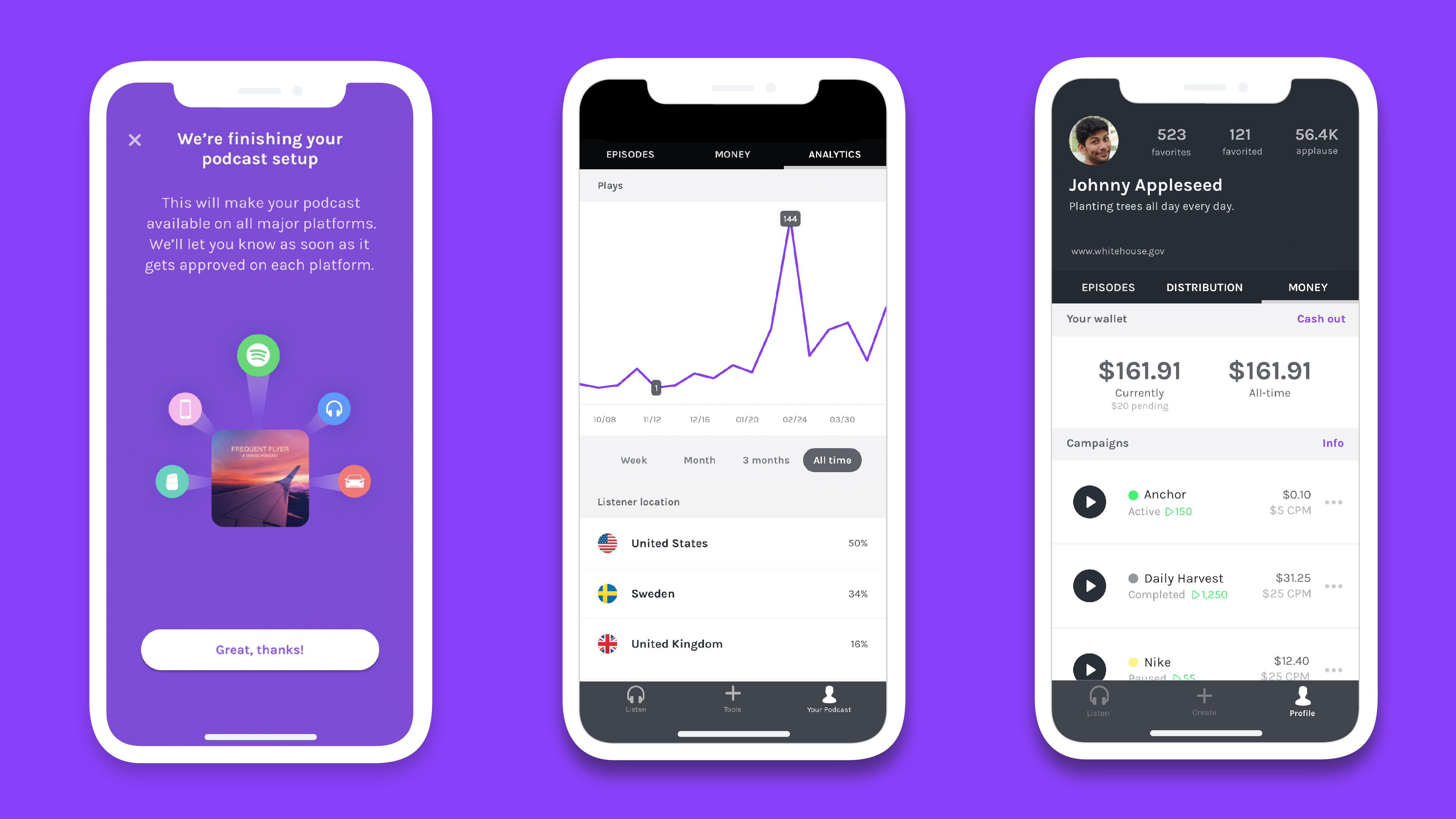 8. Make your listeners part of your podcast.
With Anchor's Voice Messages, you can collect messages from your listeners and incorporate them right into your episodes. Some creators use this feature to share listener comments on a particular topic, host a listener-inspired episode, or create a Q&A-style show.
9. See how your show is growing.
Gain unique insights into when and where your podcast is being heard the loudest. On your Anchor dashboard, you'll find detailed analytics so you can learn about who's listening and how your episodes are performing. Analytics are available on mobile and web, so you can track your success no matter where you are.
10. Make money with your podcast.
With Anchor Sponsorships and Listener Support, you can make money from your podcast either by including custom ads (we'll do the work of matching you with a sponsor and helping you record your own ads), or by collecting recurring donations from listeners.
Ready to get started? Sign up for Anchor today.