MIRROR ME
Reflections on Angel Olsen and Spotify's Interactive Audio Tour of 'All Mirrors'
This past Saturday, indie artist Angel Olsen brought her critically acclaimed single "All Mirrors"  to life inside Villain—a dark warehouse and event space in the heart of Brooklyn, New York. Through a collaboration with Spotify, Olsen created an interactive pop-up listening event and invited fans to personally experience the song's themes of change and transformation via a guided walk through a labyrinth of visual stimuli. 
"The team at Spotify has been incredibly supportive of this record and it's been wild to see how one small song can come together in this interactive installation" said Olsen, who experienced the event for herself ahead of her sold-out show at Brooklyn Steel later that night. 
The collaboration was a part of Spotify's ongoing efforts to lend support to artists at all stages of their career. "With every project that comes our way, we want to do right by the artist," said the event's creative director Tim Grover. "Whether they're indie or major, underground or undiscovered, our goal is to help bring an artist's creative vision to life and give fans something truly meaningful."  
"Strong partnerships are always rooted in trust," added David Ecker of Artist Label and Marketing. "It means the world to us that an artist of Angel's caliber would trust us to expand upon her vision in such an unprecedented way."
In this case, that meant honoring the transformative experiences that inspired Olsen to write "All Mirrors" by borrowing some of the unique assets featured in the song's music video.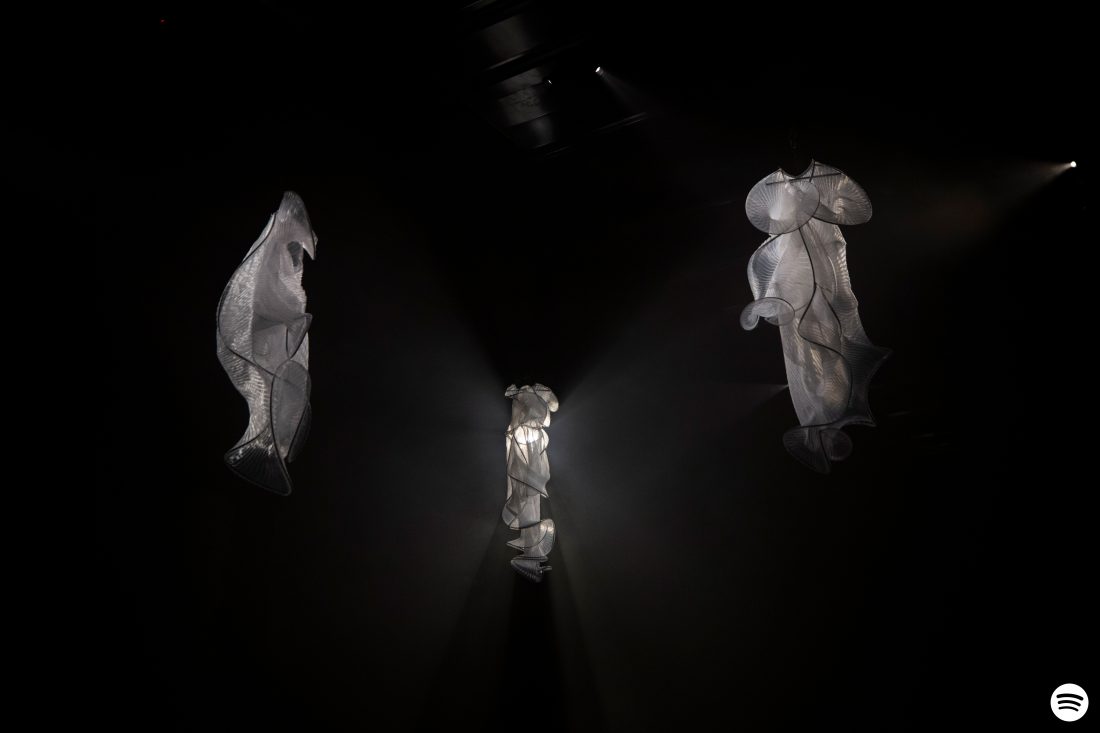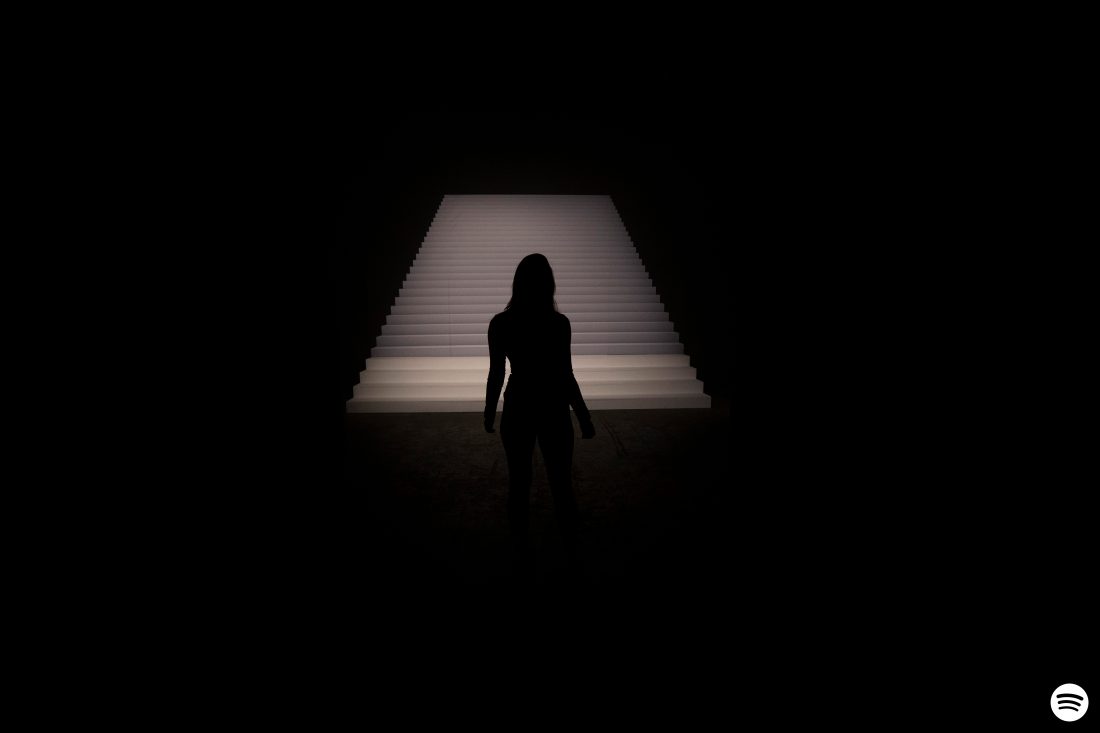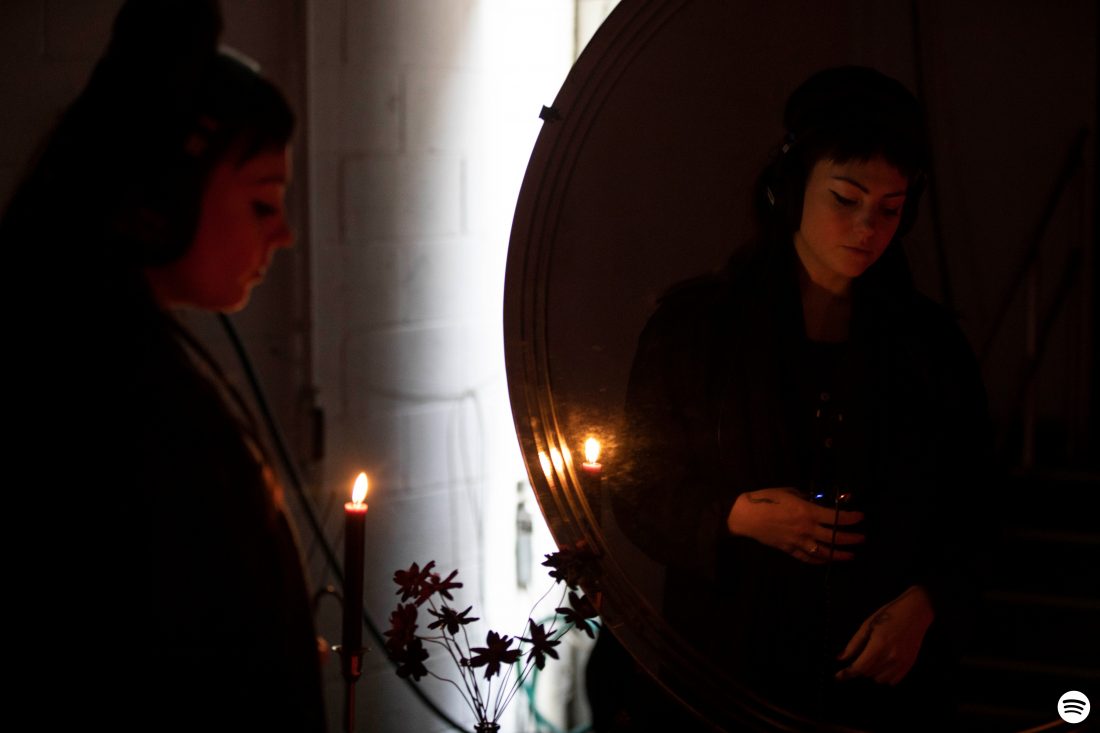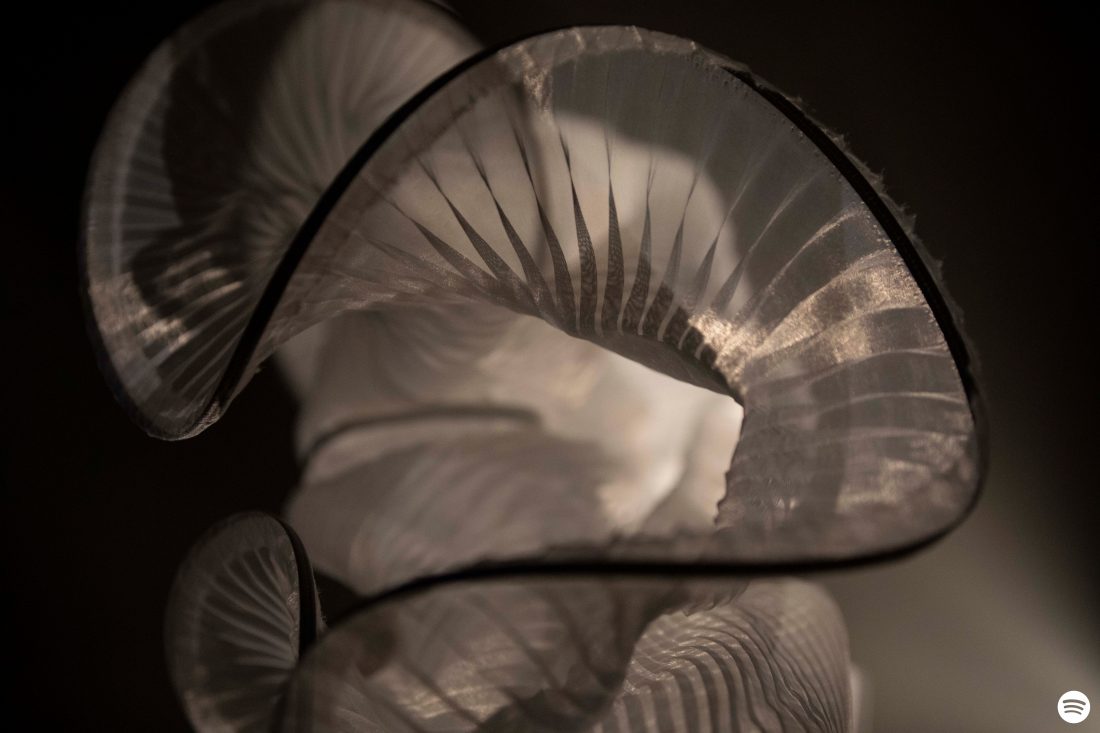 One such item was the pleated, dramatic white dress Olsen wore. Placed immediately beyond the entrance and positioned so it was floating above attendees' heads, the dress and the brightly lit staging of it invited fans to look upward and away from the darkness that was directly in front of them. So did the bright white staircase, which featured prominently in the music video and was repurposed for the event. It protruded from the back corner of the warehouse, once again encouraging attendees to step further out of the darkness and towards the light. 
Speaking about the decision to incorporate these pieces into the interactive audio tour, Grover complimented Olsen's distinct visual aesthetic, saying it "deserved to be experienced in a larger-than-life way." So to that end, the Spotify team designed a journey that both mirrored and amplified the music video while nodding to the song's original stripped-down, acoustic origins. 
"Just as the track itself deconstructs, we wanted to pull apart specific elements from 'All Mirrors' and let fans feel like they've entered an entirely new world," Grover explained. A world in which each installation presented guests with new ways of engaging with the song—whether that meant pondering the meaning of the chorus while staring at a reflection of themselves in a circle of mirrors, or taking in the song's raw, unspooled ending while winding through a series of twirling, glittering, tinseled streamers. 
Fans were encouraged to draw their own conclusions from each moment, and that room for interpretation was very much in keeping with Olsen's overall experience recording All Mirrors the album. "This is an album about change and growth in my own life," Olsen told For The Record. "One thing after another kept shifting around me, forcing me to find my own space and solitude." Ultimately, the collaborative event succeeded in allowing fans to experience those transitions for themselves and perhaps, like Olsen did, "feel at peace having come through the other side." 
Explore more of Angel Olsen's music on Spotify's This Is Angel Olsen playlist.