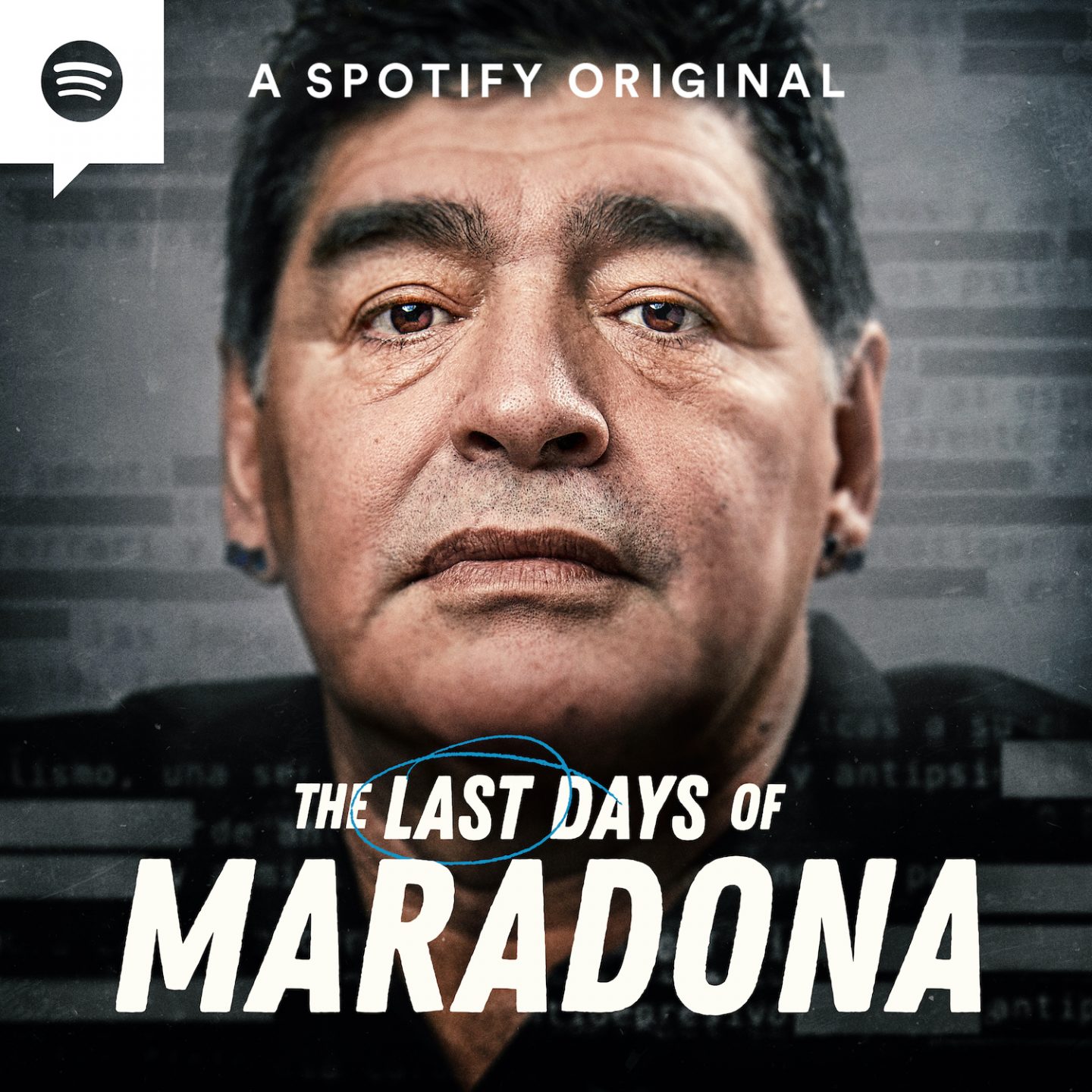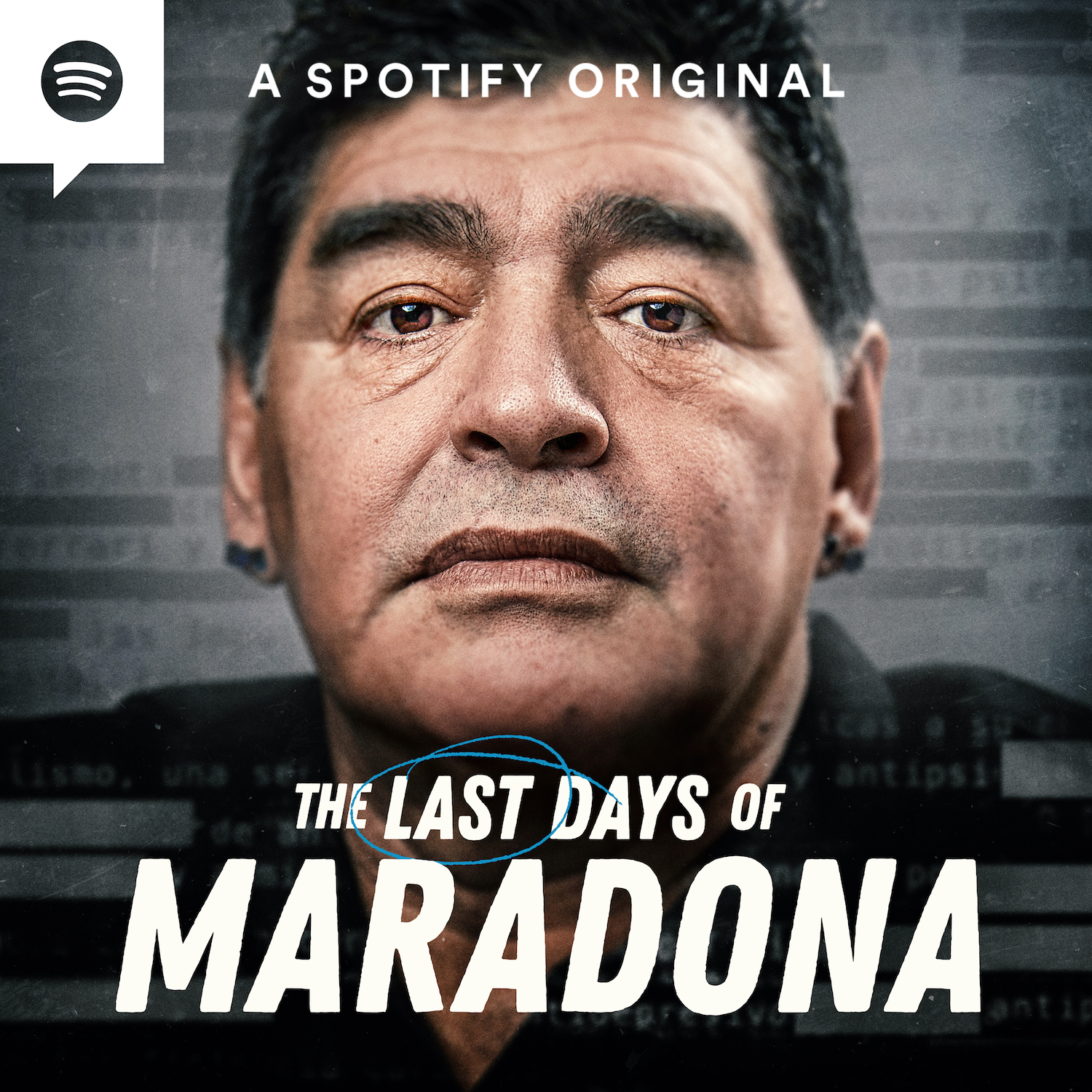 NEVER-BEFORE-HEARD INVESTIGATION
Thierry Henry Explains How Spotify's Original Podcast 'The Last Days of Maradona' Will Touch Football Fans Around the World
In November 2020, the world lost a football great: Diego Armando Maradona. The iconic Argentinian footballer's sudden death shook fans of the sport around the world and left many with questions. 
Now, Spotify's all-new original podcast series The Last Days of Maradona serves as an investigation into what happened during the last days of Maradona's life. The six-episode series, debuting today, is a deep and honest look into how Maradona died, with never-before-heard interviews with those who were closest to him in the days leading to his death. 
What's more, the series has been turned into six simultaneous adaptations for fans around the world—the first time Spotify has set out to produce such a number. Each version has its own host who takes a deep dive into the investigation led by Adonde Media, accompanied by Spotify Studios, to tell the story of Diego Maradona in their own words. Argentinian journalist Matías Martín hosts the show for listeners in Maradona's home country; former Argentina football player Jorge Valdano spins a tale for those in Spain and Latin America; Brazilian journalist Juca Kfuori gives a Portuguese spin; actor Salvatore Esposito joins the ranks to speak to fans in Italy; and finally, French professional football coach and former player Thierry Henry takes on French and English versions for France and the U.K. 
For the Record had the opportunity to speak to Thierry Henry about Maradona, who held a special role as Thierry's personal hero. 
"I grew up watching him play," Thierry shared. "He's Argentinian and I'm French, but everyone had only respect for him on the field. The first World Cup that I really, really, really watched was '86 in Mexico. In that one, he was just unbelievable. You can't beat what someone gives you at a young age. For me, he was the greatest." 
Read on for our interview with Thierry about hosting the podcast and the late Maradona.
The Last Days of Maradona is an investigation into the death of the Argentine football star. Do you remember where you were, about a year ago, when you heard the news? 
I was in Montreal when it happened. I remember, I started to get some texts. Although you knew that sometimes things were happening to Maradona, the first time I heard it, I was like "Nah. Maybe he went to the hospital. But it's happened before. But it's not true . . . he's not dead." 
And then obviously you receive two messages, you receive four or five, and then you see it on BBC News. And then you see, then you realize, that obviously it's real this time; he's not coming back. And he's gone.
What was your reaction when you were invited to host this podcast investigation?
To be associated with him—wow. And it's a great opportunity for me, first and foremost, to do something new. And when I found out it was an investigation, that gave me even more desire to want to do it. I'm the narrator, but I never listened to what was coming after. I haven't even listened to it yet. I wanted to live it, like everyone else. I wanted to discover it fully for the first time. 
This is the first Spotify Original podcast to be adapted into six simultaneous shows, most of which are with a different host, all of which are in a different language, produced for fans in markets around the world. How does this speak to the legacy of Maradona?
That's Maradona. That's it right there. You know, people want to know about him, even after his death and what happened, and it will be like that forever. We won't be here and people will still talk about Maradona. It's just the way it is. It's not so much about, you know, how great he was on the field. It's about that people could relate to him. And I think that's one of the most important things. And this is why people want to know what happened. Some will tell you that he was close to God. Some people would tell you that he was God, you know? That's wow. For some people, it is real. The emotion that he gave me, like I said, I wasn't a fan of Argentina. But you have to be a fan of Maradona if you love football. 
For those who are new to football, or to Maradona, what is one thing you'd want fans to know about the late star?
Obviously, it's about the last days of Maradona, so people will think, straight away, "oh, wow, what a life" type of thing, because he had issues, as we all know. But who doesn't have issues? Obviously with him, it was maximized and in papers for everyone to see. But the relationship that he had with the fans is second to none. A lot of people are remembered because they want stuff, because they were animals, because they were, you know, "I'm never scared" type of guys. But the most important thing for me is that people can relate to him. Whether you have money or you didn't have money, you could relate to Maradona. 
There's a story about a homeless man who went to his funeral. And someone asked, "Why are you here?" And he said, "Maradona was the only thing I had." I can't say more than that. 
What are you most excited for fans to get out of this podcast?
The truth. And for people who were not at peace with what happened, they can at least get an idea of what happened or what's happening. You have the real dates, the real text messages. You can have closure if you want. And it's not only sad things and sad moments. You know, you have a moment also where you're reconnected with his family. 
People sometimes see athletes as guys that are untouchable, or that do not not have problems, that do not have feelings. I just want to remind everyone that everyone is human. So I like to say that because sometimes people take it for granted. They see a guy performing and they're like, "Oh my, oh my God, what a rock. That guy's never scared." Yes, he is. But when he has to perform like everybody else, he plays. What you see is a guy that has to come and perform and compete, but don't ever forget that the guy's a human being, like anyone else. 
Get to know the late football star. Listen to The Last Days of Maradona starting today, only on Spotify.