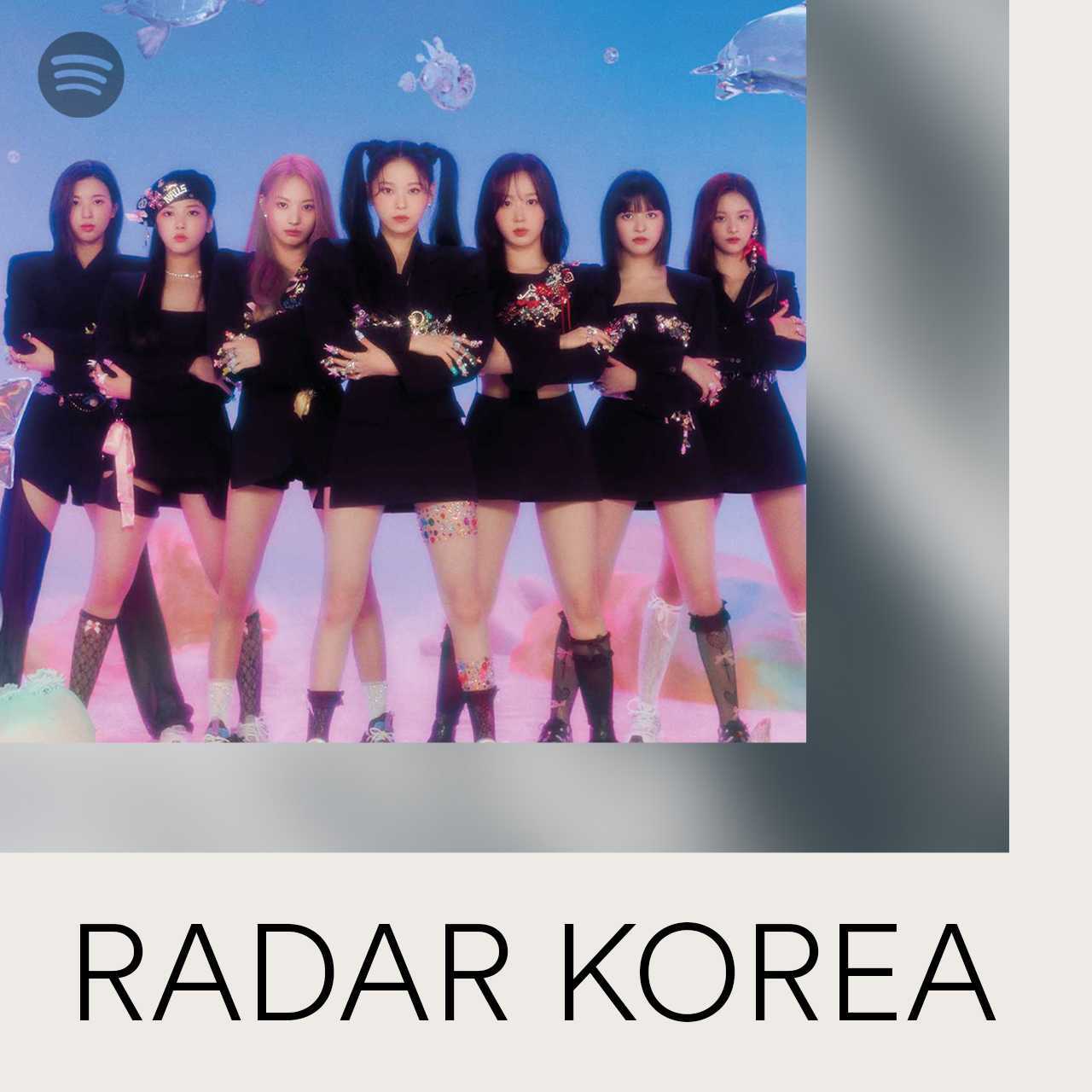 NEW, NOW, NEXT
K-Pop Girl Group NMIXX Brings the Buzz as Spotify's New RADAR Korea Artist
Two years ago, Spotify announced the launch of RADAR, a new emerging-artist program aimed at spotlighting rising talent from around the globe. From Sweden and the United States to France and India, the artists on Spotify's RADAR have gone from being nascent figures in the industry to stealing the hearts of fans around the world. Now, following NMIXX's successful first year in South Korea, home to K-Pop, Spotify has selected the girl group as its first RADAR Korea artist of 2022. 
NMIXX (pronounced "n mix") came onto the scene last year as part of JYP Entertainment's latest global K-Pop project. The group comprises seven members—LILY, HAEWON, SULLYOON, JINNI, BAE, JIWOO, and KYUJIN—and together, they embody the meaning of NMIXX. 
"Our name, NMIXX, combines the letter 'N'—for now, new, next, or an unknown variable—and 'mix,' which symbolizes harmony and diversity. It's about being the ideal mix for the new world," NMIXX told For the Record. "We think the best substitutes of the letter 'N' for us are the words 'now' and 'need.' We chose the word now because we, NMIXX, are just getting started! And we chose the word need in the hope that more people will want and need us in the future."
The group's debut EP, AD MARE (which means "to the sea" in Latin), was released in early February. Along with the EP's four tracks, NMIXX shared audio liners in which they greet Spotify listeners and express their excitement—in multiple languages, no less—about their new music. 
To celebrate NMIXX's selection as Spotify's first RADAR Korea artist of the year, For the Record asked the group to share their thoughts and experiences as they take on K-Pop's global music scene. 
What was your reaction when you heard that you were selected for RADAR?
Spotify RADAR is a project that reaches many people from all over the world, and when we heard that we had the honor of being selected, we were moved and delighted! We are excited for the opportunity to connect with such a diverse audience.
What do you hope to take out of the RADAR experience?
It's a real pleasure and honor to be able to get closer to more fans with our music through RADAR. We are looking forward to being featured on Spotify Singles with music that is unique to us, and we dream about one day being featured on the billboards in New York's Times Square. We would also love to collaborate with other artists from around the world who work in different genres, like the project between AleXa and Bader AlShuaibi.
As a new K-Pop group, what do you want prospective fans to know about you?
We want people to know that we are an all-around group whose music features everything from rap to vocals to dance. Our goal is to make MIXX POP a worldwide phenomenon. It's our own genre that brings multiple genres into one, and we want everyone to know its magic so they can really get into our music.
What messages do you want people to take from your music?
Our title track, "O.O," symbolizes our eyes being wide open after peeking into the unknown. And our worldview became bigger with our discovery, so we would like you to join us in this incredible journey by listening to this song. "TANK" is about the tank-like confidence that burst from us when we were finally unveiled. We hope that those who listen to our music will take away the same powerful energy that's been propelling us as we introduce the new genre of MIXX POP.
Why was it important for you to incorporate multiple languages into your audio liners?
We wanted to reach our fans around the world, and we thought the language was an important way to show more people who NMIXX is. That's why we've been putting a lot of effort into learning different languages and sharing audio messages on Spotify both in English and Spanish, and we're so thrilled by all the compliments we received!
Which artists have most influenced your music?
LILY: Taylor Swift has always been a role model for me, and I love and respect her dearly. I look up to her songwriting skills so much. She is also a strong and smart business woman who has done so well in this industry, and I hope I can navigate it with as much grace and wit as her.
HAEWON: For me, it's The Weeknd and Imagine Dragons. The Weeknd is the artist that opened my eyes to R&B, and Imagine Dragons got me into pop. I first heard the song "Demons" when I was in elementary school, and although I didn't understand the lyrics in English, the song touched me deeply.
SULLYOON: I listen and sing to Anne-Marie's music a lot. It was her albums that made me love music even more.

JINNI: Beyoncé for me. I was blown away by how professional she was on stage. Just one line of her song, and she had the whole crowd wrapped around her finger. She has an incredible stage presence and energy, and I always try to learn from her.
BAE: Ariana Grande's music has always comforted me and made me feel better. I have been listening to her songs since I was young, and the songs still remind me of the seasons, situations, scents, or emotions I experienced when I first listened to them. She's the role model who started my dream of becoming a singer. I still listen to her music and see my own image in her songs.
JIWOO: I'd say Billie Eilish. She always has this confidence when she sings, and she delivers all the emotion and depth in each song to her fans, which really touched me. I learned a lot by watching her perform.
KYUJIN: I get a lot of my musical influence from TAEYEON! I absolutely love her unique stage presence, her voice, and her emotional depth. Her music has allowed me to feel and experience so much. It's because of her that I first dreamed of becoming an artist.
As you look to the future, what are your goals as a group?
We want NMIXX to be a group that brings smiles and happy energy to our fans every time we go on stage. We want to become the kind of artists who are loved by many for a long time to come. And we always want to keep growing and improving. We want to follow the footsteps of the Korean groups that have come before us and become the kinds of artists who continue spreading K-Pop love worldwide.