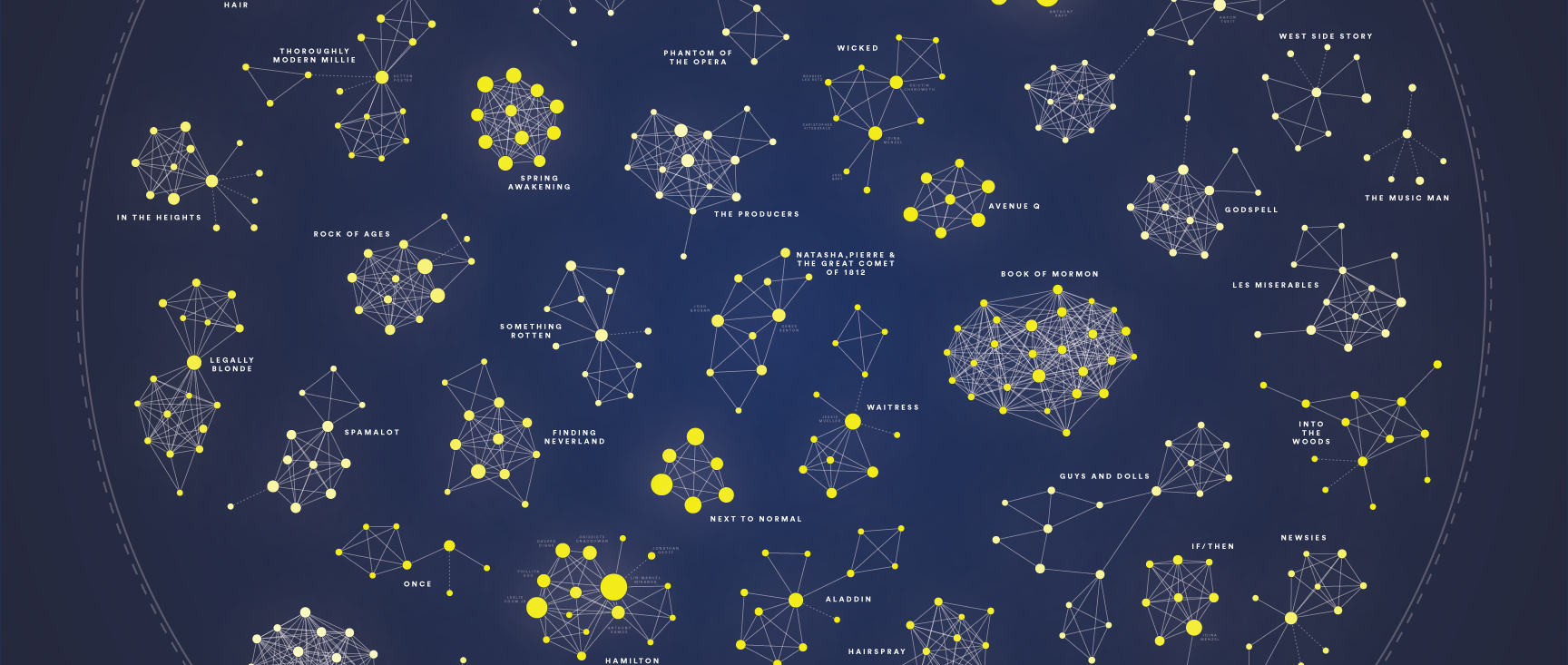 Are you a good witch or a bad witch?
After 15 Years, 'Wicked' Continues to 'Defy Gravity'
Ever since the curtain first rose on "Wicked's" giant, mechanical dragon clock and the dancing citizens of Emerald City, Broadway has been changed "For Good."
The untold story of the witches of Oz—Elphaba and Glinda—first captured the world's imagination in Gregory Maguire's 1995 novel "Wicked," in which he envisioned a story where the two witches at the center of L. Frank Baum's "The Wonderful Wizard of Oz" were not enemies, but best friends. (Fun fact: Maguire created Elphaba's name out of the first sounds of L. Frank Baum's name—"El," "Fa," and "Ba"—to create "Elphaba.")
In October 2003, a song-and-dance-filled retelling of "Wicked" emerged on Broadway at Gershwin Theatre, with music and lyrics by Stephen Schwartz and script by Winnie Holzman. Idina Menzel, previously of "Rent" fame (and eventually to be known as Elsa in "Frozen"), starred as Elphaba alongside Kristin Chenoweth's Glinda. The combination of pop-inspired show tunes, a unique yet familiar story, and powerful voices marked "Wicked" as a show that longtime theater aficionados and newcomers alike would soon come to love.
Add 15 years, and the streams of the Original Cast Recording show that love for "Wicked" continues to defy gravity.
Read into this: The top 3,000-plus "Wicked" superfans on Spotify are currently ages 20-29, but they would have been between 5 and 14 when the musical first premiered—an age of open imagination, ripe for the magic of Oz to take hold. Following them are the superfans in the 30-39 range, the 15-24-year-olds of 2003—those who might have even spent their own money to see the show. The next set of superfans are ages 13-19, emphasizing the timelessness of the show and the hold it now has on a new generation of "Wicked" lovers.
"Wicked" superfans also stay on top of the newest, hottest Broadway shows, listening in high frequencies to other Great White Way soundtracks like "Hamilton," "Dear Evan Hansen," and "Mean Girls," and even movie soundtracks like "A Star is Born," "The Greatest Showman," and "Mamma Mia! Here We Go Again" in the past month. They also stream Ariana Grande and Taylor Swift when they're looking for something a little less dramatic.
These superfans keep the "Wicked" star shining brightly on our constellation map of the top Broadway soundtracks on Spotify.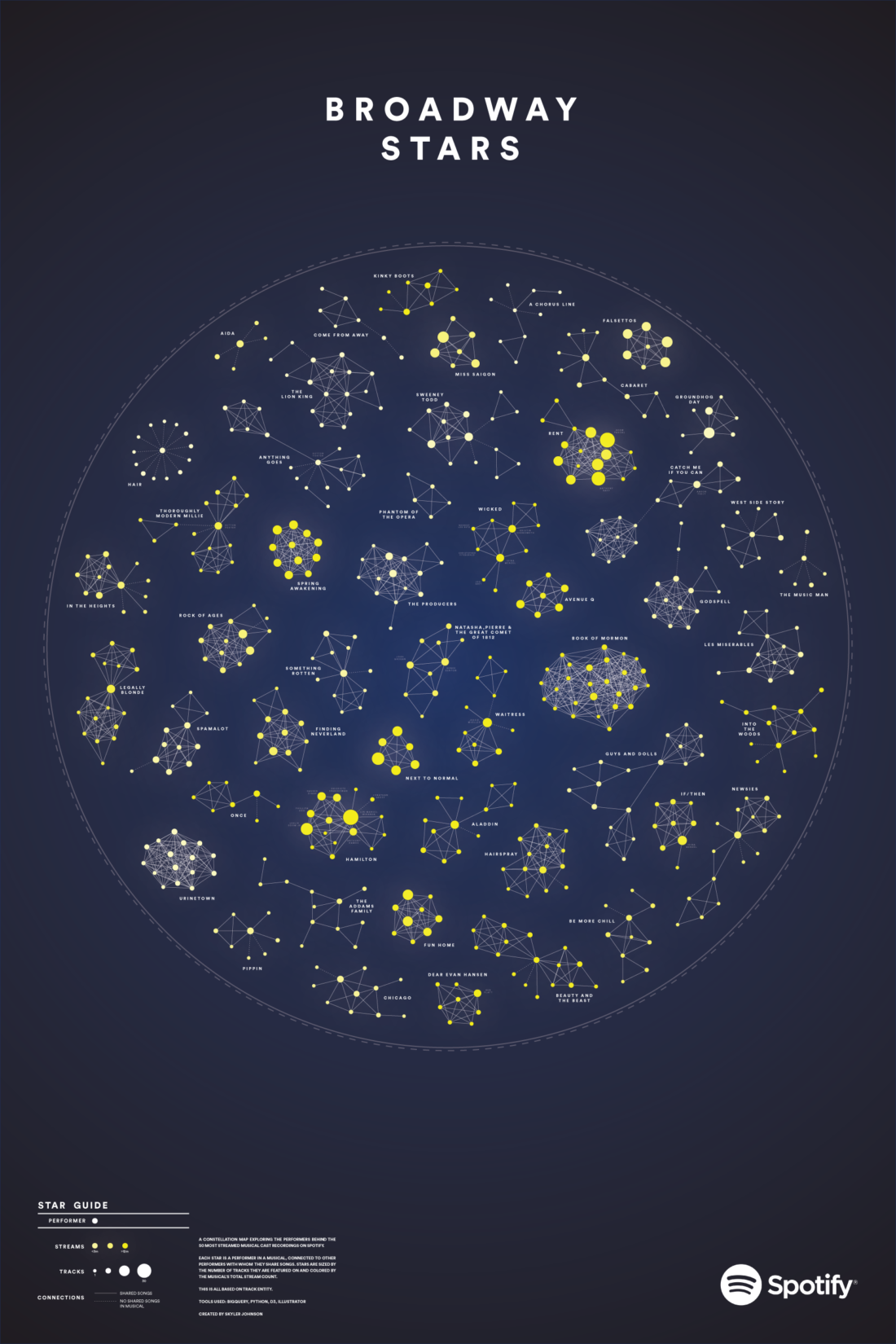 In this map, our data visualizer, Skyler Johnson, sorted each musical into constellations based on the connections between its top stars and the other singers with whom they share songs. In the "Wicked" constellation, Kristin Chenoweth and Idina Menzel steal the stage, accompanied by Norbert Leo Butz (who danced through life as Fiyero), Joel Grey (the Wonderful Wizard), and Christopher Fitzgerald's Boq, (now Ogie Anhorn in "Waitress").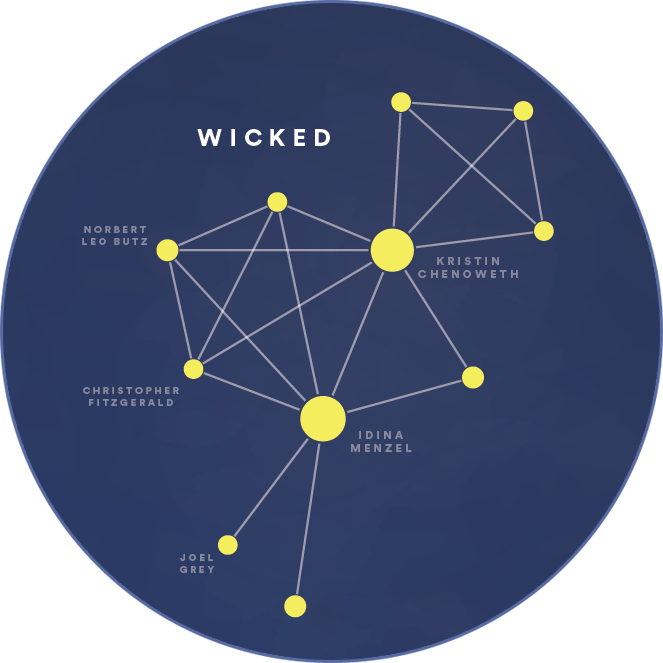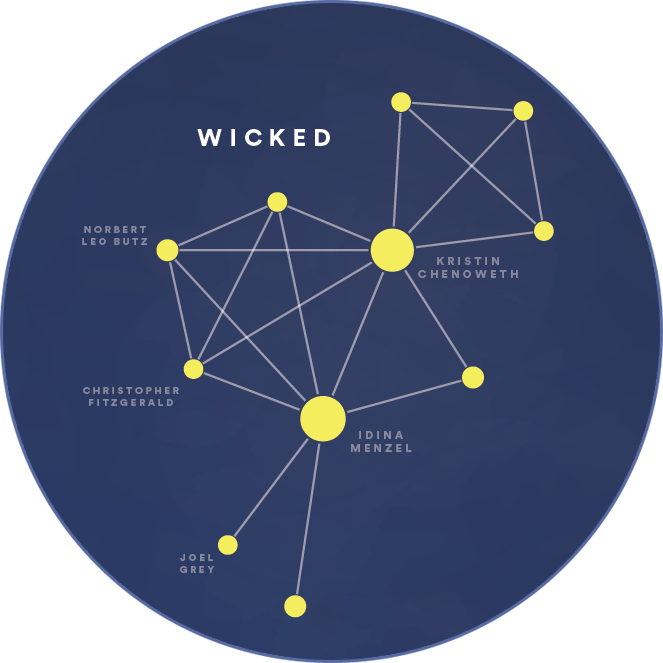 After 15 years of near-nightly performances, world tours, and general Broadway magic, "Wicked's" superfans have ensured that the musical remains as "Popular" as ever.