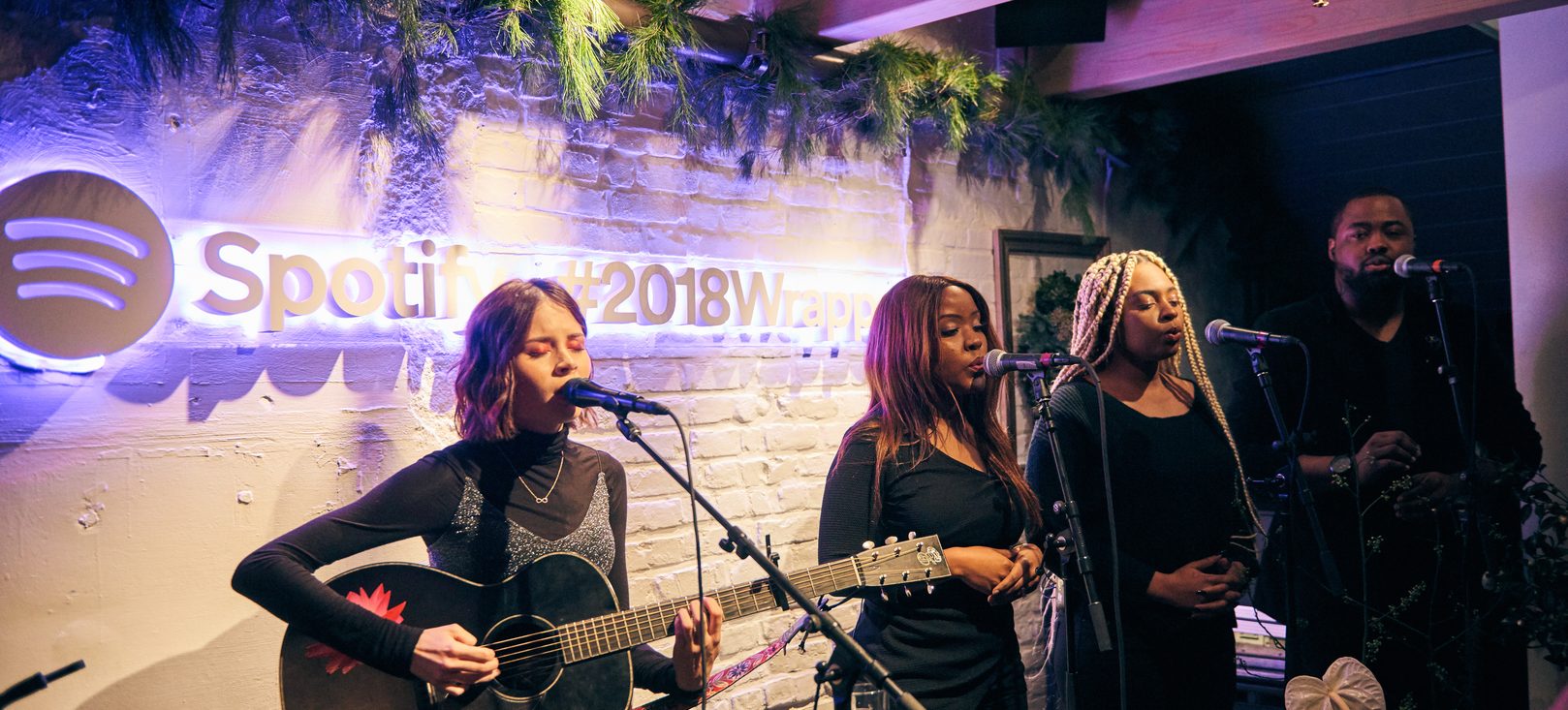 Raise a Glass
Toasting Spotify Wrapped 2018 at Our Influencer Lunch
What's on your 2018 Spotify Wrapped? Our most recent campaign has been the talk of the town since we launched last week, and the celebrations don't stop there. This afternoon, we continued to share the very best of 2018 listening and music discovery with a Wrapped campaign lunch for several music and culture influencers at the Little Owl Townhouse in NYC's West Village.
But this wasn't just any lunch: Festive drinks, delicious food, custom-made gifts, and an exclusive acoustic performance by a rising artist rounded the celebration.
Throughout the afternoon, exclusive Wrapped intel was presented to guests by way of a few choice ideas. When checking their coats, guests received a card with a 2018 data point about coat check-themed songs and playlists. They also received a drink menu with the names of the best fan-made playlists about drinking at brunch.
While drinking, chatting, and sharing highlights from their personal Wrapped scorecards, each guest also viewed the best of 2018 Wrapped's data points across the many mirrors in the room. Then, they sat back and relaxed during an exclusive acoustic performance from singer-songwriter Nina Nesbitt. Nina took to the spotlight to sing two of her original songs, "Colder" and "The Best You Had."
"This song is a very special song," Nina explained before launching into "Colder." "It's how everything kicked off for me—especially on Spotify. I wrote this at a time when I was unsigned and had no idea what I was going to do. I put it on Spotify and it really connected with people."
"Earlier this year in London, in August, when it was actually boiling hot, I recorded this Spotify Single," she continued while preparing for her third number, a cover of her Spotify Holiday Single, "O Holy Night." But this performance was special. "I have a special surprise for you," she teased.
The surprise: three gospel singers, who joined Nina onstage while she crooned the holiday classic.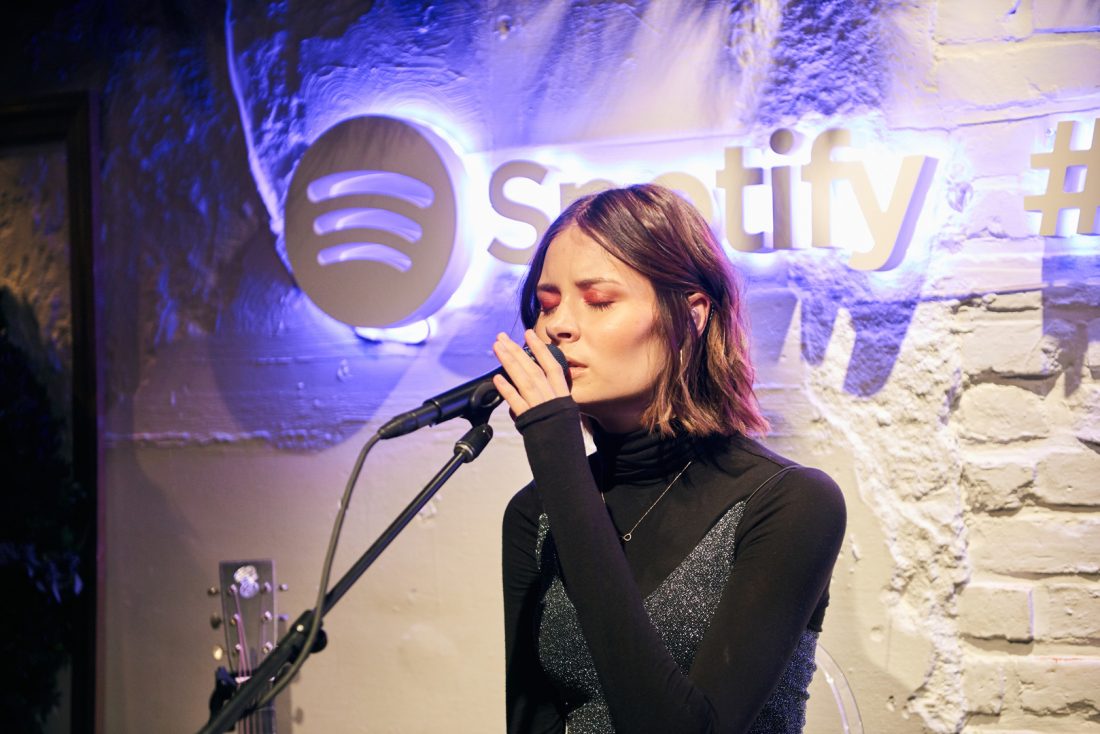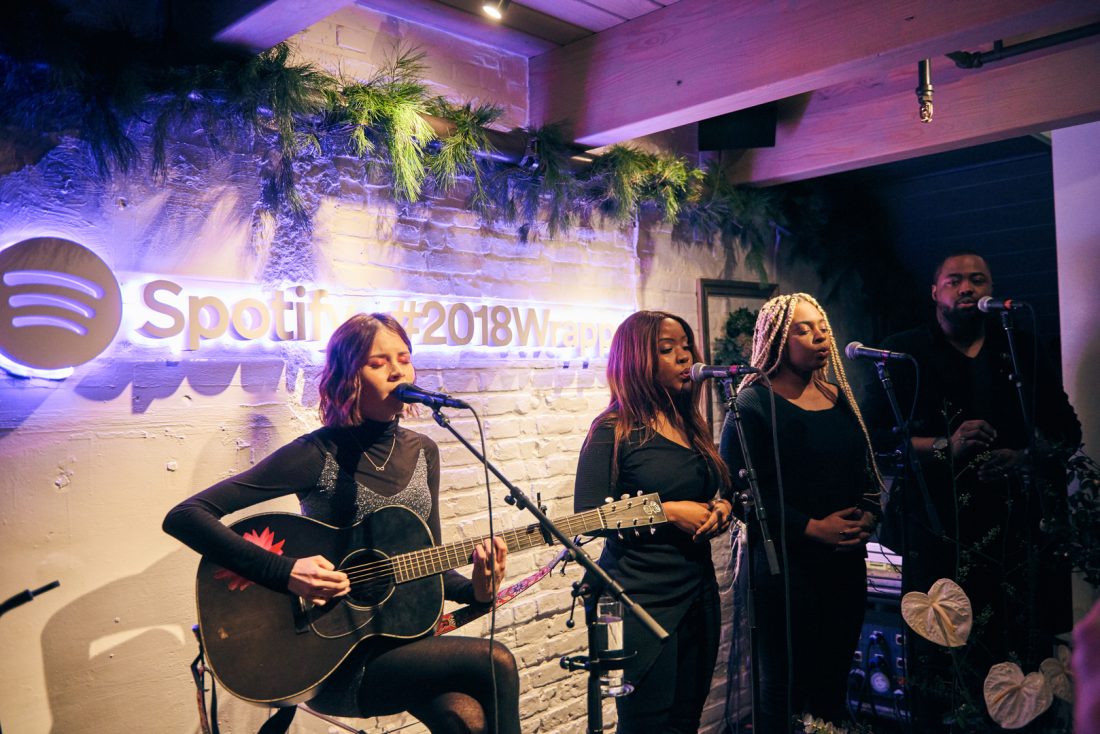 "I've always thought it had such meaningful lyrics, in addition to being a beautiful piece of music," said Nina after her performance. "Live choir accompaniment made it that much more unique and special."
For the main event, the guests—including singer-songwriter and actress Emmy Rossum, Elle editor-in-chief Nina Garcia, model and DJ Alexandra Richards, fashion blogger Danielle Bernstein, lifestyle blogger Christina Caradona, and actress Lola Kirke—were escorted upstairs to the dining area to enjoy a delicious meal prepared by chef Mike Price of revered NYC restaurants Market Table and The Clam. And just as the coat check card and cocktail menus had Wrapped campaign insights, so too did the menu—in addition to Chef Mike's fabulous entrées were titles of fan-made playlists highlighting the latest trends in healthy eating.
The afternoon wrapped up with the distribution of personalized gifts based on each attendee's listening history. These included 2018 Holiday Jam, which is exactly what it sounds like—personalized jars of jam complete with a custom label that reflects each guest's top genre, from pop to R&B; and song cookies, five-packs of iced sugar cookies based on the top 20 tracks of the year.
The afternoon came to a close and our guests departed with gifts in hand, looking forward to the holiday season and a year's worth of new music just around the corner.