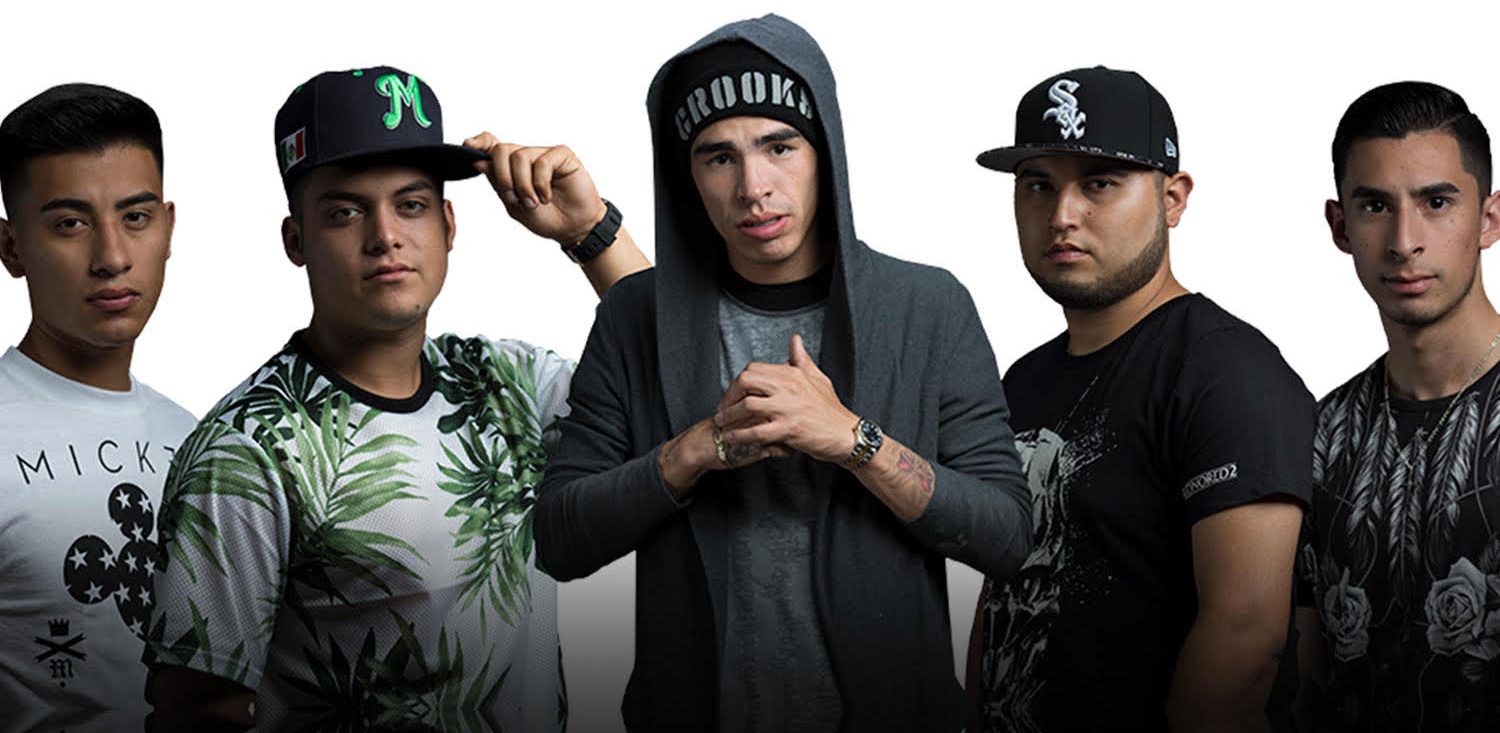 MIX IT UP
How Trap Met Corrido: The Fusion Genre Taking Over Mexico
One thing is certain in music this year: trap is everywhere. The hip-hop movement, which started in Atlanta, has since spawned microgenres around the world. Today, trap spin-offs include everything from the language-specific interpretations of trap en español, deutsch trap and Arabic trap to rhythmically experimental movements, such as trap funk, trap and bass, or even float tank trap. If there were ever a genre representative of how music transcends and influences cultures, it's this one. Now there's a new take hitting the airwaves, inspired by life in northern Mexico and along the US-Mexico border: trap corrido.
At first blush, the idea of trap mixed with corrido (Mexico's accordion-laced regional folk ballads that date back to the 19th century and include "La Cucaracha") might seem unlikely to work. But for pioneers in the genre such as Alemán, the rapping duo La Plebada, and nuevo corrido band Grupo Codiciado—who recently collaborated with emerging trap star Gera MX— the combination was meant to be.
After all, as the rappers behind La Plebada, Fntxy, and Cozy Cuz point out, if you grew up in Los Mochis, Sinaloa, corrido and hip-hop were everywhere. The 29-year-old Fntxy told For the Record that listening to his grandmother's corrido ballads was his first musical memory. Corrido is in his blood, but, he said, he couldn't sing, so he "had to rap." Fusing the two genres came naturally to the duo. "One day, we recorded with a guitar, the next day with a beat, and the next day we invented a genre that didn't exist," Fntxy told us.  
For Grupo Codiciado, based in Tijuana, the decision to combine corrido with trap was much more deliberate. Collaborating with Gera MX gave them the chance to push the creative limits of corrido. Erick Aragón, the band's 26-year-old lead singer, originally founded Grupo Codiciado because the more traditional corrido groups he was playing in wouldn't allow him to experiment with the genre. When he found out Gera MX was not only a fan of corrido, but keen to collaborate, he reached out to his fellow Mexican artist. After throwing a few ideas around on Whatsapp, they headed to the studio to record "Ahí Les Va," a punchy track with a guitar-derived rhythm, and another single that comes out in July.
Right now, there are no hard and fast rules around trap corrido, and there's a sense of experimentation each time someone puts the two together. What elements will they take from trap? What will they take from corrido? While musically, corrido's most signature sounds are the use of the accordion and the bajo sexto (a type of 12-string guitar specific to Mexico), it's also a cultural and lyrical phenomenon rooted in a tradition of telling stories about what young men do on a daily basis—drive around, party, and hang out.
Both trap and corrido are "genres of the street," says Alemán. As he outlines life in northern Mexico, the rapper, who hails from Cabo San Lucas, Baja California Sur, prefers to combine the two by overlaying trap beats with lyrics that take their cues thematically from corrido. Rather aptly, the music video for his single "Rucón," features a corrido-inspired aesthetic. Dressed in button-up shirts, tejana hats, and vaquero boots, Aleman raps, "esto es 100% México," (this is 100 Mexico) over a traditional trap beat.
For Grupo Codiciado, the oral history tradition of corrido and its role in building an identity and passing along information to the next generation has been just as important as perfecting the trap beat.When composing, Aragón draws on his experiences with immigration and crossing the U.S.-Mexico border. He said, "As a singer, you have the opportunity to share messages. The next generation, they don't know, but they can learn from your path." Navigating the expectations of both genres has been part of the process. However, at least according to La Plebada, the reaction has been enthusiastic, even from those they didn't expect to like their music.
After their first single, "Los Plebes," dropped, Noisey described trap corrido as "trap para los niños del rancho" (trap for kids from the ranch). Both Fntxy and Cozy Cuz chuckled at this description. "Totally," they said. "We make music for people from el rancho, and who aren't from el rancho. It's very much about the lifestyle of the area: the horses, the roosters, the cows, the beach. To us, the music is almost nostalgic—for the people who no longer live there, and for the people who live this day-to-day. " As they told For the Record, it's about paying homage to their roots on the ranch, but in a modern way.
In the mood for more regional trap? Check out Trapperz Mexa for the best and latest coming out of Mexico.