TWIN TELL-ALL
Tokio Hotel's Bill and Tom Kaulitz Are Airing All on a New Spotify Original Podcast
Musicians and identical twin brothers Bill and Tom Kaulitz, known for their band Tokio Hotel, are taking their talents to a new realm in audio: podcasting. The pair are freshly minted hosts of German Spotify Original podcast Kaulitz Hills, a recorded weekly conversation in German about pop culture and their lives in Hollywood. The brothers—well known by fans for their close relationship—will tackle a range of topics, from personal confessions to gossip, accompanied by a few rounds of drinks and a heavy dose of sarcastic humor. 
Bill and Tom made their boy band debut in Magdeburg, Germany, in 2001. Four years later, they reached number one with their first single, "Durch den Monsun" ("Through the Monsoon"). After touring for five years and becoming the biggest boy band in Germany, the Kaulitz twins moved to Los Angeles, where they have been living ever since. The show's name, Kaulitz Hills, is a nod to their Hollywood Hills recording studio, where they record music and will be capturing their conversations for the podcast.
In preparation for the big launch, For the Record asked Bill and Tom to jointly answer a few burning questions about what we can expect from this new project.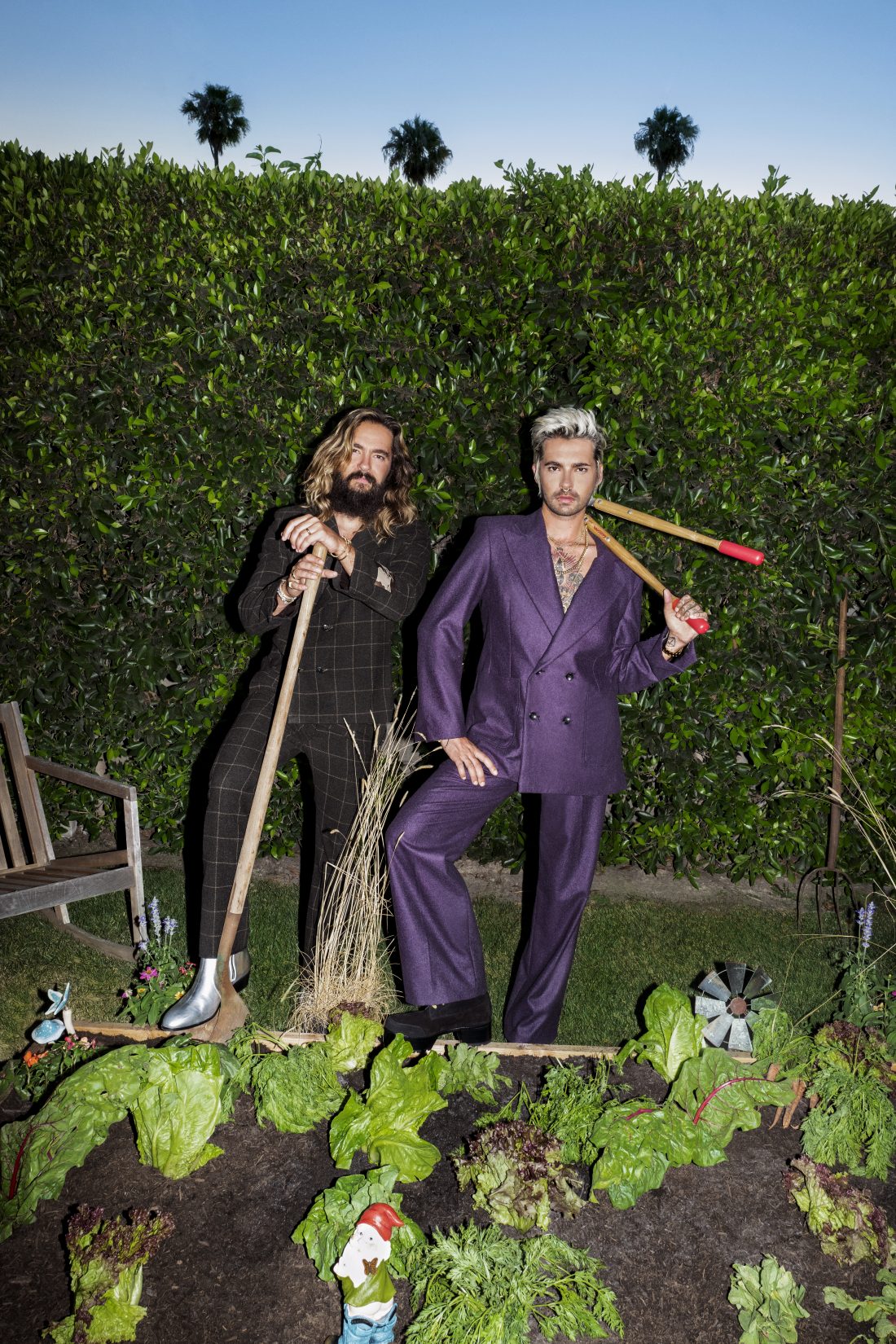 What inspired you both to start a podcast and to start it together?
We just love to talk. Ever since we were little, the two of us would discuss every single thing that was happening in our lives, and people always thought we were kind of hilarious. Now, for the first time ever, we don't live together, so we have even more to catch up on. We thought, "Why not record our conversations and share them with the world?" This will be a light, sarcastic, and funny podcast between two brothers. We don't take ourselves too seriously, and we are also getting drunk in each episode, so it might get a little messy.
Why did you choose to focus on Hollywood?
We actually don't focus on Hollywood at all. We record the podcast in our music studio in Hollywood, where we spend most of our time. On the podcast, we'll share stuff that moves us, topics that are close to our hearts, and also tell random stories about things happening in our lives. We know we live a pretty extraordinary life and have done so ever since we were 15, so we want to give listeners a little inside look at what really happens in our world while living in Hollywood.
What did you learn from creating Kaulitz Hills? Any favorite moments?
Well, we are just getting started. We aren't prerecording anything, so the audience gets a fresh episode each week. We want it to be relevant and up-to-the-minute. However, our pilot and first episode showed that this will be a really fun journey. We have a dynamic and a connection which we can't really describe. It's very special because we are identical twins, so we hope the audience can hear and feel that connection as soon as they tune in. We want to take every listener with us and make them become our third twin in a way . . . So that would make us triplets. Ha!
Do you consider yourselves Hollywood insiders commenting on the scene, or are you trying to bring an outside perspective?
Because of our jobs, we are definitely insiders. We've been hanging out at every party on the planet ever since we were teenagers. But the podcast is not so much about giving away the industry inside scoop or party gossip from the Golden Globes. Well, actually now that we say it, it might get there at times . . . It really depends on what we get up to!
What do you hope listeners take away from the podcast?
Like with everything we do as artists and musicians, we are trying to connect, touch, and move people with the stuff we do, so hopefully that happens with our podcast as well.
Can you give us a sneak peek at a topic, confession, or story that listeners can expect this season?
We get pretty drunk in the first episode and talk about some dumb stuff the tabloids wrote about us. "Sex, drugs, and rock and roll"—we pretty much cover it all in that first episode. Hopefully you'll all have a good laugh and some listeners will enjoy a drink "with" us. Cheers!
Ready to become a Kaulitz triplet? Sit back, get comfortable, and stream the first episode of Kaulitz Hills here.