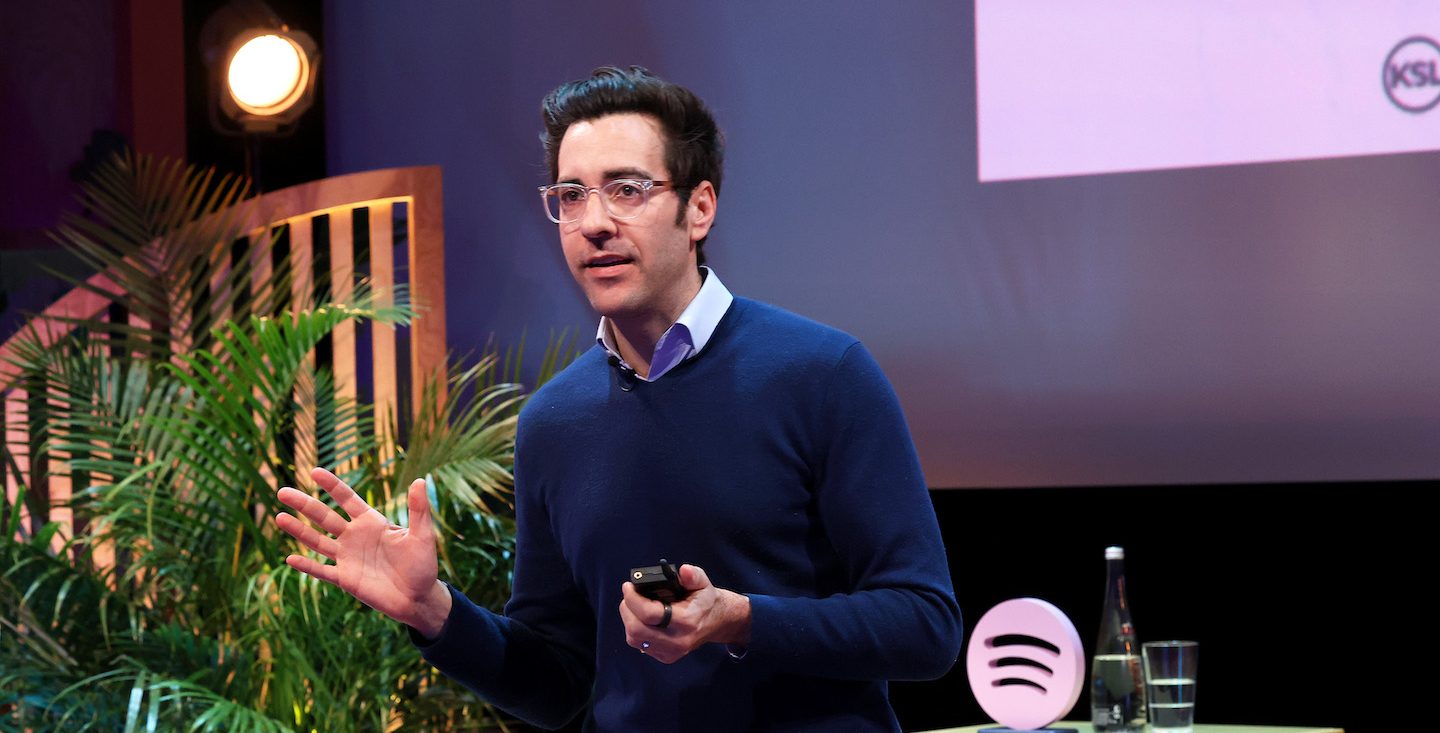 PLAY ON
4 Tips and Tricks for Podcast Creators To Grow and Retain Listeners
Today at Stream On, artists, songwriters, podcasters, and authors from around the world joined us for the latest announcements and hands-on demos of the new tools and resources coming to our platform. We also hosted a companion event, Play On, which featured a series of talks and interactive sessions to inspire and educate creators about how they can unleash the full potential of our platform.
Among these sessions was "Ear to the Ground," a workshop on trends, insights, and recommendations for podcasters to find, grow, and keep their audiences. Head of Partner Management Jordan Newman—whose team creates relationships with the most prominent and promising podcasters on Spotify—took the opportunity to pull back the curtain on some of the global trends we're seeing across our platform. Between the volume of podcasts created, the growing importance of video, and evolving consumption habits, podcasting has changed enormously in recent years. 
Jordan's session equipped podcasters with insights to better understand listening trends—how, when, and why audiences listen—and tips for how to harness these insights into action. Read on for a few of his recommendations.
1. People shouldn't judge a podcast by its cover (but they do, so be prepared)
A detail that's often overlooked also happens to be one of the most impactful things that helps draw listeners: cover art. Cover art, the podcast title, and episode titles engage listeners right away, so they should be immediately enticing. 
During testing, the Spotify Insights team learned that listeners browsing for their next show prefer covers that convey the most information—that capture the attention of listeners while also giving them an idea of what they can expect to hear. So cover art with a well-known host might attract listeners, while a picture of a person they've never heard of before is less likely to draw them in. Abstract imagery only works if the show's title is super descriptive: For example, New York Times' The Daily features abstract colors in its cover art; however, it also prominently displays the informative title and the publication's logo so listeners know what to expect. Taglines are another way to give listeners clues when a show's name isn't so obvious. 
When in doubt, choose options that best convey the show's subject matter and are easy to read. You've likely got one shot to stop a scroll in its tracks.
2. Choose a frequency, and stick with it 
When and how often a podcast releases new episodes makes a big impact on whether a show finds and keeps its audience. The majority of our top shows are always on, running weekly or daily throughout the year, and driving three times more consumption per show than seasonal shows that run in short spurts. And it turns out that most Spotify listeners seek always-on content, with 75% of our podcast audience exclusively listening to always-on shows. Always-on listeners spend more time listening to podcasts than seasonal listeners. 
While not every show can or should be always on, if a show's creative supports the opportunity to publish regularly, then fans are more likely to return weekly or monthly. Releasing episodes consistently and frequently has major benefits. Even if a show takes a break for just a couple of weeks, audiences drop off. Re-runs, however, can reach similar levels of listenership, proving that it's better to occasionally publish old content than to publish no content at all. Keeping a consistent publishing cadence doesn't guarantee your podcast will go viral, but it can help you gradually attract more listeners and grow organically.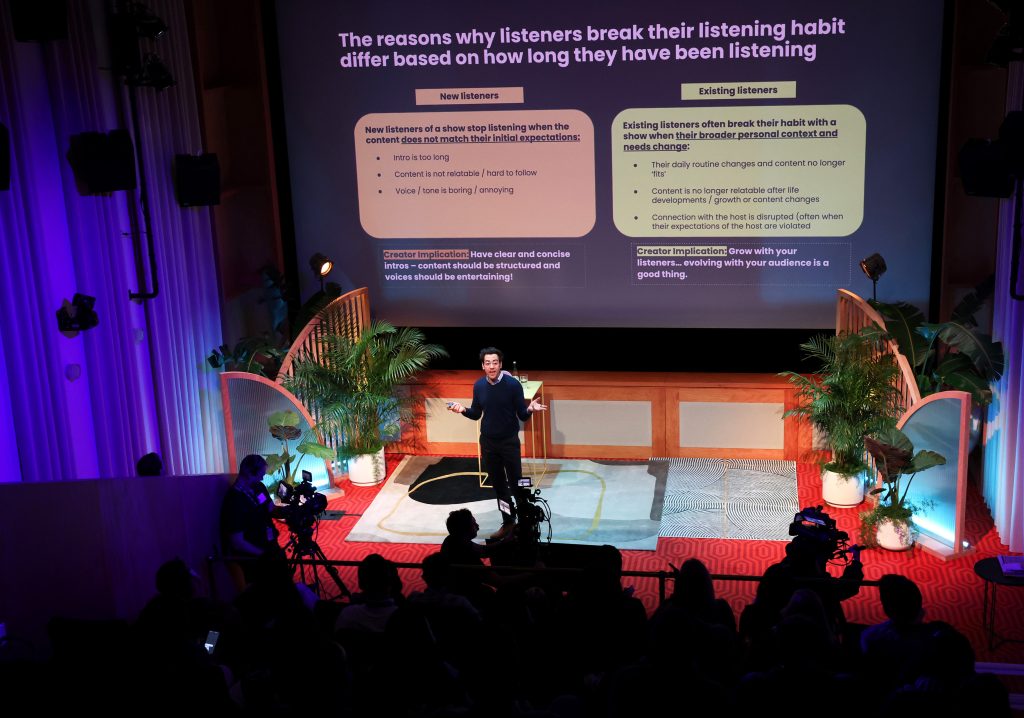 3. People are creatures of habit, so consistency is key
When a show is published is a crucial factor to its success. Our data shows that people listen to podcasts frequently and within their routine. During weekdays, podcast listening spikes in the early morning and evening—commute times—and stays consistent throughout the rest of the day. On the weekends, listening remains heavy even into the evening. 
We see more "informative" and "motivational" genres like news, health and fitness, and business peak in the morning. Listenership of other categories like sports, and society and culture, pick up in the morning and remain stable throughout the day. Comedy and true crime listening grow steadily throughout the day. Our research also shows that people are more likely to have an appetite for discovering new content and watching video podcasts later in the day. 
Something else our research shows is that podcast listening habits are stronger when they are attached to another routine like exercising, commuting, cooking, folding laundry, or just winding down for the day. So when these routines happen, they create a "podcast moment" in which a listener seeks out content. And hopefully, they're finding it. So when in doubt, publish episodes as early in the day as possible.
4. Use Spotify for Podcasters tools to deepen your connection with fans
The strongest predictor of heavy engagement in podcasts is whether or not listeners have formed parasocial relationships with the hosts: Good hosts aren't just hosts, they're friends, gurus, and guides. 
One way to do this is to create authentic and vulnerable moments, and generate a sense of reciprocity with listeners. Features like Polls and Q&A in Spotify for Podcasters make it possible for listeners to engage with the personalities behind their favorite podcasts, and for creators to hear directly from fans. While these features are nascent, and their full potential and impact are still being understood, we've seen promising signals for what interactivity means to a show's growth and retention. On average, listeners who "interact" and respond to a poll or Q&A listen to more of that show. And those people are twice as likely to keep listening to that show the following month. 
"Followers" are also crucial. Someone who follows a show typically listens to 50% more of it than someone who doesn't. And that number is even greater if the listener subscribes to episode notifications. So podcasters shouldn't shy away from telling their listeners to hit follow and to click the bell to receive notifications for new episodes. As an added bonus, the more followers a podcast has, the more impactful it is on the algorithm for our Top Podcasts chart. 
We're constantly working to enable creators of all kinds to find an audience, connect with fans, and ultimately make a living off their craft. With our new Spotify for Podcasters platform, anyone, anywhere, regardless of their recording setup or technical prowess, can record, edit, host, and monetize their podcast—and the best way to get started is to hone in on the why of what you're creating. 
So our final piece of advice? We find that people listen to podcasts for four core reasons: to find guidance and connection, to learn useful information, to provide entertainment and escape, or to explore and expand their worldview. Get in tune with your audience and you're in for a long journey together.