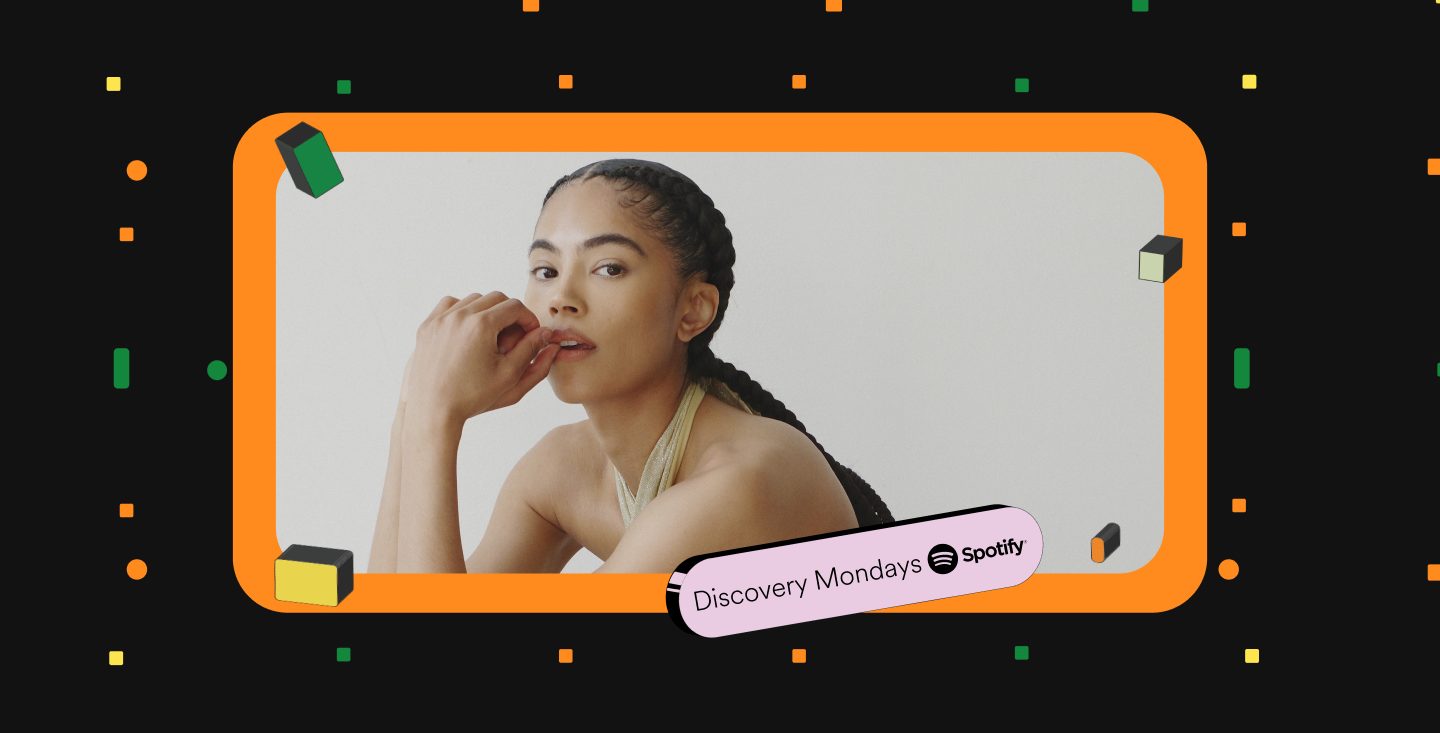 DISCOVERY MONDAY
Futurist Sinéad Bovell Shares Her Favorite Ways To Explore Groundbreaking Ideas in Tech
On Spotify, personalization is one of the most popular features among listeners—and we love helping listeners discover something new. Spotify playlists like Discover Weekly and Daylist, editorially curated standouts like Fresh Finds, and new playlist-enhancing features like Smart Shuffle and Jam help to drive our listeners' thirst for auditory adventures. Altogether, nearly 2 billion music discoveries happen on Spotify every day.
But it's not just fans who love discovery. Creators around the world are constantly sharing their favorite playlists, products, and people with their followers, which in turn helps their fans fall in love with the next best thing. And in For the Record's ongoing Discovery Monday series, we connect with content creators and pick their brains about recent finds, whether it's new music, podcasts, TV, food, beauty, technology, or fashion.
This month, we're talking with Sinéad Bovell, a futurist, educator, and fashion model. Sinéad has quickly built up a loyal social media following by helping people better understand the groundbreaking ideas in the world of technology that will help push our society forward. 
What have you been up to lately? Same old same old? Discovering a new you? Or somewhere in between?
It's maybe somewhere in between. I think I really hit the ground running in September, and so to get ready, I intentionally made the end of August a little bit quieter. With work, there's been a lot of travel, and a lot of canceled flights, but I've also found time to develop a lot of new habits, mindsets, and routines. So it's a bit of work, but then also a lot of intentional growth and things.
What are some of those new habits?
I'm really intense about my morning routine. I wake up every day and I meditate. And then I put music on and dance. Even if it's one song, and even if I have a day full of meetings, I still find time for that. Music and dance play a big role in my day. 
I'd say in times of stress, I intentionally make space the next morning to journal. And something new is that if I feel like I'm kind of off-balance or like I'm not on my A game, I'll intentionally push a meeting back a little bit later so I can have that time in the morning to start with a better foundation.
You're a futurist who focuses on topics like artificial intelligence, cybersecurity, and politics, and you've built a large social media following along the way. How did you establish this space as your niche?
I've always been inspired by how technology can be used to solve problems. And I've always thought that the more you understand and learn about the future, the better you can shape it. When I was doing my MBA, I studied under a futurist, and that was a time when the light bulbs in my head went off. I realized I could study all of this technology-related data, use that to build models similar to finance or statistics, analyze societal trends, and create forecasts.
In terms of the audience I've developed on social media, that was really inspired by my creative path as a fashion model. That's where I realized creatives, artists—everyone wants to have conversations around technology and the future. But it seemed like only a certain, select group of people were being invited to those conversations. So I really tried to make my social media a place where everyone can digest and hopefully shape and understand the future. And I wake up every day and try to do that.
What is most rewarding about discussing forward-thinking ideas with your followers?
I think it's empowering people to feel like they can design and cocreate the futures that they want to be a part of. That's where it feels the most rewarding, especially when I get messages from people that say, you know, I changed my major in school or I spoke up in this meeting about this new technology or asked more questions. Those kinds of little messages really do go a long way for me and I try to reply to as many as I can. 
And in my own practice, I know that the more I understand, the more empowered I feel. So I also feel a responsibility to, in a sense, give back to the people. And I find it quite rewarding and inspiring.
When you're more intentional about discovering something new, what tools or resources do you use?
I spend a lot of time reading white papers. I like to see what universities are up to, what they're publishing, and who's getting research grants. I also do things like review my past notes on a topic and then intentionally go back in to research that topic to see how things have grown or how that industry has changed and evolved. And then I also think discovery for me is, especially when it comes to futurism, asking the right questions to even be able to search and research and get in that mindset. 
Sometimes that means I just need to have a lot of silence, meditation, and intention. Or it can mean getting out of the house, doing a workout, and really getting my mind going and feeling more inspired and thinking bigger about the questions that I go into my research with. 
What's your go-to comfort food? Are there any recipes or restaurants you've discovered lately?
My go-to comfort foods have always been, and will probably always remain, grilled cheese and chocolate-covered strawberries. Chocolate-covered strawberries changed the trajectory of my life instantly and I take that very seriously.
I've also recently discovered a plant-based lentil Bolognese recipe that is really good, and in New York, there's a Jamaican restaurant that I love called Ms. Lily's. It's definitely not something new I've discovered, but every time I eat there, I rediscover why I love it. 
Is there an artist or genre that you've recently discovered and love?
I would say Lojay, the Nigerian singer-songwriter. I discovered him at a party I was at during the United Nations Youth Summit. We were in Rwanda and the DJ played one of his songs. When I figured out what the song was, I just put his name into Spotify. And for the last year, I've just let Spotify use its AI to continue to show me new songs that are either by Lojay or similar to his sound. I've always loved Afrobeats, but I think this year it's kind of gone to another level, and I think the music just keeps getting better. 
What's your favorite way to discover new music on Spotify?
Smart Shuffle or the Daily Mixes. The Daily Mixes are so easy and quite accurate, so it's a fun way to discover new music and see how it hypothesizes your taste. It's fun to have that pleasant surprise that comes with discovery, but discovery that's in line with you and that you didn't even know you liked. 
Any new podcasts you've gotten especially into lately? 
Huberman Lab is a newer one for me. I've always seen clips, but the episodes are long, so you really have to take the time to listen to each episode, which takes a very science-based approach towards exploring how the brain works.
Science, of course, plays a big role in technology and how we unpack the future. Being able to kind of absorb ideas around personalized science and optimized learning is really important for me because I spend a lot of time doing research and work by myself. So the more I can understand the science of mindset and the science of work and all of that, the better.
Are you an audiobooks fan? What's your favorite way to listen? 
In general, there are two types of listening that I do. One is much more industry based and the other is research based. In order to stay on the cutting edge of what's happening in the industries I work in, I have to make sure that I read and reread. 
But when it's books that are a little bit more for pleasure or a bit more for kind of personal growth or just curiosity, I really love listening to audiobooks. I find that I can get a bit more imaginative. And with audiobooks, I actually really make time for that in my schedule. Like this is actually going to be a part of your day where you can just enjoy listening versus being intense in reading and writing things down. 
So on a Sunday morning, I'll take three hours, walk, and listen to a book about the brain or whatever it is that I'm listening to at the time. I've really enjoyed doing that. 
When it comes to the latest news and breakthrough ideas in tech, where do you typically discover those? 
It's interesting because some of the breakthroughs that come in science and technology I've usually already tracked. It's society's response to them that is new or that's more in the moment. I think social media has a lot of problems and we could have a whole conversation on what needs to change there, but it does offer a glimpse into what's going on with culture—not always an accurate one, but an important one to tune into. 
So I do use social media to understand how society is responding to, absorbing, or rejecting breakthroughs in science and technology. Because if you think that there's a big pushback like we've seen—not a tech backlash, but people waking up to a much more assertive stance on the world of technology and the world of artificial intelligence—that's actually led to a measurable change. 
What's something new that you've discovered lately and fallen in love with? 
The hour of getting outside before my day starts has been something that I take quite seriously. Before, I would just like to rush quickly, grab a coffee, and run back to my laptop. 
But now, recognizing getting outside as an intentional part of your day and how that actually impacts the brain is something that I've really fallen in love with and made sure that I have time for every day.
Learn more about Sinead's work as a futurist by visiting her tech education company, WAYE.