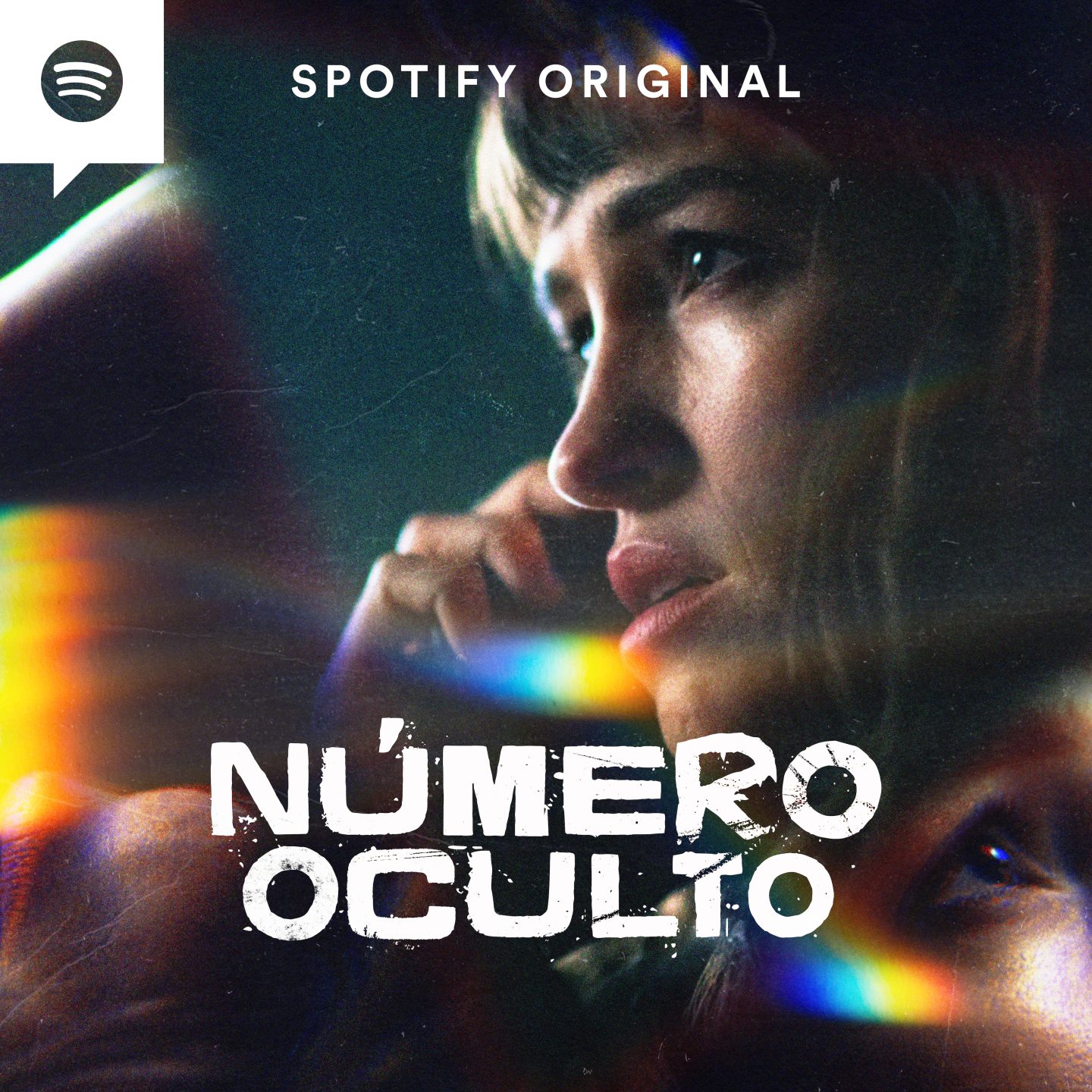 CALLER UNKNOWN
Argentina's First Scripted Thriller, 'Número Oculto,' Takes Listeners on a Chilling Journey Through Time
If you received a mysterious call with information about your future, what would you do? This question serves as the premise for Número Oculto, Spotify's latest fiction audio series, which is now available to stream. 
This sci-fi thriller marks an exciting new step for Spanish-language and Latin American podcasts as the first project of its kind to be produced in Argentina. Executive-produced by Nacho Gil—who also helmed the breakout Chilean hit Caso 63—Número Oculto features the  talents of Argentine screen actors Candela Vetrano, who steps into the lead role, and Peter Lanzani, who takes on the directing responsibilities. The two have starred together in various hit TV series including Chiquitas and Casi Angeles. 
Número Oculto opens with Sofía, a promising young writer played by Candela, who is on her way to an important meeting when her day takes a peculiar turn: She begins receiving calls from an unknown figure who possesses a startling amount of information about not only her past, but her future. Caught between her practical plans and these strange premonitions, Sofía must decide whether to listen to the secret caller as they attempt to divert her from her appointment.
Time and destiny are key to Número Oculto as each of the 10 chapters narrates a race against time and a chance to change an uncertain future. It's an experience that's sure to leave listeners on the edge of their seats, subway benches, or wherever else they may be streaming from. 
Curious about the ingredients needed to create a successful audio thriller, For the Record caught up with Nacho to discuss the creative thinking behind Número Oculto, the enduring success of Caso 63, and the impact of scripted fiction audio series on the podcasting landscape. 
Are there particular qualities about the sci-fi thriller genre that work particularly well for a scripted audio series?
I think audiences in Latin America love science fiction, and there is not a lot of high-quality content being produced in that genre—mostly because of the elevated cost to produce these stories in other formats. Audio is a phenomenal space for these types of stories because it invites people to complete the story, to bring them to life and create their own version of these realities in their minds. It's amazing to hear how different people picture the worlds that we've been presenting to them in audio.
Creatively speaking, were there any new ideas you were aiming to explore with Número Oculto? 
We loved the idea of characters' interacting with themselves at other points in time. Usually in these types of stories, it's a no-go. So bringing that interaction to life was definitely exciting, but also a challenge in audio since you don't have the visual support to know who is who.
What was the inspiration behind the creation of Número Oculto? 
The idea was brought to us by Emiliano Torres and Diego Copello at K&S. "What if you could call yourself in the past?" We were immediately hooked. That was the seed of what became Número Oculto. We loved the potential for an audio drama series based on the idea of a phone conversation with oneself at another moment in time.
With the success of projects such as Batman Unburied, as well as your previous podcast, Caso 63, scripted audio series are starting to hit their stride. Why do you think this format has become so popular with listeners?
I think scripted fiction is a great alternative to novels. People are embracing both having a role in the story and experiencing immersive storytelling in a hands-free way. In Latin America, scripted fiction has allowed us to provide audiences with heroes that are like themselves. It's pushing representation in a genre that usually features American protagonists. With Caso 63 and Número Oculto, we have Latin characters at the center of stories with global stakes.
Speaking of Caso 63, what was it like to have the show reach a global level of popularity and receive multiple adaptations?
It was very rewarding to see Caso 63 travel like it did. It was a unique moment in time in which all of humanity was living the same story, even if not a positive one. Caso 63 indirectly reflected upon what was happening at a global level. When people were looking for answers, Caso 63 not only presented an escape, but also offered an interesting take on the larger issues that got us to a global pandemic. Latin America has always been a region with incredible talent that knows how to tell universal stories. It's great to see that happening in the audio space as well.
Número Oculto features the Argentinian TV and movie stars Peter Lanzani and Candela Vetrano. What was it like to work with such notable actors on this project?
We were thrilled to have Peter in a directing role for the first time. His work as an actor is incredible, so he can really speak to what's needed to deliver an impactful performance. Lately he's been doing theater and I think there is a lot of common ground with scripted audio, which he brought to the project. 
Candela also did an amazing job bringing to life the writer Sofía Zemanov, and their excitement about exploring the format is reflected in a unique project that is the first of its kind in Argentina. The country has a long tradition of radio theater, and Número Oculto continues that tradition with a fresh take for contemporary audiences who like serialized narratives that are more concise.
When you think about the future of scripted audio series, how do you envision its evolution?
I think we are still at the early days of the format, but an increasing number of writers are embracing it and defining the language. Projects like El Gran Apagón, Guerra 3, Quemar tu Casa, Toxicomanía, and Somos Novios, along with many others, are exploring different subgenres within scripted audio. We have been collaborating with creators that come from other mediums such as TV, film and theater, and they're realizing that audio provides them with more creative freedom and fewer budgetary limits to bring very ambitious stories to life. 
On the other side, actors are embracing the challenge of bringing characters to life only with sound and shorter production timelines in which the focus of the process is on their performance. The industry is also paying attention. We are now seeing audio series being adapted into TV shows, like Homecoming in the U.S. and El Gran Apagón in Spain. I'm very excited about the future of scripted audio series and can't wait to see where creators take it next.
Ready to unravel the mystery of these future dispatches Sofía is receiving? Hit the play button below to start streaming Número Oculto now.